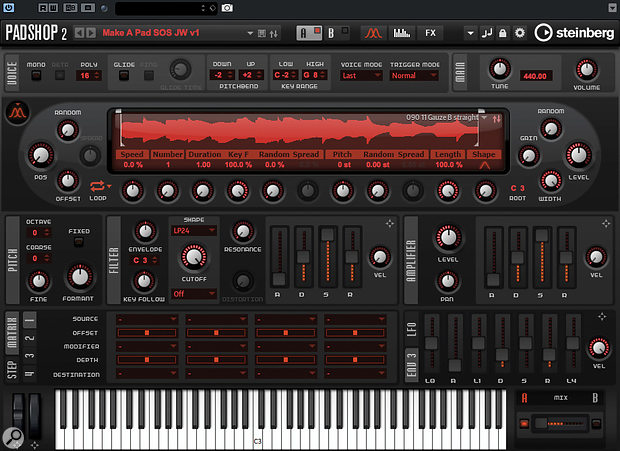 Padshop 2's Granular Oscillator, with layer A set to its initial state and a sample dragged and dropped. Ready to commence pad creation!
Cubase 10.5's Padshop 2 granular synth can create wonderfully engaging pads from any sample.
Cubase's Padshop has always seemed to me to be something of a hidden gem, but with the Cubase Artist/Pro v10.5 update this granular synth was treated to a significant overhaul. Where once we had only a 'lite' version of Padshop, we now get the full version of Padshop 2 (which is available as a paid product for users of other DAWs). Padshop 2 still includes its predecessor's dual-layer (A and B) engine, the Grain Oscillator, flexible filter, modulation options and effects, and all this is contained in a refreshed, yet still familiar GUI. However, it also boasts an expanded preset and bundled sample collection, drag-and-drop support for your own samples in Cubase, improved sound modulation, additional filter options, an integrated arpeggiator/phrase player (which will be familiar if you use Retrologue) and a new Spectral Oscillator.
The original grain oscillator and the new spectral oscillator make Padshop 2 an intriguing option for sound creation, but they might be unfamiliar concepts to many taking their first steps in DIY sound creation. I hope to take a detailed look at the Spectral Oscillator in a future column, but this month and next I'll do my best to nudge you along the learning curve for the Grain Oscillator, by looking at the creation of pad/soundscape-style patches.
Padshop 2's new Spectral Oscillator provides some very different sound-creation options, which I'll explore in a column in the near-future.
If granular synthesis is an alien concept, Simon Price's article in SOS December 2005 (https://sosm.ag/dec05-granular-synthesis) is an excellent overview. In essence, grain-based audio processing involves dividing your audio sample into tiny sections (each a fraction of a second) called 'grains'. It's rather like beat-slicing but done on a micro-scale: if the individual grains are played back in...
You are reading one of the locked Subscriber-only articles from our latest 5 issues.
You've read 20% of this article for free, so to continue reading...
Buy & Download this single article in PDF format

£1.00 GBP

$1.49 USD


For less than the price of a coffee, buy now and immediately download to your computer or smartphone.

Buy & Download the Full Issue PDF
Our 'replica SOS magazine' for smartphone/tablet/desktop. More info...

Published March 2020