Use Sonar's Sonitus Gate to achieve pumping reverb effects.
Back in August 2013, I covered techniques using the Overloud Breverb plug-in bundled with Sonar Producer. One of the effects I mentioned there involved achieving a conventional gated reverb. However, there are other ways to create gated effects — and the one we're about to describe is not only more flexible, but based on a unique parallel processing technique that has additional applications.
For those SOS readers fortunate enough to have been born after the Great Gated Reverb Glut of the '80s, it was usually applied to drums and it added a long, often compressed reverb tail with an unnaturally abrupt decay time. Like most sonic fads, it overstayed its welcome. However, few explored what gated reverb could do beyond the usual copycat thinking: "Phil Collins used it and had a hit, therefore if I use it, I too will have a hit!". Yet there's a ton of potential with gated processing, including pumping, breathing, and reverse effects that are suitable for EDM and percussion tracks (and, yes, also '80s power ballads).
The genesis of this technique was a thread in the Cakewalk forums, where Sonar user Ludwig Bouwer, from Big Room Studios in South Africa, came up with a clever way to have one track feed the input of another track (we'll call them tracks 1 and 2 respectively). This allowed him to submix through a track to avoid using a bus. Although Sonar's architecture doesn't 'officially' allow a track output to feed a track input, his workaround is to insert the Sonitus Gate into track 2, set its output to monitor the side-chain input, and make sure the low- and high-cut filters are off. You then create a send in track 1 and assign it to track 2's side-chain input, and now track 2 receives track 1's output. Also note that multiple sends can feed a single side-chain input. However, this approach has applications other than simply as an alternative to bussing...
The top track has the original drum audio, and it feeds the bottom track to create the gated reverb effect. The gate on the left feeds audio from the drum track to the gated reverb track, while the gate on the right provides ducking to create the reverse reverb effect.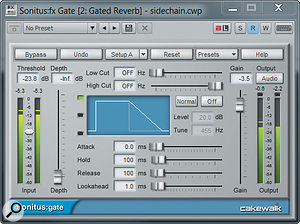 With the gate set to 'normal' mode, it's easy to achieve standard gated reverb sounds.
Although many effects now include wet/dry mix controls for parallel processing (Sonar's PC4K S-Type bus compressor and PC76 U-Type compressor are good examples), that's not always a given. Parallel processing has many uses, for example adding wah or distortion to bass in a parallel track so that the main bass sound remains untouched. There are two conventional ways to do parallel processing in Sonar:
Clone a track so that two audio tracks play in parallel. This is the most flexible option because each track can have independent FX Bin processing.
Send the track's audio to a bus, and insert processing in the bus's FX Bin. The limitation compared to the first approach is that the send is post the original track's FX Bin. This is what you want much of the time, but not always.
Using the side-chain-with-gate option provides the same functionality as using a send and a separate bus. However, because these are two standard audio tracks, they can be placed in a track folder, which is helpful for tidying up complex projects. But let's take this further...
Here's a way to get huge pumping, reverse-reverb effects. First, create a 'gated reverb' track: this will supply the gated sound. The screenshot shows the four effects inserted in it:
Sonitus Gate to provide an input from the drum track.
A reverb of your choice.
Sonitus Compressor or equivalent (this is optional, but squashing the living daylights out of the reverb has its merits).
Another Sonitus Gate to provide the final gating effect.
Next, add two sends to the original drum track. One goes to the first gate, the other to the last gate. I generally choose pre-fader sends, to allow for independent control of the dry drum and gated reverb levels.
The first gate simply feeds audio from the drum track to the gated reverb track, so set the gate's input threshold all the way down, its depth all the way up, the low- and high-cut filters to Off, and for the output, select Sidechain. The second gate provides the reverse reverb effect by setting it to duck mode instead of normal mode. When the drum sound hits the side-chain input, it kicks the reverb output down, which then builds up until the next drum hit.
The settings are quite critical. The threshold needs to trigger consistently, but not so much that the reverb is always at a very low level. Isolating a loop's kick or snare will often provide a more forgiving trigger than an entire loop. Set the attack to a few milliseconds, otherwise you'll hear clicks from the signal reacting too rapidly. I also prefer having no hold time, and setting a Lookahead time of 1ms. Release is the most important parameter; with too long a release, you won't hear the reversed effect. Too short a release, and the effect can sound overly choppy.
If you bring up the depth a bit, you can have an ongoing reverb 'bed' with the reversed reverb appearing on top of that.
In case you're ever offered big money for an '80s revival gig, setting the gate mode to Normal may help you get the job.
Again, set the attack to 0ms and Lookahead to 1ms. The hold and release controls determine the gated sound's 'character': setting an appropriate hold time with no release produces the most abrupt sound and the most stereotypical gate effect. However, a little release time can help soften the sound somewhat. Setting hold to 0ms lets you add a non-abrupt decaying effect with the release control. As always, experimentation is key.
With this particular AMD audio device, if you disable the High Definition Audio Controller under System Devices, the AMD High Definition Audio Device under 'Sound, video and game controllers' will disappear. Note that the Realtek High Definition Audio driver is already disabled, as indicated by a downward-pointing arrow.And now for something completely different. For a few months, regardless of which audio interface I used, with sample buffers below 256 samples I'd often experience audio system meltdown, where Sonar would lock up and not be stoppable from the Task Manager, and the computer would require a reboot to get Sonar working again. So I set the sample buffers to 256 or 512 samples, and just assumed that my projects were getting more complex, that maybe I needed a faster processor, or that I was using too many virtual instruments.
But I thought I'd investigate to see if any Device Manager process was causing a problem. It's standard practice with DAWs to disable devices you're not using, but there was an audio device under 'Sound, video and game controllers' called AMD High Definition Audio Device, which didn't have the option to be disabled, only uninstalled. Apparently it's involved in feeding audio to external televisions or something...
However, in my computer's Device Manager under System Devices, there's an entry titled High Definition Audio Controller which is (theoretically) a Microsoft component. I could disable that, and when I did, the AMD High Definition Audio Device disappeared from the Device Manager. (To disable a device, right-click on its entry and choose Disable. A dialogue box will ask "Do you really want to disable it?" Click "Yes". You can always re-enable it if necessary.)
After rebooting the computer, the AMD High Definition Audio Device reappeared under 'Sound, video, and game controllers', but this time 'Disable' was an option in the right-click context menu. I disabled it, and re-enabled High Definition Audio Controller, because, in theory, that should not be the cause of the problem. After disabling the AMD High Definition Audio Device, I can now use a 48-sample buffer size when tracking, and have yet to run a project where more than a 96-sample buffer was necessary. That translates to a major reduction in latency. I'm not sure the issue actually relates to audio, but might be more about the AMD device using up processing power that doesn't allow the audio interface to run at full efficiency. Or whatever. Hey, I'm just a guitar player!
This tip is presented with the 'use at your own risk' caveat, because although I'm not quite sure what's going on under the hood, I do know that latency is now lower and system stability is better. A possibly related issue is that it's been noted that the choice of graphics boards can impact Sonar's performance; maybe it's not the graphics card itself, but the audio driver installed with it. In any event I mentioned this fix in the Sonar forums and, almost immediately, some people who tried this technique reported significant improvements. Although this isn't applicable to all systems (especially those that already run satisfactorily), the response from the field indicates that it's worth investigating if you're having a hard time achieving low latencies without occasional crashes.
Now you know where to look, so feel free to experiment; just remember to disable, rather than uninstall, these devices in case you want to get them back again should the Law of Unintended Consequences appear.