Secrets Of The Mix Engineers: Evan LaRay
When a track contains nothing but beats and vocals, the vocal mix has to be perfect. Mix engineer Evan LaRay explains his role in taking Cardi B's 'Bodak Yellow' to number one.
With no recognisable melodic hook or musical structure, and no bass, Cardi B's 'Bodak Yellow' is one of the more minimal rap tracks ever to become a hit. Yet the fact that, besides Cardi B's rapping, it contains nothing but some 808 kicks, trap-influenced hi-hats and a simple synth arpeggio hasn't stopped it topping the US Billboard singles charts. Amazingly, in fact, Cardi B is the first female rapper to have had a US number one solo hit since Lauryn Hill in 1998 with 'Doo Wop (That Thing)'. 'Bodak Yellow' also remained at the top spot for three weeks, which made it the longest-running number one by a solo woman rapper to date. Three times platinum in the US, it has had 357 million YouTube views at the time of writing. Declared Single of the Year at the 2017 BET Hip Hop Awards, it's been nominated for Best Rap Performance and Best Rap Song at the 60th Grammy Awards.
Engineer and mixer Evan LaRay explains its appeal thus: "With 'Bodak Yellow' it is Cardi's vocal performance that really takes the record to the next level. I don't think anybody else could get on that beat the way she does, and then there's what she wrote and raps about. The vocals are what makes it a great record, and the beat and the vocals together control the song. It's a simple beat, really just the main synth, the 808s and the hi-hats. The producer, J White, put in some amazing drum sounds and 808 textures, with a lot of energy. The second 808 sound almost functions like a bass. When you hear that part in a club or in a car, it moves you. And as a mixer, I had to make sure to enhance everything and make sure that it translates."
Evan LaRay is a young engineer and mixer who, like Cardi B, originates from the Bronx in New York. 'Bodak Yellow' is his first number one, and has helped earn him a nomination at the 2017 Pensado's Place Awards for Break Thru Mixer: no mean feat for someone who has only been mixing professionally for a few years. From his mix room at Fight Club Studios, located close to Times Square in New York, LaRay elaborates on his background, and on how his mix of 'Bodak Yellow' helped steer the song to the top spot.
"My mother plays piano, and my brother is a rapper, and my little sister is a singer, and I was like: 'I can't sing or play the piano, but I love music, so what can I do?' I went out and did some DJ'ing and I found out about Fruity Loops and a lot of other programs. Some friends of mine started rapping, and I decided to build a studio in my house so I could practise creating beats. My friends and I used to do battle in making beats, and obviously I lost, but once I figured out how I could change the sound of an 808, add distortion, reverb, delays, EQ, edit music, I fell in love with that, instead of with programming and playing music. I really enjoyed making my friends sound good and doing creative stuff with their voices. That drove me towards engineering. I love art, and there's something about how engineering allows you to draw with sound."
As a result, LaRay went on to study at the Institute of Audio Research in New York in 2013, and he also became an intern at Puff Daddy's Bad Boy Entertainment. He graduated there to become a fully fledged engineer, also worked as an assistant engineer at RC Studios, and since June 2015 he has been freelance, working for most of his time as head engineer, tech and manager at Fight Club Studios. Over the last few years LaRay has clocked up an amazingly long list of credits, which includes Akon, Desiigner, French Montana, Future, Migos, Ne-Yo, Scott Storch, Travis Scott, Wyclef Jean and many others.
"I work with a lot of producers," explains LaRay, "and my sessions mainly come via them. I work really well with creators, and that includes artists. So I often link up with a producer, who then has all the connections to Future, or Jay-Z or whoever. For example, I work with The-Dream, with Velous, who worked with Kanye West, Drake and Chris Brown, with Miles William [Lil Wayne, French Montana, Kendrick Lamar and Beyoncé], with Tru Life [Rick Ross, Jay-Z] and Belly [The Weeknd]. I also work with a lot of unknown artists from the Bronx. I'm active as both a recording engineer and a mixer. I love creating, so if I'm asked to record, I will, but of late I have really enjoyed mixing, because I have more freedom to do things on my own terms."
LaRay's work with Cardi B also came about through a personal connection: her manager Suga Shaft, who is also a producer and has worked with Lil' Kim, amongst others. "I met him a couple of years ago at Daddy's House Recording Studios here in New York [a part of Bad Boy Entertainment that is no longer in operation]. Over the last year I worked on several of Cardi's tracks, like 'Lick', 'Washpoppin' and 'Foreva'. I did not record 'Bodak Yellow' — that was done at Krematorium Studios by Michael Ashby — but instead I mixed the track at Fight Club. I love working with her. It's like working with a comedian. She has good energy and a great vibe."
In his mix of 'Bodak Yellow', Evan LaRay used almost identical vocal chains on two auxiliary busses. The 'Vox 1' chain includes FabFilter's Pro-DS de-esser and Waves' C4 multiband compressor, plus the Waves CLA Vocals plug-in and SoundToys' Decapitator saturation processor.'Bodak Yellow' was mixed over three days at Fight Club, with producer J White present for some of the time. "J White did the beat and Cardi wrote the song, and the other people mentioned in the credits were helping out, but essentially it's Cardi's song. She also gave a credit to Kodak Black, because the song is based on one of his songs and she used his flow. With this track, J White and everyone else wanted me to do less. Mainly they wanted to make sure that the energy was still there. As I said, the track is about the vocals, the 808 and the hi-hats. There's no mid-range, and nothing in the track to compete with the vocals. The only two problems I was dealing with were the synth, which was peeking out too much, so I had to put on some limiting and compression and spread it to the sides, plus I had to find a happy medium between the vocals being too low — meaning that when the kick hits, it drowns her out — or too high, in which case you don't feel the 808s.
"When I first got the session in, it was just a two-track and the vocals. So I spent a day going through the six vocal takes, levelling everything, and cleaning up pops and clicks and background noises. The producer flew in a couple of days later and we spent the entire day selecting the best vocal takes and comping them, and then finding the right balance between the vocals, the 808 and the hi-hats. That was the most important thing. I also needed to make sure that the rhythm track was locking, that the kicks were hitting, and so on. For the rest it was a matter of some EQ here and there, and levelling and panning. Throughout that day J White worked on his laptop, using Logic, so some of the effects on the vocals, like delays and reverbs, come from that.
"J White stemmed what he had done out, and I'd load these stems into my Pro Tools session. I was mixing while he was bouncing. For some reason, when you work in FL Studio or Logic, and then transfer things to Pro Tools, the sonics are not the same, so I was at times working both on his laptop and on mine, in Pro Tools. I was improving the beats, EQ'ing and making sure everything has its own space, that nothing is clashing, and the dynamics are right, and that the vocals sounded right. The third day was pretty much a matter of me finalising things, making sure the vibe was still there, and then mastering the track."
The final Pro Tools session for the mix of 'Bodak Yellow' contains 32 tracks, breaking down as 14 beat (music) tracks, a record label tag track, 14 vocal tracks, and three master and mix print tracks.
The full Pro Tools Edit window for the final mix of 'Bodak Yellow'.
Zooming in further, the beat tracks consist of four tracks of 808, two tracks of claps, two synth tracks, three hat tracks, a vocal sample and a snare roll track, and all these are sent to a submix track. The main two vocal tracks are called 'Hook' and 'Verse', with each accompanied by snippets of audio on an 'InOut' track and an 'Ad Lib' track, and underneath all this are four vocal effect tracks, again with audio snippets. All vocals go to two vocal subgroup aux tracks, and there are two vocal effect auxes. Finally, there's a submix track, with mastering plug-ins, a mix print track and a master fader.
The three 808 tracks are all bussed to an aux track; only the second 808, which appears in two sections of the song, has its own plug-in processing applied. "The 808 2 has the UAD SPL Transient Designer, to bring out more attack, because there are no real kicks in this song, and I really needed this particular 808 to cut through in the mix. For the same reason I also added some bottom end with the Waves RBass, plus a little distortion and harmonics from the SoundToys Decapitator. This is the 808 that almost functions like a bass. It moves you and the track builds up to this part. On the 808 aux group track I have the Waves NLS channel, with which I just added Drive for more body. The 808s sounded a bit round to me, and the Drive gave me a slightly more aggressive sound. I then also added the Waves Puigtec EQ for a little more bass on all three 808s.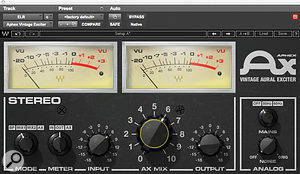 "Next are the two clap tracks, which both have Waves API 550A. To give the claps some body I added 6dB around 200Hz. The [Avid] D-Verb gave the claps some space. Then there are the two synth parts. 'Synth 1' is the main part, and it had a frequency that was piercing, so I cut 2-3dB at 1.2kHz using the Avid EQ3 seven-band. I then sent it to the Waves Vitamin Sonic Enhancer. I love that plug-in. In this case I used it boost some low- and high-mid frequencies, to get the synth to cut through a little more, and also to spread the synth sound and give it more space, so it's more 3D. From there I add yet more space with the Waves S1 Imager, and then it goes to the Waves L1 to control some of the more piercing frequencies. 'Synth 2' comes in and out, and has the Vitamin and S1 for more space and spread, but didn't need to cut through as much, so it didn't get the EQ or the L1.
"The three hat tracks each only have the UAD API 550A, just to add more detail in the high end and some air. 'Hi-hat 1' is the main one. I also added some air to the vox sample, using the EQ3 seven-band, and also cut out some low end to make sure it didn't clash with the synth. Cardi is signed to the KSR label, which likes to insert a tag at the beginning of all its records, and I treated that with the Waves RVox, CLA Effects and EQ3 seven-band to make it fit with the track.
"All the tracks we just discussed, apart from the tag, go to the 'Beat' aux group track, and all that has is the NLS Channel. I really like that plug-in. It's billed as 'analogue non-linear summing', and because I'm doing everything in the box, I wanted to give it some of that analogue character with the plug-in."
The main 'Hook' and 'Verse' vocal tracks have similar plug-in chains, incorporating the EQ3 seven-band, Waves CLA-76 and Waves De-esser, though the 'Hook' also has FabFilter's Timeless 2 delay. LaRay explains, "The EQ on the 'Hook' has a high-pass, around 100Hz, and I'm also cutting 3dB at 300Hz, because the vocal sounded a bit muddy, and again 3dB at 4kHz, because there was a piercing frequency there. The CLA keeps the peaks in check, and the de-esser again takes some higher frequencies out, at 4270Hz, and the Timeless is another favourite plug-in. I think in general the FabFilter plug-ins are extremely dope. I wanted the 'Hook' vocal to stand out from the 'Verse' vocal, so I used a stereo delay preset, and then tweaked that. The presets on the FabFilter plug-ins are pretty good: you just run through all of them and then choose the best one. In this case I lowered the width and the wet value of the stereo delay preset, and that sounded good and gave the hook its own space. The three plug-ins on the 'Verse' track do pretty much the same.
"The 'Inout' tracks that are below the 'Hook' and the 'Verse' are vocal doubles. They are words or lines we use for emphasis and additional power on these lines and words. They come from one of her original vocal takes, which I just cut and cleaned up. Both 'Inout' tracks have the Waves RCompressor, just containing these words and lines so they don't overwhelm the 'Hook' or the 'Verse' vocal, and then the FabFilter Pro-Q2, taking out some high frequencies, again to make sure it doesn't clash with the leads, and also cutting below 200Hz. And there's a delay on these tracks to put them in a slightly different space from the lead vocal tracks.
"In addition to the two 'Inout' tracks, both the 'Hook' and the 'Verse' tracks are also accompanied by an 'Ad Libs' track, which were some ad libs Cardi had recorded with Mike over at Krematorium. Mike had also set up a separate aux track for these ad libs, which is 'Vox2', and I liked that and kept two of the plug-ins he had on that: the [Avid] Sansamp for some distortion and the SoundToys Panman. I then added the D-Verb and the [Waves] CLA Vocals. I adore the CLA Vocals. I use it on every track I work on. When I don't use it, the vocals sound completely different. I'd love to know what exactly it does! Finally, the inserts have the Waves L1, just to control the peaks.
"The other tracks — 'EXF1', 'EXF2', 'EXF3' and 'EXF4', are because I prefer to create a new track if I want to have a specific effect on specific words or phrases. I prefer doing that to automating the effects on a track. Automation is great, but I tend to only do volume automation. So I copy audio to another track, and then put the effect on that, and in this case I created four different effects tracks with four different delays. 'EFX1' is the main one, and has the same three plug-ins as the Verse tracks — EQ3 three-band, CLA76 and Waves De-esser — just with the EQ3 cutting more of the high frequencies. Then there's an eighth-note ping-pong delay from the Waves H-Delay, and then a D-Verb set to 'hall' with 7s decay and a 15ms pre-delay. 'EFX2' has another H-Delay delay, 'EFX3' the Timeless 2 delay, and 'EFX4' again has the H-Delay plus a D-Verb."
All the main vocal audio tracks go to LaRay's 'Vox1' aux group track. This, he explains, has "A FabFilter Pro-DS de-esser, then the Waves RCompressor controlling the peaks, the Waves C4 multiband compressor boosting the high end and containing the lows in her voice, so it doesn't cut through too much, and Waves CLA Vocals. Again, it's really making my vocals sound good. I push the Pitch fader to stereo, spank it on the compressor, also push up the treble to brighten it up, turn the reverb down to 'tight', and lower the delay by 9dB because my own quarter delay is my main vocal delay, and it sounds great. There's also a SoundToys Decapitator, to add more harmonic distortion, and then there's the Waves RVox. That was supposed to be the final plug-in on the insert, but then I realised the vocal was still peaking too much once she began rapping loudly, so I put on the L1 [limiter] to control that."
The 'special sauce' in Evan LaRay's mixes comes from a parallel aux channel containing a blend of compression, saturation, EQ and other processors. Key ingredients are Waves' PuigChild compressor and PuigTech equaliser. The 'Vox1' and 'Vox2' tracks also each have a Trim plug-in on an insert, and sends to the 'Verb' aux and to the 'ELR' (LaRay's initials) track. "I put the Trim on all my tracks at the end of the vocals, and at the end of the beat, because the vocals actually began distorting in places. These two tracks were too hot, and I wanted to make sure they had a good level before going to the 'Sub Print' track. I have the 'ELR' aux track in every session. It's most of all parallel compression, but I also always try out new things with distortion, exciters and things like that, and I label that 'ELR'. In this case it really is the 'ELR' track that makes the vocals cut through the mix.
"The compression on the 'ELR' track comes from the Waves PuigChild 670, which is a great compressor, and it's compressing a lot, so the vocal stays right there in the middle. The signal is then going to the PuigTech EQP-1A, which is boosting some low end to add some warmth to the vocals, and some 5kHz, and then the Waves Aphex Vintage Aural Exciter, set to AX Mix 6, for some added crispness and clarity, then the EQ3 seven-band to control the low mids, and another De-Esser cutting 4398Hz, to finalise the vocal sound. The L1 also helps keep the vocals in the same place. Finally, the 'Verb' send on the 'Vox1' and 'Vox2' tracks goes to the 'Verb' aux, which has the Waves RVerb, and that pretty much glues everything together."
Evan LaRay not only mixed 'Bodak Yellow' but also mastered it, with key plug-ins including Nomad Factory's tube and tape emulator, iZotope's Ozone and the Sonnox Oxford Limiter.Everything in the session goes to LaRay's stereo mix chain, which he used to put on the master fader, but has lately taken to placing on a separate aux called 'Sub Print'. Said chain features the Waves SSL Compressor, Nomad E-Tube Vintage Warmer and the Waves NLS Bus: "The Nomad adds some body to the entire track. I bring the Tone down a bit and set it to Tube B. The NLS Bus again adds some more drive."
That would, normally, have been that, but LaRay was asked to also master the track, which he did using iZotope's Ozone 7 and the Sonnox Oxford Limiter. "I had the Ozone on the insert, which can be a problem, as it's very memory-hungry, and my laptop is six years old! But I love Ozone 7. It really enhances the sound. In this case I went for one of the mastering presets from Greg Calbi called 'General Clarity', and I just tweaked it from there. I may change the dynamics, and I may take the Exciter off and add the Imager to spread the mid-band frequencies. I added 3dB in volume with the Maximizer, and the Oxford then enhanced all that, and made the track really loud!"
LaRay is working with Cardi B and J White on several new tracks, with a possible album in the offing. "Shaft, her manager, is overseeing everything, together with her and the record label. J White works with several different producers, and I'm recording her this time, going through a Sony C800, Neve 1073 and a Tube-Tech compressor. We record a lot. Cardi has a lot of songs in the stash. She's very picky about the beats that are offered to her, because they have to fit her. She's fun to work with, she's outrageous and if it feels good to her, we quickly have a new track!"  
Evan LaRay's current base, Fight Club, is a large, four-room studio in New York. "When I was freelancing I was moving around a lot," LaRay adds, "for example, also working at Quad Studios. I pretty much go where the artists and/or producer want to work. But I've built a relationship with the owner at Fight Club, and we're together building up the studio. I'm the only guy at the studio at the moment, so I do any session that comes in, and handle anything that has to be ordered or fixed.
"I work fully in the box, on my six-year-old MacBook Pro, with a UAD Apollo Twin soundcard and Octo Satellite, plus Audio-Technica M50X and Beats Pro headphones. This setup allows me to work anywhere, also at home. I love my A-T headphones! The Beats are not that great, but many people listen to them, so I use it as a reference. It's not for final decisions, but more for the vibe. At Fight Club I use Yamaha NS10 monitors and the Augspurgers. The NS10s are my favourite monitors. If I go to a studio to mix, I make sure they have the Yamahas — but I can mix on headphones, because the current direction in music is not about hi-fi. People listen with earpods, in the car and so on. It's rare for people to listen to good loudspeakers. It's the new generation.
"I want to bring a hi-fi quality to the records I work on, but everything is about feeling. You can have the most amazing-sounding record ever, but if a song doesn't have a feeling, it won't translate to this generation. So that's my main thing: everything has to have a vibe. I've recently started doing things more by the rules, or the guidelines, but I normally go with how it feels to me. Does it feel good? How does everybody else in the room feel?
"There are certain guidelines, of course. The producer knows what he wants his track to sound like. In trap the 808s have to have 'knock' and clarity and have to be moving, with lots of energy and dynamic range. The vocal has to sit directly in the track. Mostly they want me to get it to hit hard, to add more knock. But then, at the same time, there are no guidelines. With regards to effects, like delays and reverbs, the sky is the limit. I can draw with sound any way I want. If it sounds good and feels good, that's great and everyone will love it!"