Secrets Of The Mix Engineer: Aaron Ahmad
Aaron Ahmad at Metropolis Studios in London.
Nearly two years after its release, Cat Burns' single 'Go' gave Aaron Ahmad his first major mixing hit.
Brit School graduate Cat Burns released her first single back in 2018. 'Just Us' and subsequent releases made little impact, but after the first lockdown hit in March 2020, the London‑based singer and guitarist started posting covers and her own songs on TikTok. She quickly attracted a lot of attention, to the point where Burns now has a whopping 1.2 million TikTok followers and 25 million likes.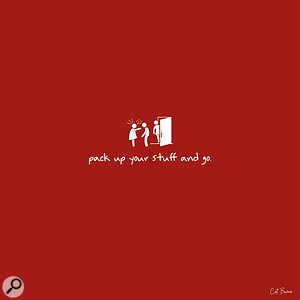 'Go' was written by Cat Burns and George Morgan. Produced by Jonah Stevens.Cat Burns signed a deal with RCA Records, and in July 2020 a track called 'Go' was officially released, having previously been premiered on TikTok. More songs followed, and the EP Emotionally Unavailable was released at the end of May 2022. 'Go' turned out to be the ultimate slow burner. Again helped by TikTok, it gradually became a major hit in several countries in Spring 2022, reaching number two in the UK.
The original version of 'Go' featured a very sparse arrangement, with no drums other than a brief, barely‑there kick at the end. There have since been many different additional versions, including a duet with Sam Smith, but it was this early version that had the most impact. It was produced by Jonah Stevens and mixed by Aaron Ahmad. The latter remembers the early lockdown days, before Cat Burns had gone viral and became one of the biggest media stories in the UK.
"I had been working on some projects with Cat's management, who then approached me to mix an EP of five songs for Cat," says Ahmad. "The whole project was done during lockdown, so I mixed 85 percent of the EP at home using my laptop, a UAD Apollo 8p sound card, Yamaha NS10s, Auratones, and Audeze LCD‑X and Beyerdynamic DT770 headphones.
"The EP went out as a promo thing, and I think it helped her get the deal with Sony/RCA. I'm not on TikTok, but I was made aware that 'Go' was doing really well on there, and noticed that there also was a 'low and slow' version, which is a pitched down version of my mix, and several remixes, like a drum & bass remix and a house remix, and the Sam Smith duet version, which was mixed by Dan Parry. My original mix of 'Go' ended up on Emotionally Unavailable."
Ahmad's first mix session for 'Go' took place in June 2020. It was immediately clear that the ballad‑like song needed special attention and a different approach, thanks to its minimalist arrangement. Apart from Burns' vocals, the session contained only acoustic guitars, a bass, some pads, a few keyboards, and the aforementioned, very subtle kick drum. "It was the slow track of the EP, the track three where you can take a breather. The biggest challenge in mixing a song like this is making sure that 'minimalist' does not turn into 'boring'. Typically, you get productions where, to keep things interesting, they throw as much as they can in the arrangement. There is a real tendency to fill all the space and fall in the trap of thinking that if all your meters are not hitting at maximum, there's something missing.
"The nice thing about the production of 'Go' was that they had left a lot of space, and were not afraid not to use a rhythm or a big kick. It forces you to listen to what she is singing about, which is about her getting screwed her over by someone, and telling them to leave. The power of the production is that it is essentially Cat and her guitar conveying this message, with a few little bits added around her.
Aaron Ahmad: "I like to approach my mixes as a stage performance, and I visualise the place of the instrument on the stage."
"I like to approach my mixes as a stage performance, and I visualise the place of the instrument on the stage. So in the case of this song, the choruses have a fuller arrangement with the bass, pads and keyboards coming in, and the verses go back to just guitar with perhaps some piano and a Wurlitzer. In my mind, in the verses the acoustic guitarist is stepping a bit closer to the front of the stage, and once the chorus starts, the acoustic guitar player steps back again because everybody else is joining in.
"In practice, what this meant was that I used slightly different EQ in the verses and in the choruses. The EQ is fuller when it is just the guitar on its own, including lower‑mid frequencies. In the choruses I don't need all that energy in the lower midrange of the acoustic guitar, so I filter that out a little bit, and let the pads take that space, also because it is something new for the ear.
"In addition, I created little earworm moments, like having a slow tremolo on the keys, for example. Before it was just straight held chords, moving with the triads. You can only listen to that so many times, especially as it was across each chorus. The tremolo created some movement and interest. But you also don't want to go too far the other way, and make it like full 1980s, using an H3000 to get the keyboards to wash around like they are from outer space."
Ahmad has created a Pro Tools mix template that to some degree mimics a hardware mix environment. It includes 11 group buses at the top of his session, and the levels of the tracks feeding these are controlled by a corresponding VCA master fader. Eight of the 11 group buses are designated for instruments such as bass, percussion, drums and so on; the other three are for lead vocals, backing vocals and ad libs. Each of the eight instrument group buses has five sends to aux tracks below them called Stereo A, Stereo B, Stereo C, Stereo D and Mono A, which are in turn summed to a Stereo Bus aux. The outputs of the eight instrument buses all go to the Music bus, and the three vocal buses to the Vocal Bus, and all that goes to three Mix buses at the...
You are reading one of the locked Subscriber-only articles from our latest 5 issues.
You've read some of this article for free, so to continue reading...
Log in - if you have a Subscription you bought from SOS.

Buy & Download this Single Article in PDF format

£1.00 GBP

$1.49 USD


For less than the price of a coffee, buy now and immediately download to your computer or smartphone.

Buy & Download the Full Issue PDF
Our 'full SOS magazine' for smartphone/tablet/computer. More info...

RECORDING TECHNOLOGY: Basics & Beyond
Claim your FREE 170-page digital publication
from the makers of Sound On Sound — CLICK HERE