Secrets Of The Mix Engineer: Aaron Ahmad
Aaron Ahmad at Metropolis Studios in London.
Nearly two years after its release, Cat Burns' single 'Go' gave Aaron Ahmad his first major mixing hit.
Brit School graduate Cat Burns released her first single back in 2018. 'Just Us' and subsequent releases made little impact, but after the first lockdown hit in March 2020, the London‑based singer and guitarist started posting covers and her own songs on TikTok. She quickly attracted a lot of attention, to the point where Burns now has a whopping 1.2 million TikTok followers and 25 million likes.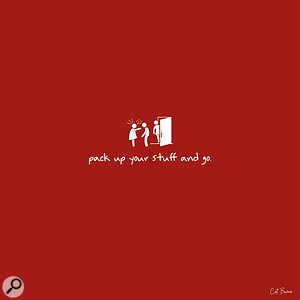 'Go' was written by Cat Burns and George Morgan. Produced by Jonah Stevens.Cat Burns signed a deal with RCA Records, and in July 2020 a track called 'Go' was officially released, having previously been premiered on TikTok. More songs followed, and the EP Emotionally Unavailable was released at the end of May 2022. 'Go' turned out to be the ultimate slow burner. Again helped by TikTok, it gradually became a major hit in several countries in Spring 2022, reaching number two in the UK.
The original version of 'Go' featured a very sparse arrangement, with no drums other than a brief, barely‑there kick at the end. There have since been many different additional versions, including a duet with Sam Smith, but it was this early version that had the most impact. It was produced by Jonah Stevens and mixed by Aaron Ahmad. The latter remembers the early lockdown days, before Cat Burns had gone viral and became one of the biggest media stories in the UK.
"I had been working on some projects with Cat's management, who then approached me to mix an EP of five songs for Cat," says Ahmad. "The whole project was done during lockdown, so I mixed 85 percent of the EP at home using my laptop, a UAD Apollo 8p sound card, Yamaha NS10s, Auratones, and Audeze LCD‑X and Beyerdynamic DT770 headphones.
"The EP went out as a promo thing, and I think it helped her get the deal with Sony/RCA. I'm not on TikTok, but I was made aware that 'Go' was doing really well on there, and noticed that there also was a 'low and slow' version, which is a pitched down version of my mix, and several remixes, like a drum & bass remix and a house remix, and the Sam Smith duet version, which was mixed by Dan Parry. My original mix of 'Go' ended up on Emotionally Unavailable."
Ahmad's first mix session for 'Go' took place in June 2020. It was immediately clear that the ballad‑like song needed special attention and a different approach, thanks to its minimalist arrangement. Apart from Burns' vocals, the session contained only acoustic guitars, a bass, some pads, a few keyboards, and the aforementioned, very subtle kick drum. "It was the slow track of the EP, the track three where you can take a breather. The biggest challenge in mixing a song like this is making sure that 'minimalist' does not turn into 'boring'. Typically, you get productions where, to keep things interesting, they throw as much as they can in the arrangement. There is a real tendency to fill all the space and fall in the trap of thinking that if all your meters are not hitting at maximum, there's something missing.
"The nice thing about the production of 'Go' was that they had left a lot of space, and were not afraid not to use a rhythm or a big kick. It forces you to listen to what she is singing about, which is about her getting screwed her over by someone, and telling them to leave. The power of the production is that it is essentially Cat and her guitar conveying this message, with a few little bits added around her.
Aaron Ahmad: "I like to approach my mixes as a stage performance, and I visualise the place of the instrument on the stage."
"I like to approach my mixes as a stage performance, and I visualise the place of the instrument on the stage. So in the case of this song, the choruses have a fuller arrangement with the bass, pads and keyboards coming in, and the verses go back to just guitar with perhaps some piano and a Wurlitzer. In my mind, in the verses the acoustic guitarist is stepping a bit closer to the front of the stage, and once the chorus starts, the acoustic guitar player steps back again because everybody else is joining in.
"In practice, what this meant was that I used slightly different EQ in the verses and in the choruses. The EQ is fuller when it is just the guitar on its own, including lower‑mid frequencies. In the choruses I don't need all that energy in the lower midrange of the acoustic guitar, so I filter that out a little bit, and let the pads take that space, also because it is something new for the ear.
"In addition, I created little earworm moments, like having a slow tremolo on the keys, for example. Before it was just straight held chords, moving with the triads. You can only listen to that so many times, especially as it was across each chorus. The tremolo created some movement and interest. But you also don't want to go too far the other way, and make it like full 1980s, using an H3000 to get the keyboards to wash around like they are from outer space."
Ahmad has created a Pro Tools mix template that to some degree mimics a hardware mix environment. It includes 11 group buses at the top of his session, and the levels of the tracks feeding these are controlled by a corresponding VCA master fader. Eight of the 11 group buses are designated for instruments such as bass, percussion, drums and so on; the other three are for lead vocals, backing vocals and ad libs. Each of the eight instrument group buses has five sends to aux tracks below them called Stereo A, Stereo B, Stereo C, Stereo D and Mono A, which are in turn summed to a Stereo Bus aux. The outputs of the eight instrument buses all go to the Music bus, and the three vocal buses to the Vocal Bus, and all that goes to three Mix buses at the top.
Aaron Ahmad's Pro Tools mix template is thoughtfully structured, with audio flowing upwards through a series of buses. Visible at the top are 'master' buses for Vocals, Music and 'Stereo', the latter summing all the parallel processing that is applied on the Stereo A‑D and Mono buses further down. Below Mono A is a group of 11 VCA faders. These control the levels feeding the corresponding buses further up the screen.
"All the audio flows up my session," explains Ahmad. "I have the VCAs because I like riding these 11 group buses with them before hitting compressors and any other processing I may have on the group buses. The VCAs allow me to, for example, bump all the drums in the choruses up and ride them into the compressor on the drum bus, rather than ride the output of that bus."
The three vocal buses don't have the five sends to the Stereo and Mono aux tracks. "These five sends are for parallel effects, which I don't need on the vocals. They allow me to crush the music, while keeping the vocals present. If I do any parallel treatments on the vocals it will be done further down the session. It is usually only the music that I will be messing around with these last uplifts and tricks. Obviously, when the bass comes, and you compress it, and the needle moves 2dB back, you don't want your vocals to jump 2dB back as well.
"Let's say I want to put all the instruments in a chorus through an exciter. I can send all instrument buses to Stereo A, on which I have an exciter, and also take out some low end, and that then gets routed into the Stereo Bus at the top, separate from my Music Bus, which will have its own compression or multiband or whatever going on, and I can blend the two together to the Mix Bus. The Mono A bus is for kick, snare and bass, for example, which I can parallel compress or distort, and then route back into the mix at the level I want.
"In my mind it is a way of having something similar to the centre bus of a console. I have transferred that to the digital domain, so everything is not just blasted down outputs one and two, and then you slap something on there. It allows me to be a little bit more nuanced about what I am doing, and at what stage I compress the music. But with 'Go' I did not really need any of this, because it was much softer."
The nature of the 'Go' arrangement, with no drums to speak of and lots of space, meant that Ahmad had to adjust his process in other ways as well. "With a typical pop song, I tend to start with drums, pads and any lead instruments, because they are the foundation of the track. Then I put in the vocals, and I may take things down or EQ them to make space for the vocals. After this I work my way backwards, and add bass and anything else, like percussion, effects, and so on, and I check things against the demo mix, using [Sample Magic] Magic AB.
"With 'Go,' I started with the vocals, and the guitar. I also like to go through the mix section by section, so I'll usually first get a balance for the chorus, and then jump back to the verse just before that, and then the verse after that, and so on. In this case, I got a balance for the vocals and guitar for each section, and then I added the pads, and the other instruments. I wanted to make sure that the vocals and the guitar could hold their own, and then I stripped frequencies out of the guitar in the choruses to make space for other instruments."
Aaron Ahmad received the 'Go' multitrack as a series of WAV files, all of them stereo. This part of his Pro Tools session shows keyboards, strings and vocals.
Ahmad's Pro Tools mix session for 'Go' is organised according to his template, starting out with the entire bus section at the top as described earlier, and then kick, effects, bass, acoustic guitar, synths and pianos, strings, lead vocals and backing vocals. "I received the session as a collection of stereo files, which suggested to me that it was done in Logic. All the audio tracks in the session are the stems that were sent to me. The black tracks are my template aux effects tracks, which are close to the tracks they affect. The kick only plays in the outro, and is sent to the kick bus. Because it's not very prominent, I only used a few of the plug‑ins I have on that track: the UAD API Channel Strip, the UAD Pultec EQP‑1A, and the UAD Vision channel strip.
"Below that are three audio tracks with effects, one with vinyl crackle, and the other two have percussion with a lot of reverb. People find that vinyl noise creates more warmth, but in my opinion you don't necessarily need it in the entire song. It only really works in the quieter bits, so I automated the level. There's quite a bit in the intro, and then it comes up again in the second verse and in the middle eight. When there's more going on, like in the choruses, you don't want vinyl noise. But when you suddenly hear it after a loud section, it gives the effect of everything being closer to you. You subconsciously think, 'It must be quieter now, because I can hear background noises and breaths and lips and so on.' So vinyl noise is also useful to help with dynamics."
The project contained numerous acoustic guitar tracks (yellow), but the majority appeared only in the second half of the song, and received different mix treatment to keep them out of the way.
There are 10 acoustic guitar audio tracks in the session, seven of which come in towards the end of the song, in the middle eight and the outro. "I try to group similar instruments that are playing in similar sections to one bus," comments Ahmad, "so I can EQ and compress them all together, and they sound cohesive, like a band. I find that easier than applying EQ and compression to individual tracks. Also, when you're working on a laptop you need to keep your CPU in mind.
"So the seven acoustic guitars that enter in the middle eight are all sent to the Acoustic Guitar 03 Bus aux track, on which I have the SSL Duende channel strip, and the Soundtoys MicroShift, to widen these guitars a bit, and differentiate them from the main guitar, which plays throughout the entire track. This main guitar is sent to the Acoustic Guitar bus at the top, which has just the SSL Duende on it. Below that are two more guitar tracks, which are sent to another bus, which again has the SSL Duende and MicroShift. All three acoustic guitar buses have sends, which go to the three EGTR aux effects tracks below them, in black. These are template effect aux tracks that I normally use on electric guitar, but in this case it was just a matter of me being in the flow and grabbing whatever aux effects I have in the template.
"The Spin track has a Soundtoys EchoBoy with a 16th‑note delay and the feedback cranked all the way up, and I did some automation on the feedback to pull it back after two beats. Delay is the EchoBoy with an eighth‑note delay and really short feedback, to add a sense depth, and Verb is the AIR Spring Reverb. I think the built‑in Avid plug‑ins are great.
Many of the effects in the 'Go' mix were automated so as to happen only at specific moments, sustaining the listener's interest.
"Some of the synths tracks have the SSL Channel Strip, which is my starting point for EQ. Two of the pad tracks have the Soundtoys Tremolator that I mentioned earlier, to add some movement and interest. The other plug‑ins are the SSL Channel Strip doing compression and EQ, to take away overlapping frequencies.
"I presumed the strings came from a soft synth, and I again added the SSL Channel Strip, and the Soundtoys FilterFreak for movement. All these effects add tiny sprinkles throughout the track that don't get in the way of the vocal. Again, this mix was about details, rather than obvious, big strokes."
"There's one lead vocal audio track, which gets sent to the LV ST Bus aux track. The inserts on this bus are once more based on a hardware approach, and some are deactivated. I usually start with the Avid EQ, just to scoop out what's obviously not needed, like everything up to 100Hz. Next is the UAD Neve 1073 mic pre, which I mainly use for EQ, then the FabFilter Pro‑DS de‑esser, followed by a UAD Neve board channel strip, and finally a UAD 1176, for yet more compression.
"The four sends on the Lead Vocal bus go to the four black tracks below: LV Verb, LV Delay, LV LongVerb, and LV Spin. These are my template vocal effects, and I've automated them so they jump up at certain points. The Verb had the Soundtoys Little Plate, which I love, because it gives me a sound as close to a real hardware plate as possible. The Delay has the EchoBoy, and the LongVerb is the Smooth Hall setting from the Valhalla Room [reverb], which is a banger. The Spin is an EchoBoy going into a Valhalla Room.
You can see that some of the effects tracks have a C for the Avid Channel Strip, which I often use to roll off low end on delays and reverbs, so they don't get too messy. I also added some top end with one of the reverbs that they had sent to me as an audio track, to spice it up and move it forward a bit, because it was a really nice reverb.
The plug‑in chain on the lead vocal bus.
"I have multiband compression on the backing vocal bus track, because I wanted the backing vocals to sit around the vocals. There also are a number of FabFilter de‑essers. I wanted to make sure that the backing vocals are less bright than Cat's lead vocal, and multibands are a nice, dynamic way of dulling them down a little bit. I did not want to detract from the lead vocal in any way. For similar reasons, I have the UAD RMX16 on the backing vocals, with a very wet 1.5s reverb, and I then reversed it, so it had a more of a crunch and a distinctive space, which is very different from the beautiful plate reverb on Cat's lead vocal.
"Finally, my mix bus template has the UAD Manley EQ, the SSL Duende stereo bus compressor, and the FabFilter Pro‑MB multiband compressor as well, to catch issues at the last‑minute. I ended up dialling in a bit more top end and removing a little low end with the multiband. I got the feedback that they needed it a bit more pop‑ready. I also put on the FabFilter Pro‑L 2, so the volume would match what's out there.
"The greyed‑out inserts are the Magic AB, and a bunch of meters, to check loudness and phase, and so on. Because I mixed most of this at home on a laptop, headphones and speaker, in an untreated room, once I was in a place where I was happy with my mix, I went to the meters to see what the data was telling me. And I also checked the low end at SARM Studios."  
Aaron Ahmad has enjoyed major credits as a recording and vocal engineer, including Joel Corry, Jax Jones, Kanye, Anne‑Marie and many others, and in recent years he's increasingly established himself as a mix engineer, with credits like William Singe, Nina Nesbitt and Poté. 'Go' is his first major hit as a mixer.
Originally from just outside Cardiff in Wales, Ahmad played trumpet as a teenager, and then attended a Sound Technology course at the Liverpool Institute for Performing Arts. In 2011, he got a job as a technical assistant at Metropolis Studios in London, which morphed into him becoming an assistant engineer and then a fully fledged engineer.
"I spent the first two years at Metropolis fixing channels from their SSL and Neve desks. Later I worked with Macs and Pro Tools and Prism I/Os, which I was more comfortable with. The engineers and mixers who were the biggest influence on me include Dan Parry, Liam Nolan, Paul Norris and Sam Wheat."
Ahmad left Metropolis in 2016 to work as an engineer for producer Benji B, and went freelance in 2018. "My time now is evenly split between mixing work and sessions with vocal producers, such as Annabel Williams," explains Ahmad. "I used to rent a room in a studio in Deptford before the pandemic started, but found that I was moving around so much in London, that I now simply rent a studio as and when I need it. This is in addition to working at home, as I did with the Cat Burns mixes in 2020."
Aaron Ahmad conducted all his mixes for the 2020 Cat Burns promo EP, including 'Go', entirely in the box. "When I worked at Metropolis, where they have every piece of hardware you'd ever need, I would use a lot of it. But the moment you go freelance, and jump between studios and clients, to lug your vocal rack or other gear with you is a hassle. I found more and more that the results I was getting in the box were great, and helped me with my workflow, because instant recall is so important now. Making amendments and doing edits and printing stems is so much easier in the box. For tracking it's different, and it can be nice to use some outboard. But mixing in the box, in a room with monitors that I know and trust, is the best situation for me.
I found more and more that the results I was getting in the box were great, and helped me with my workflow, because instant recall is so important now.
"I travel around with a 4U SKB rack, like a small travel case, in which I have my Apollo 8p and Apollo Twin, headphone amp, a Blackmagic Multidock, and my MacBook Pro. It's from a few years ago, but I plan to upgrade, probably to the M2 chip once that is available and all software runs on it. But I still approach everything as if it was a hardware process, just like in my Metropolis days, and use plug‑ins sparingly.
"I will start with wide‑band EQs, slow compressors, before getting out the 100‑band notch EQs. It makes more sense in my head, as it is a sound I am familiar with. I use many UAD plug‑ins, and they react the same way you'd expect from hardware. I know where I am with them, rather than chasing the latest OTT compressor. Other than that you can't open them when you don't have your UAD unit with you, I think the UAD plug‑ins are great. They allow me to have that analogue workflow and approach.
"For example, I love the FabFilter stuff, but I find that I can get lost and go down a rabbit hole with their plug‑ins, because of the large amount of options, and variations and bands. Take their Saturn plug‑in. You can choose any frequency band to distort. So to limit myself, I prefer to use something like a Neve channel strip plug‑in. It gives me only a few bands to work with, and then it's like, 'Let me see whether I can do what I want to do with this first.' I don't want to have a million options. It's like, give me three, and let me see whether I can do what's in my head with the three, and if I can, great."