Secrets Of The Mix Engineers: Ian Kirkpatrick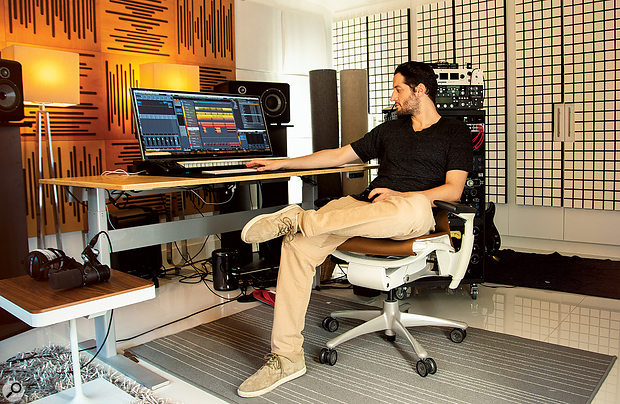 Ian Kirkpatrick's studio is mostly an in-the-box affair, with Steinberg's Cubase his DAW of choice.
Dua Lipa's mega-hit 'Don't Start Now' grew out of a writing session in Wyoming to achieve world-wide chart domination. Producer Ian Kirkpatrick was there from the start.
"Many people shit on pop music. They think it's a lesser form of music. But I actually think it's the most mysterious and advanced, because you have to make the most amount of people happy. It's like a riddle, and there are no rules. There's the Max Martin math and there are other people's approaches, and then there's always something that works that you did not think would work. There really are no rules. It's insane."
'Don't Start Now' is the lead single from Dua Lipa's April 2020 album Future Nostalgia. 'Don't Start Now' was written by Caroline Ailin, Ian Kirkpatrick, Dua Lipa & Emily Warren. Produced by Ian Kirkpatrick.Talking is Ian Kirkpatrick, one of the world's most prominent pop music writers and producers. He's recently made many people very happy as the man behind Dua Lipa's monster hit 'Don't Start Now', which was a number one in close to a dozen countries, and a top 10 in dozens more. Even more famously, Kirkpatrick was also behind Dua Lipa's iconic 'New Rules' in 2017, which became an anthem for the then emerging #MeToo movement. In addition, Kirkpatrick has co-written and produced hits for Selena Gomez, Jason Derulo, Justin Bieber, Nick Jonas and more.
Despite his impressive track record, Kirkpatrick didn't find it easy to crack the maths: "I didn't know how hard it is to write pop music. I remember Mike Caren of APG Music sending me tons of a cappellas of Jason Derulo, asking me to produce a track underneath them. I had two years of these opportunities, and I failed every single one. But all that failure made me even more obsessed with trying to figure out why my stuff did not sound like what was on the radio. I knew it was a reflection of my skill.
"You go in thinking you are good enough, and as soon as you get to the next level, you're at the bottom of the barrel again, and competing with everyone else on that level. And the moment you have a song in the charts, you're competing with everyone else who has a song in the charts! I did actually have a plan B: I was building websites for money and recording local bands. But then I signed to Warner Chappell, and for a long time I didn't get a cut. I became obsessed with figuring out why I was not winning, as was my manager, Dan Petel of This Is Noise. We got really good at losing, and then we finally won!"
Born in Los Angeles 37 years ago, Kirkpatrick started playing drums when he was five. Ten years later a realisation hit him. "A friend played me a CD by Aphex Twin, and I was blown away by the fact that computers could be used to do things like that in sound. I was playing in many crappy small bands, and I had no control over what they were doing. If the music sucked, there was nothing I could change. I was already a bit of a computer nerd, and had no money, but was on a PC, and so I started looking around for pirated music software. I downloaded a bunch of software, and loved the fact that I had so much control. I could do every part of the song. I dived in, and started making beats, and set up a small studio with my now manager.
"However, I still thought I was going to do regular studio sessions and be a regular producer. In my early 20s I worked with many alternative rock bands in that way, doing pre-production and so on. In 2010, I had a hit with a rock band called Plain White T's ('Rhythm Of Love') and the next year with Breathe Carolina ('Blackout'), and then Mark Wilson signed me to Warner Chappell. That's when the world of writing for other artists and writing pop opened up for me. Mark started putting me in sessions with tons of different writers. A few years later, in 2015, I did Jason Derulo's 'Want To Want Me', and everybody started calling!"
Kirkpatrick had successfully made the transition from making music for its own sake to making music for the masses. "When I was very young," he recalls, "I was making music for me. Then when I started producing others, I was more of a chameleon, adapting to the band. Then I moved into pop, a genre I was not a big fan of, but it helped that it can incorporate rock or disco or any kind of genre. I can combine those influences and not always sound the same. Some people say 'I can tell you produced this,' but I don't think I have an identity. I am still a chameleon, working behind the scenes and serving the identity of the artist. Everything I do is my interpretation of what I think an artist should do.
"What motivates me now is believing that a song can do it for everyone, believing that what I'm making is going to be liked by everybody. I've been offered a Benny Blanco kind of deal, with me being a...
You are reading one of the locked Subscriber-only articles from our latest 5 issues.
You've read 20% of this article for free, so to continue reading...
Buy & Download this Single Article in PDF format

£1.00 GBP

$1.49 USD


For less than the price of a coffee, buy now and immediately download to your computer or smartphone.

Buy & Download the Full Issue PDF
Our 'full SOS magazine' for smartphone/tablet/computer. More info...

Published May 2020