Secrets Of The Mix Engineers: Ian Kirkpatrick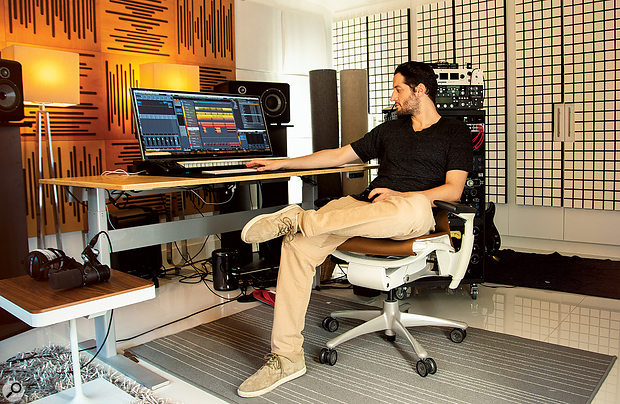 Ian Kirkpatrick's studio is mostly an in-the-box affair, with Steinberg's Cubase his DAW of choice.
Dua Lipa's mega-hit 'Don't Start Now' grew out of a writing session in Wyoming to achieve world-wide chart domination. Producer Ian Kirkpatrick was there from the start.
"Many people shit on pop music. They think it's a lesser form of music. But I actually think it's the most mysterious and advanced, because you have to make the most amount of people happy. It's like a riddle, and there are no rules. There's the Max Martin math and there are other people's approaches, and then there's always something that works that you did not think would work. There really are no rules. It's insane."
'Don't Start Now' is the lead single from Dua Lipa's April 2020 album Future Nostalgia. 'Don't Start Now' was written by Caroline Ailin, Ian Kirkpatrick, Dua Lipa & Emily Warren. Produced by Ian Kirkpatrick.Talking is Ian Kirkpatrick, one of the world's most prominent pop music writers and producers. He's recently made many people very happy as the man behind Dua Lipa's monster hit 'Don't Start Now', which was a number one in close to a dozen countries, and a top 10 in dozens more. Even more famously, Kirkpatrick was also behind Dua Lipa's iconic 'New Rules' in 2017, which became an anthem for the then emerging #MeToo movement. In addition, Kirkpatrick has co-written and produced hits for Selena Gomez, Jason Derulo, Justin Bieber, Nick Jonas and more.
Despite his impressive track record, Kirkpatrick didn't find it easy to crack the maths: "I didn't know how hard it is to write pop music. I remember Mike Caren of APG Music sending me tons of a cappellas of Jason Derulo, asking me to produce a track underneath them. I had two years of these opportunities, and I failed every single one. But all that failure made me even more obsessed with trying to figure out why my stuff did not sound like what was on the radio. I knew it was a reflection of my skill.
"You go in thinking you are good enough, and as soon as you get to the next level, you're at the bottom of the barrel again, and competing with everyone else on that level. And the moment you have a song in the charts, you're competing with everyone else who has a song in the charts! I did actually have a plan B: I was building websites for money and recording local bands. But then I signed to Warner Chappell, and for a long time I didn't get a cut. I became obsessed with figuring out why I was not winning, as was my manager, Dan Petel of This Is Noise. We got really good at losing, and then we finally won!"
Born in Los Angeles 37 years ago, Kirkpatrick started playing drums when he was five. Ten years later a realisation hit him. "A friend played me a CD by Aphex Twin, and I was blown away by the fact that computers could be used to do things like that in sound. I was playing in many crappy small bands, and I had no control over what they were doing. If the music sucked, there was nothing I could change. I was already a bit of a computer nerd, and had no money, but was on a PC, and so I started looking around for pirated music software. I downloaded a bunch of software, and loved the fact that I had so much control. I could do every part of the song. I dived in, and started making beats, and set up a small studio with my now manager.
"However, I still thought I was going to do regular studio sessions and be a regular producer. In my early 20s I worked with many alternative rock bands in that way, doing pre-production and so on. In 2010, I had a hit with a rock band called Plain White T's ('Rhythm Of Love') and the next year with Breathe Carolina ('Blackout'), and then Mark Wilson signed me to Warner Chappell. That's when the world of writing for other artists and writing pop opened up for me. Mark started putting me in sessions with tons of different writers. A few years later, in 2015, I did Jason Derulo's 'Want To Want Me', and everybody started calling!"
Kirkpatrick had successfully made the transition from making music for its own sake to making music for the masses. "When I was very young," he recalls, "I was making music for me. Then when I started producing others, I was more of a chameleon, adapting to the band. Then I moved into pop, a genre I was not a big fan of, but it helped that it can incorporate rock or disco or any kind of genre. I can combine those influences and not always sound the same. Some people say 'I can tell you produced this,' but I don't think I have an identity. I am still a chameleon, working behind the scenes and serving the identity of the artist. Everything I do is my interpretation of what I think an artist should do.
"What motivates me now is believing that a song can do it for everyone, believing that what I'm making is going to be liked by everybody. I've been offered a Benny Blanco kind of deal, with me being a producer/artist, and doing songs under my name featuring Dua or Selena, but for that I'd need an image and a kind of identifiable sound. And I have no idea where to start with that. Would it be disco, or more electronic, like Daft Punk? I don't know. For me all the excitement comes from thinking that many people are going to love the song I'm working on, and that it is something really smart and new. I can't wait for people to hear it!"
Kirkpatrick conquers the world from Tarzana, in Los Angeles, where he has a studio in the converted bedroom of a house he bought two years ago. "I had planned to build a studio in the garage, but old habits die hard, and I prefer the bedroom environment! I have a Mac with Cubase, with a [UA] Apollo 16 interface, and Barefoot Sound MM27 monitors. I have a rack of outboard that does not get used all the time, which includes a Shadow Hills Equinox, which I use for summing and monitoring, two BAE 1084 mic pres, Empirical Labs Distressor compressor, a Thermionic Culture Vulture mastering and distortion unit, a GML 9500 mastering EQ, and the Shadow Hills Mastering Compressor. I also have a Kemper modelling amp for guitars. I make tiny slits in foam earplugs and use those to dampen strings I don't play, so I can focus on just playing two strings!
"However, I am mostly in the box. I keep it very simple. Less is more. And I adore Steinberg's Cubase. I've used it since version SX3. When I was looking for pirated software, I started on Acid, then used Reason, which I still use today, as I do with Ableton. I found Cubase at the time as well, and it still is my main DAW, because it feels like flying. It's like an extension of my body! And it has functions I have not seen in other DAWs. There's something called the Slide function, which is hard to describe, but really useful. Editing is really fast, and the Media Bay, which organises your samples, is amazing. I have a decade of rated samples totalling 400GB, and the Media Bay allows me to find things super‑fast. I know of no DAW that has something similar that works as well.
Ian Kirkpatrick: "I have met the designers of Cubase, and what I like about their approach is that they're always trying to do new, crazy stuff... I love all the new features. It is so advanced, if you know how to use it, and start to think through its endless capabilities, it is really freeing.
"I have met the designers of Cubase, and what I like about their approach is that they're always trying to do new, crazy stuff. This can very occasionally result in bugs, but I would rather be an explorer than focus on a company that is only concerned about stability. Cubase is stable enough, and I love all the new features. It is so advanced, if you know how to use it, and start to think through its endless capabilities, it is really freeing. I feel I can work as fast as I can come up with ideas, and I am not limited by anything. But it was tough without playlists — called 'track lists' in Cubase — which it did not have for a while. And once Ableton gets playlists, that is going to change things. I wouldn't know how to function without playlists.
"Other software I use includes Reason, because the synths in it still don't sound like anything else, and I also love all the effects. I use it inside Cubase and Ableton. The latter has a few things that are different than Cubase, like the sampler is really weird and interesting for cutting up stuff and detecting transients. If I'm after a certain sound, I may start a song in Ableton, but everything always gets finished in Cubase, before I send stems to the mixer.
"I also use Native Instruments Reaktor, and Razor is my favourite for building bass sounds. Kontakt also is an amazing sampler that allows a lot of control over sample manipulation. The Roland Cloud Juno and Jupiter 8 synths are great, and the Arturia stuff is really cool. I have tons of stuff. Massive, Addictive Drums, Addictive Keys, Omnisphere, Battery for drum programming that's not on the timeline, Massive, GForce M-Tron and Reason."
With this impressive arsenal of software at his disposal, Kirkpatrick creates songs in his studio, alone or with a select group of co-writers. "Over the years you find the writers that you resonate with, so I often work with the same people. Two of them are Caroline Furoyen [aka Caroline Ailin] and Emily Warren, with whom I wrote 'Don't Start Now'. They are a good combination. Emily was also involved in the writing of 'New Rules'. I also often work with Julia Michaels, for example on Selena Gomez's 'Look At Her Now' and 'Bad Liar'. Both songs also involved Justin Tranter, and Julia and Justin together are an incredible combination. You figure out what combinations work best for what kind of songs.
Photo: Luc Coiffait"Sometimes I do writing camps, so I can meet many new writers in a week, to see which ones I'd like to work with again. Writing camps are a bit like speed dating! You get into a room with people you have just met and you're talking about your life 10 minutes later, and all the traumas that you have had, and so on, and then you are writing a song about it. It can get very intense very quickly. This is why I tend to stick to the same people.
"'New Rules' was written at a writing camp for Little Mix, and the song then kind of fell through the cracks because the A&R's didn't like it. This was until my manager sent an email to Dua's A&R, saying, 'What about this one?' Dua came in later and made some changes to the song. Sometimes you're just writing songs for no-one in particular, and it's just like throwing stuff at the wall to see what sticks. But usually when you write a song, there's a focus on a specific artist. 'Don't Start Now' was written for Dua on purpose.
"In general we prefer to start writing songs without the artist in the room, because it's easier for us to go down one road, come back, try something else, and so on. It can be more freeing to just get together with the writers to see what happens. However, Selena Gomez was in the room here for all the songs I did with her. Artists like her and Dua have a strong identity. 'Don't Start Now' would be nothing without Dua's voice and presence.
"A lot of writing involves me sitting in my studio starting new sessions, even though many writers don't like being played tracks, because it kind of corners them if they don't really love the track. The approach varies. When we worked on 'Look At Her Now' with Selena, things were not working, and she wanted something more uptempo. I pulled up a beat I had with a vocal chop, which I had already played to other writers, and nobody liked it. So I was really sweating. But Selena loved it, and so did Julia, so I was like 'thank God!'
"'Don't Start Now' began in Wyoming, at Emily Warren's house, and we were not getting anything great. We went out, and ended up at this weird disco night, and this must have planted the seed of the idea in me. I think it started with me playing the chords on the piano — I'm a bad piano player so use Scaler and Xfer Cthulhu chord plug–ins a lot — and Emily and Caroline then added their things. I added the bass line and drums later. The bass line is my favourite part of the song. It is a mix of Daft Punk and old Euro house DJs like Alan Braxe and Fred Falke and Cassius. So it's not so much influenced by disco, but by those funky European bass lines, which come across as disco."
There's a comment underneath the YouTube video for 'Don't Start Now' suggesting the bass line is the only thing in the video sexier than Dua Lipa. Kirkpatrick laughs out loud at the compliment, and comments, "I used the Scarbee MM-Bass plug–in for the main bass sound. I played the main part on the keyboard, and then edited it afterwards. There's a sub bass underneath it, and it's blended with slaps in the drop, which is from a Trilian bass patch, plus there's a thumb bass. The song also has some strings at the end, which are a combination of Kontakt Session Strings and some weird Nexus 1970s string patch, all mixed together, plus live strings."
There are songwriter/producers who hand over their songs and productions to the artist, or to other producers who then develop them further, and there are those that take a much more hands-on approach. Kirkpatrick is very much one of the latter. "Maybe it's because I use a different DAW from most producers in LA, or maybe it is that I have control issues, but I really like to be involved in all aspects of the making of a song, until it gets sent to a mixer. I like timing and tuning things in Cubase, and I like to finish things. I am proud of being the sole producer of all my successful songs, rather than it being co-productions.
Ian Kirkpatrick: "When I record someone's vocal, I tell the singer not to worry too much about pitch, but to just give me emotion. I can help with the pitch afterwards, and I'd rather it sounds honest. I'm always going for a delivery that sounds believable, for a story that is being told, rather than someone just reciting lyrics.
"I also usually do the vocal recording and production. Dua tends to record at my place, using my Telefunken [ELA M] 251, or sometimes my Shure SM7. Many of the vocals here are recorded on the SM7, handheld. I do of course get vocal recordings and comps made by others, and however great they are, I always ask for the other takes, so I can tweak the vocal production. I like to have options.
"When I record someone's vocal, I tell the singer not to worry too much about pitch, but to just give me emotion. I can help with the pitch afterwards, and I'd rather it sounds honest. I'm always going for a delivery that sounds believable, for a story that is being told, rather than someone just reciting lyrics. The latter gives you bad pop music, because you feel disconnected from the artist. After I finished recording vocals, I comp them without tuning, and then I put everything into Melodyne. I used both Melodyne and Auto–Tune, but working with Melodyne is like playing God. It gives you so much control!"
After finishing the vocal recordings of 'Don't Start Now', Kirkpatrick spent another two weeks finishing the song, which included doing a detailed rough mix, before sending stems to mixer Josh Gudwin. "The song went through several changes. It's weird, once Dua put her voice on it, it helped me understand the song more, and there were more changes after that. Her A&R, Joe Kentish, said that the bridge sounded like an afterthought, which was true, so I added a vocal chop to the bridge. The first version of the drums didn't sound as fat. I was worried that the song would sound too disco, too classic. It needed something new, to make it the perfect mix of the old and the new. I listened to the Weeknd's 'I Can't Feel My Face', and the drums on that are fatter, so I added some extra drums."
For hi-res screenshots of the Cubase Pro project, open the ZIP file: 

dualipakirkpatrickcubasehi-res-screens.zip
At close to 100 tracks, Kirkpatrick's final Cubase Pro rough mix session of 'Don't Start Now' is substantial, while many of the tracks are condensed.

dualipakirkpatrickcubasehi-res-screens.zip"For example, I had a whole separate project for the chords before the drop, because I could not decide on the combination of the piano and the synths. I had like 25 different sounds, and I went through them and combined them to four, and I brought those back into the project. I also usually print MIDI parts for the mix, though not always. In this session everything is rendered, apart from the MIDI part for the sub-kick, which is a Kontakt sub-kick that is adding some low end.
This composite screenshot shows the complete Cubase project for Kirkpatrick's completed rough mix, including nearly 100 tracks.
"I tend to tinker forever on the rough mix. Some of my favourite plug–ins are the Universal Audio LA‑3A, and [Oeksound] Soothe, which is an incredible plug–in, which I often use for de-essing. I'm a fan of the Xfer OTT multiband compressor, which can be heavily abused, but is nice in low doses. I often use it to brighten up something or to eliminate some weird mid-range. I use the Valhalla VintageVerb a lot. Is there a better reverb? Their Shimmer also is great, you can use it in really interesting ways, if you render it and then time-correct it, because it is a weird plug–in. The Valhalla reverb is absolutely hands down the best-sounding, but some of the Waves Abbey Road stuff is also very good. And I love Reason's really old in-house reverb.
"I am really touchy about mixers adding reverb, because the stereo field is so important to me. There are only certain ways to have dynamics in your song: there is volume, there is brightness, and then there is stereo field. Sometimes I want a chorus to explode outward, and I want the drums to be mono in a certain place, and then get wider. You also can get such a crazy contrast sometimes by cutting off a reverb tail. You establish a space, and then you violate it. That catches people's ears. I try to be very mindful of where my delays are ending and where my reverbs are.
"As for the outboard in my studio, the reason I have the Shadow Hills stuff is because I thought that our studio would be handling final mixing. I made it a point to learn how to mix and was on Gearslutz and reading SOS all the time, because I really wanted to learn. I'm thankful for all the gear I have here, and still use the mastering compressor sometimes to level off a mix. I use that as an insert, and the Culture Vulture also. I have this little Teenage Engineering OP1 synth, and I will sometimes run things through that for distortion. But for the most part everything else is in the box. I like using distortion, but before I use the Culture Vulture for that I will go to the FabFilter Saturn or iZotope's Trash plug–ins.
"Once I'm done with a mix, I will send stems to the mixer. I send my effects as separate stems, but for the most part I will give them what I have done, and only if a mixer asks me to receive anything without my effects will I send them that. The fact that nobody uses Cubase is like a blessing in disguise, because I can control what goes to mix. Anything I think they can do better, I let them do, and anything that I want to remain as it is, I try to keep control of! As is I mentioned, I'm really particular about reverb, and from a really existential musical point of view, the perfect combination of grit and cleanliness is where you will find something that sounds fresh. So I try to control that, even after I send my stems off! Finishing things is scratching an itch, and I'm obsessed about making sure everything is in its right place."
"This screenshot shows all the rendered bass parts for 'Don't Start Now', with the MIDI for the Scarbee bass at the top. The 'bb-slap' track is from a Trilian patch. The 'bb-secondprebass' is a droning note for the hook. Underneath that is the sub-bass, which is a low octave copy of the main bass. The Scarbee does not have subharmonics, so I added in the sub-bass to put some beef underneath it, with NI Reaktor.
'bb-Trill' in the pre-chorus is the only place where I tried to depart from disco a bit and go for a '90s thing, and it's also a Trilian sound. I have LFO Tool on the bass bus, and automated the ducking with the kick. There's also some slight compression from the FabFilter Pro‑C2."
For hi-res screenshots of the Cubase Pro project, open the ZIP file: 

dualipakirkpatrickcubasehi-res-screens.zip
"The SoundToys Little Alterboy is taking the formant of the vocal down and makes the 'throat' bigger. The MicroShift is adding some stereo, because it is a mono vocal. The Waves H‑Delay is set to a dotted eighth, and added only very lightly, because it's in the chain before FabFilter Saturn, which is being used as a compressor in this case, using that little Dynamics knob next to the Drive. It is an insane compressor. It sounds incredible. There also is a little bit of grit from the Clean Tape section.
As soon as the vocal disappears the Saturn compressor pushes the delay up, and the moment the vocal comes back, it erases the delay. It is like side-chaining your delay. The Waves C1 has the most insanely fast attack time and release times, so it can literally crush sounds into staying at a certain level. It is eliminating any peaks in volume, and it also brings up the delay a lot more.
The FabFilter Pro‑DS is not really doing much. The Xfer LFOtool affects the beginning of the vocal sample a lot, making it sound less percussive, and more like 'ohwow ohwow'."
For hi-res screenshots of the Cubase Pro project, open the ZIP file: 

dualipakirkpatrickcubasehi-res-screens.zip
"When I comp vocals I comp once, and then I take away everything I comped, and then I comp everything again, and I take that away again, and then I do the same thing again," says Ian Kirkpatrick. "So I do three comps of the whole song. I then tune and time all those three comps, and then I do the final comp from these three comps. In the screenshot you can see how I use comps 1C, 2C and 3C. Sometimes you lose perspective when comping vocals for hours, and I want to be able to make the final decision instinctively and really quickly at the very end.
"My vocal effect chain starts with the [Brainworx] BX_cleansweep v2, which very smoothly removes some very low end, around 30Hz, so the compressor acts more on the lower mids, instead of getting caught up with this sub–audible low end. That can make compressors act weird. The [Goodhertz] Vulf Compressor is a pretty insane compressor, but in this case it does not do that much. It is all about trying to make it sound a bit more analogue, so it also adds a little bit of grit. The Waves LA‑3A is a super-smooth compressor that keeps vocals sounding natural, and adds just a little more compression. The Oeksound Soothe is just taking out a little bit of the body of the vocal. Dua has very prominent lower mids in her voice, the baritone aspect, and this can sometimes overpower things.
"The UAD Pultec EQP-1A is taking out a little bit more of the low end, and then there is a boost at 12kHz, which adds some air on the vocal. It is a really great EQ, very smooth. Sometimes I will boost the highs going into a de-esser, so I did that here. After the Pro‑DS there is a normal EQ, the FabFilter Pro‑Q2, to give back a little of the high end the vocal may have lost in the de-esser.
"Finally, the Xfer LFO Tool. I prefer that to side-chaining, just because it gives me more control over the speed at which the vocal comes back in volume. The volume is getting ducked by 10 percent when the kick hits, and in the verses that automation goes to 40-percent ducking. This is the kind of stuff that I told Josh [Gudwin] to watch out for, because he needs to make sure he does not add more compression to my stem, because it takes away the LFO Tool's ducking. The LFO Tool is important to make the vocal feel like it is part of the song, and that the song and the vocal are interacting.
"The Valhalla VintageVerb is my reverb on the vocals, and there's also an Xfer OTT multiband expander and compressor, so I have more control over it and get it where I want it. The LFO copies the automation of the main vocal. It would be crazy to automate the LFO on the main vocal, and not on the reverb on that vocal. And then I am compressing the reverb again with the UAD 1176."