Secrets Of The Mix Engineers: Peter Nappi
Peter Nappi. This photo was taken in the studio of singer and producer Jon Bellion.
It was just another session for producer Peter Nappi, but Gayle's 'ABCDEFU' would become one of the most listened‑to tracks of 2022.
Late in 2020, producer Peter Nappi received some vocal and acoustic guitar files by an unknown 16‑year old singer called Gayle, with the request to create a production around the song. He considered it a routine assignment, as did the people who had sent him the files. No big‑name mixer was involved in the end product, and the track was mastered automatically on LANDR.
'ABCDEFU' - Written by Taylor Rutherford, Sara Davis & David Pittenger. Produced by Peter Nappi.Gayle's song was finally released on August 13th, 2021, as her first major label single, and no‑one expected it to be a huge hit. However, just like Lil Nas X's 'Old Town Road' and Olivia Rodrigo's 'Drivers License', 'ABCFEFU' blew up on TikTok and then took the world by storm. By the middle of January, it had reached the top ten in more than 30 countries, including the US, and number one in a dozen places, including the UK.
"I try to stay off my phone as much as possible, and don't have TikTok, so when the song started blowing up on there, I had no idea, until people were texting me about it," laughs Nappi. "But it was still hard to comprehend. I don't think anyone saw the enormous success of the song coming. Gayle is extremely talented, and when you meet her you know she's going to be successful. It's also a really cool song, but you cannot foresee or plan this kind of success."
Nappi's encounter with the song started on December 8th, 2020. "I am signed to Arthouse Entertainment, which is a company owned by songwriter Kara DioGuardi. She has worked with Gayle off and on since she was 14, and signed her to her company, and then also got her a deal with Atlantic. There were several songs in development, and 'ABCDEFU' was one of them. It had had several different productions, yet no‑one could nail it.
"So Kara asked me to work on the song. I was very busy at the time, and might normally have declined to work on a song, by an unknown singer with no releases, which might not even come out. But when Kara calls it's different, so I agreed, and spent three hours or so working on the song before going to another session. After that I forgot about it. A few weeks later one of my buddies reminded me of it, and I reckoned it was a good idea to send over my demo, to see what they thought and whether they wanted me to finish it. Kara replied, 'Roll with it!'
Gayle.Photo: Luke Rogers"I got some notes from Gayle, who wanted electric guitars throughout, also in the verses, and for the song to be rock and yet also modern and cool. And she wanted me to crank up the gang vocals. I now crank up the gang vocals for every song I do with her, because I know she will email me asking for that. We also worked on an intro. By Christmas 2020 I had finished up the arrangement, also changing the chords in the chorus sightly, adding some live drums, and making sure all the sounds were the best they can be. The end result was still pretty close to my first demo, though."
Originally from Long Island, Nappi has played drums since he was eight years old, and started messing with GarageBand, he says, "when I was 10 or 11. At high school we had a music theory teacher, Mr Kevin Dunne, who somehow had convinced the school to get computers with Pro Tools, and even a Control 24. It made no sense, but a high school buddy of mine, Johnny Simpson, now also has major success as a writer and producer. So I got into Pro Tools when I was 13.
"After high school I went to the Berklee School of Music in Boston, and majored in film scoring and minored in conducting. I met Kara DioGuardi there, and she signed me to her company and arranged for a publishing deal with Universal. I left the school, moved out to LA in 2013 and started writing and producing. A couple of year after that I formed a band called Ocean Park Standoff, together with singer Ethan Thompson and DJ Samantha Ronson [brother of Mark], and we signed to Hollywood Records. That band folded a couple of years ago."
Nappi's recent work includes songs with UPSAHL, Anne‑Marie, Little Mix, Madison Beer, 30 Seconds To Mars, Iann Dior and Mike Shinoda. 'ABCDEFU' was produced in his home studio in LA, where he has Focal SM9 and Amphion One18 monitors, a MacBook Pro, a self‑built PC on which he runs Pro Tools (see box), an RME Babyface interface, Audient ASP800, Chandler LTD‑1 and TG2500 mic pres, a Tube‑Tech CL‑1B compressor and Inward Connections The Brute limiter, a Moog Sub Phatty synth, and Neumann U67 and M149 and Advanced Audio CM800T mics. The latter, he says, "is a great Sony C800 clone, that sounds phenomenal. I use it on a daily basis."
"When I get a song in, I generally don't want to hear the demo," says Nappi. "I may listen to it once, just to decide if I want to do a song or not. But then when the actual session files come in I'll throw them straight into Pro Tools and I just go, because your initial reaction and instinct is probably the correct one, at least for me. I throw ideas down quickly, and then later, if people are happy with the direction I've taken, I'll go in again and refine the arrangement and find better sounds.
The song's main bass came from Arturia's Minimoog emulation.
"My first version of 'ABCDEFU' had a sampled electric guitar, Arturia Mini V bass, drums, and of course the acoustic guitar and vocals I was sent. In this case the mechanical‑ness of the programmed guitar sounded a little more modern than when it was played, so I left that. In other cases I sometimes play things that I initially programmed.
"When programming drums I drag the sounds into the timeline. I've played drums my whole life, but when producing I like looking at a grid, and if I want to have a more realistic feel, I know where to move things, like if you want a more laid‑back feel, you put eighth notes a little behind the beat. In general, you rarely put drums exactly on the grid. I have a bunch of samples that I have collected over the years, and Splice is a good place to get samples. I also use a lot of Native Instruments Kontakt stuff, and for synth sounds I use things like Spectrasonics Omnisphere, Xfer Serum and LennarDigital Sylenth1."
The electric guitars and the general rock feel of Nappi's production of 'ABCDEFU' are unusual in today's pop music scene, which is dominated by productions with electronic arrangements, often including 808s. "In my brain I'm always fighting to never come up with rock productions," explains Nappi, "because I have done rock in the past, and we have all heard guitars a thousand times. I still love rock music, but I find it far more interesting to hear productions where I have no idea how they made the sounds. Those are the kind of productions that I like to listen to these days, also to keep a fresh perspective. Still, I guess I'm naturally good at making rock music, because I grew up on it, and with this song I immediately thought it needed a rock‑influenced production. The lyrics were angsty and angry, and this called for a harder production. I later found out that Gayle also wants things more edgy. She's not super pop. Instead she wants to be a rocker chick. It turned out that the way I did the song was just what Gayle wanted. There was another song of hers in development that was going to be her main release and that I was not involved in, but it did not feel authentic to her."
With Gayle and her team excited about the direction of Nappi's first draft, he was asked to complete his production and later also to mix it. Nappi already explained some of the work that was involved: adding another electric, swapping out sounds, and creating an intro. He was also given more vocals to work with, and recorded a live drum track.
"At this point in the production process I work hard to make sure that every sound is the best possible. With 'ABCDEFU' I changed most of the drum sounds, including the kick drum sound, and the demo had finger snaps in the verses, which I swapped for an 808 snare. I added hi‑hats, some more percussion, and bits of ear candy. I generally don't play live drums on my sessions, but in this case I did play the beat on my drum kit, and recorded it with an iPhone. I really like the way the iPhone's microphone sounds. I probably emailed a mix of my session to my iPhone and then put headphones on and played along with it. I later chopped up that recording and looped one bar of it."
Peter Nappi: I hate mixing my own music!
After Nappi had completed the production, incorporating more input from Gayle and her team, he received the next request. "They were like, 'We love how it sounds, can you please mix it?'
"I hate mixing my own music! It is so difficult for me. But lately I have been mixing a lot of the stuff that I am doing, and I often spend more time mixing than I spent producing a song. However, this was not the case with 'ABCDEFU'. I'm not even sure whether I spent much time mixing it. Normally my mix sessions are huge and filled with plug‑ins. I often use Blue Cat's Patchwork to be able to have more plug‑ins on individual tracks. But that's not the case with this song. For me, there are very few plug‑ins.
"I obviously also mix as I go, and this is probably one of those sessions where it sounded correct, and I moved on quickly. Everybody was happy, so don't mess with it too much! Looking back, I think there's a good lesson to learn here, because sometimes you go too deep into mixing and by the end you are like: 'I don't understand why this sounds like shit, because I spent all this work on it.' But in fact, you've been overthinking it and then you blow it. But 'ABCDEFU' just worked. It does not mean that this is the best mix ever, because it is not, but it just clicked."
Pete Nappi's mix session of 'ABCDEFU' is just over 100 tracks large. From top to bottom, there are 13 drum tracks, four bass tracks, 10 guitar tracks, four keyboard tracks, nine sound effect tracks, a master track, and three separate vocal sessions, each containing just over 20 tracks.
Download the accompanying ZIP file to view enlarged, detailed screenshot of this session.

inside-track-0322-nappi-mixsession.jpg.zip
The complete 'ABCDEFU' mix contains around 100 audio tracks. From top: drums (turquoise), bass (red), guitars, keyboards (green), sound effects (blue), master (brown), and three separate vocal sessions, each containing just over 20 tracks."Actually, I organised the session for this interview," admits Nappi, "because I normally literally don't do anything organised. I don't even label any of my tracks, so my sessions are full of tracks called 'audio 1', 'audio 2' and so on. Of course, when I send my sessions out I do organise and title them. I do use folder tracks quite a bit these days, because it makes things quicker. I use them as a bus, so I route my audio to them. There also are many instances of the Avid EQ3 1‑band in my sessions, which I use for volume rather than EQ."
Nappi's process of replacing his demo sounds for better sounds can be seen as the final stage of production or the first stage of mixing, depending on one's point of view. After that he'll go into more detailed treatments with plug‑ins. In the case of the drums on 'ABCDEFU' these consisted mostly of instances of the EQ3, although the live drum track and snare folder had more extensive treatments.
"I put a lot of distortion on the live drums, using the Elysia Phil's Cascade saturation plug‑in. There's also a lot of saturation on the snare folder. I did this because I saw a video in which Disclosure put an analogue tape plug‑in on their snare. I often try things other people do and then mess with it, and on the day I mixed this song, this worked. The snare folder has the Waves API 2500, IK Multimedia T‑RackS Tape Machine 80, Sonnox Oxford Inflator and FabFilter Saturn, and an EQ that cuts below 70Hz.
Nappi's live drums were brutalised using the Elysia Phil's Cascade plug‑in.
"There's nothing on the bass and keys tracks, but both the acoustic and electric guitars have quite a few treatments. For example, there's a Soundtoys MicroShift on the acoustic for some space, and a [Soundtheory] Gulfoss EQ. On the electrics are plug‑ins like the Waves NS1 noise suppression, the STL Tones ToneHub guitar preset, and the Serum FX. My friend Zakk Cervini [see SOS October 2016 issue] is a fan of the STL plug‑in, and I used one of his presets."
Below the guitar and keyboard tracks are Nappi's sound effects, which include things like sweeps and risers, but also vocal yells and shouts. "I usually take a vocal that appears at the beginning of a chorus," explains the producer, "and then pitch it up and put a bunch of distortion and reverb on it. So when the chorus hits it creates more excitement."
While the slightly unfashionable rock‑like nature of the production was applauded by all, there was uncertainty about the expletive‑laden lyrics. "There were three different versions of the vocals," says Nappi, "with one having 'ABCDE F**k You', one having 'ABCDEFU', but still with curses, and one with 'ABCDE Forget You'. We ended up going with the second version, and a few things from the main version, and I muted the rest.
"I worked with the raw vocals, which were sent to me by David Pittenger, who co‑wrote the song with Gayle and Sara Davis. I almost always use the Waves NS1 on vocals before I do anything, to get rid of any noise. I've been using the Joey Sturgis Tones Gain Reduction plug‑in on vocals as my first compressor, and I will change it if I want something less intense and less saturated. After Gain Reduction I used the KSHMR Essentials plug‑in. I also use Gain Reduction going into the KSHMR plug‑in when recording, because it sounds good while recording and has no latency.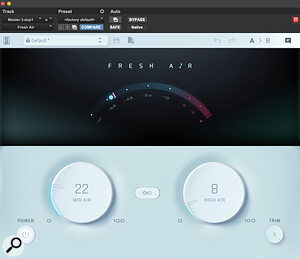 "The main vocals folder has the Slate Digital Fresh Air EQ for some sparkle.""On some of the individual vocal tracks I used the Valhalla Vintage Verb and Native Instruments Raum for reverb. But I've been messing with Waves CLA Epic and UAD Capitol Chambers lately. There also are some Waves H‑Delay delays, and some Antares AutoTune EFX on some of the tracks. I also use the Serum FX on some of the backing vocals. And the main vocals folder has the Slate Digital Fresh Air EQ for some sparkle.
"There are nine plug‑ins on the master track. Normally I have even more plug‑ins in the master, with each doing a small thing, but I am trying to do less. Again, it's a good reminder that doing less can be better! In this session I have the EQ3 1‑band, Saturn, AMT Max Warm, ProAudioDSP Dynamic Spectrum Mapper V3, [Slate Digital] Fresh Air, [Oeksound] Soothe 2, [Sonnox] Oxford Inflator, FabFilter Pro‑L2, and Blue Cat Patchwork, in case I wanted to use more plug‑ins!
Unusual master bus plug‑ins included AMT's Max Warm and Slate Digital's Fresh Air."The Max Warm is a kind of limiter that warms up the whole song. Jaycen Joshua uses it, and I used one of his settings. It makes everything sound bigger. The DSM is a mastering or multiband compressor. Soothe comes after Fresh Air to make sure no crazy things are happening in the high end. It's just set to 25 percent so not doing much. The L2 and Inflator are there for volume. I'm not sure why I put that on, but I actually did the stems via AudioMovers on my iPad while I was in Hawaii on holiday. Because no‑one thought this was going to be the most successful song ever, with it being designed to get the ball rolling for Gayle, it was mastered automatically via LANDR!"
With another TikTok‑driven song storming up the charts at the time of writing — Lauren Spencer‑Smith's self‑released 'Fingers Crossed' — one wonders whether this is the way of the future, and the long‑standing chart dominance of a small group of artists and mixers is coming to an end. Either way, we're likely to hear a lot more from Gayle and Nappi.
"I have used MacBooks and Pro Tools my entire life, but during quarantine I felt I was losing my mind, because I had all these problems with crashes and glitches in Pro Tools," says Peter Nappi. "Time‑stretching would either crash my computer or make white noise when I changed the tempo, I'd open a session and some of the instruments weren't routed correctly, so I'd have to reroute the inputs, and sometimes sessions would not play, and I'd have to restart everything.
Peter Nappi's studio is unusual in being based around a custom‑built Windows PC."I've had problems with Pro Tools on every computer I've used, also in other studios, so it's not just my computers. I'd reached a point where I'd literally do anything to have a computer that just works. So I built my own Windows desktop, using the best parts I could find. It was the first time I ever really used a PC, I've always used Mac for everything. I did a bunch of research and customised it enough so it looks like a Mac and it wasn't that crazy of a change. It still has some of the Pro Tools issues, but is definitely more stable.
"Without the UAD chip that I put in my PC it cost about $1600, and it outperforms the $10k Mac Pro power machine. My PC is way faster, in part because of its AMD Ryzen 9 5950X CPU. Unfortunately, with Pro Tools you need fast single‑core speed, but the 5950 has 16 cores, which is crazy! You can never use too many plug‑ins! I tend to have tons of plug‑ins on every track, and this was one of the things that caused me problems.
"I still have a MacBook, and just got the one with the M1 Pro chip, and it's pretty sick. I use that while travelling. I don't want to have the headache of feeling like I'm a crazy person for using a PC! But you can definitely get a PC laptop that's just as fast, probably for half the money. And many of the guys I know use Windows.
"I have a love‑hate relationship with Pro Tools. I've used it since I was 13, and it's an amazing program that does many amazing things. At the same time, there are tons of things that are really frustrating. You're in the zone and suddenly Pro Tools does something really dumb, and you have to waste 20 minutes trying to figure out what is going on. And why is it so hard to make sure the Undo button can also move a plug‑in back if you just moved it to the wrong place?
"There are so many things that make no sense in Pro Tools. And there are so many young producers who would like to use Pro Tools, also because it's industry standard, but for many things it's just not practical. It's great for recording and editing audio, but in other respects it lags behind other DAWs. If my 15‑year‑old cousin wants to make music, he's going to use Ableton or Studio One or another DAW that's more suited. I've tried these other programs, but unfortunately I'm just too fast in Pro Tools. I know the program inside out, and it's too hard to switch."