Secrets Of The Mix Engineer: Dave Fridmann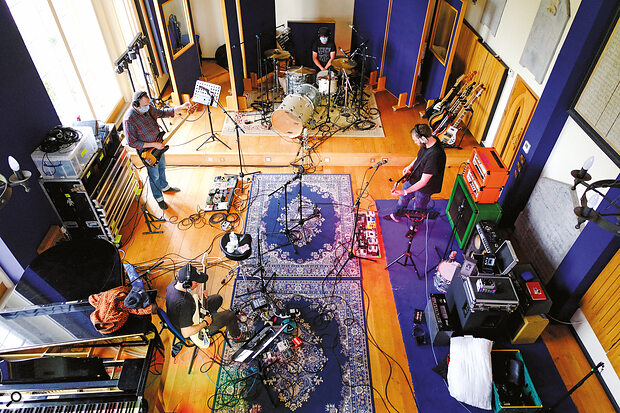 Mogwai mid‑session at VADA studios.Photo: George Perks
Despite the challenges of producing the album remotely, Dave Fridmann's work on the latest Mogwai album saw the band top the charts for the very first time.
"Mogwai is one of those bands that's ultra‑dynamic, that goes from ear‑bleeding volume to deafening silence. If you go to one of their shows you'll experience a full range of emotions because of those dynamics, and because it's so visceral when they're loud. My job was to try to make the visceral experience of a live concert come out of a pair of stereo speakers, or tiny computer speakers, or earbuds. That's not an easy task.
"In general, it is why I have bands come into my studio and perform their music here, and I'm in the room with them listening, experiencing their music in the way they experience it. I'm not sitting in the control room. When you do that with Mogwai, it's absolutely mesmerising. Capturing that is not as simple as just recording them straight. There's studio trickery involved in getting that across on a home stereo system. I hope that I can bring some added value to the table here, not only with Mogwai, but in working with anybody."
As The Love Continues - written by Mogwai, produced by Dave Fridmann.In these two paragraphs Dave Fridmann summarises many of the essential aspects of his production and mix work on the latest Mogwai album, As The Love Continues. But Fridmann's statement raises some questions. Visiting a concert has been impossible for more than a year, and being in the same room as a band has not been very straightforward either, certainly not with Fridmann in upstate New York, Mogwai in Glasgow, and transatlantic travel a big challenge.
Fridmann's solution involved a combination of the cutting edge and the tried and trusted. He's applied this approach to pretty much every project he's worked on, from his early days as the bassist of Mercury Rev in the early '90s, to producing said band and the likes of the Flaming Lips, Weezer, Sparklehorse, Interpol and many others, and also in his Tarbox Road Studios. The studio's website lists an amazing amount of vintage analogue gear, with a spectacular 140‑odd pieces of outboard, dozens of mics, a Neve desk, tape, DAT and cassette recorders, but also the cutting edge with Pro Tools, Logic, Ableton Live, Reason, and so on.
Fridmann has worked with Mogwai off and on since the band's second album, 1999's Come On Die Young. He also worked on the follow up, Rock Action (2001), and again on their ninth album, Every Country's Sun (2017), and most recently on As The Love Continues. The latter, which went to number one in the UK (the band's first chart‑topping effort), came into being in a rather unusual way. Fridmann directed the recording sessions via Zoom, which may seems like a rather remote, impersonal, digital approach for someone so fond of the warmth and humanity of analogue gear. However, while countless people the world over are by now absolutely fed up of relating to others via a screen, the American has a different perspective.
"I'd actually argue that even as Zoom is a digital format, it's an analogue experience. We were looking at each other in real time. We were hearing each other in real time. We were interacting in real time. I couldn't pause reality. It was just like being in the room together. If we had been sitting in the room together, we'd have had the same conversations.
Dave Fridmann"Yes, it's different because we were remote, but we were as close as we could be to each other. That's the part of the process that is really important to me. I also was not necessarily concentrating on the screen part of it. Instead I was focusing on listening. The screen was only important when we were trying to communicate particular ideas. Really, the only difference was that we couldn't go out for a beer together afterwards!"
It was via Zoom that Fridmann told the story of the making of As The Love Continues, elaborating on exactly how they used the medium, and how he provided his added value, both as a producer, and while mixing the album. The story starts with plans for recording sessions at Tarbox in April and May 2020, which were derailed by the suddenly exploding epidemic.
"Mogwai had been fairly well prepared. We'd done pre‑production, with them sending me demos and me commenting. Normally, the band shows up at my place and runs through the songs and we'll make some last‑minute adjustments once I can finally hear them playing in my studio. With the previous album we had two drum kits setup with full complements of microphones, and full complements of preamps, and I have six guitar areas and a couple of vocal areas and pianos, and everything is miked up. That's why I need all these mics and preamps in my studio!"
Like for everyone else, everything suddenly changed in March 2020, and the Mogwai members and Fridmann found themselves stuck at home. However,...
You are reading one of the locked Subscriber-only articles from our latest 5 issues.
You've read 20% of this article for free, so to continue reading...
Buy & Download this Single Article in PDF format

£1.00 GBP

$1.49 USD


For less than the price of a coffee, buy now and immediately download to your computer or smartphone.

Buy & Download the Full Issue PDF
Our 'full SOS magazine' for smartphone/tablet/computer. More info...