Secrets Of The Mix Engineer: Ryan Hewitt
Working on tape with the Red Hot Chili Peppers forced Ryan Hewitt to revisit old‑school mixing skills — and find ways to adapt modern techniques to the analogue domain.
"Using analogue with the Red Hot Chili Peppers was not necessarily about the sound, but rather about the process of using tape. The band played with the intent of making that performance the take, and not with the intent of afterwards going in and fixing things and rearranging and chopping it up and so on.
"Not that there's anything wrong with that approach. Lots of people have success and make wonderful records in that way. But the Chili Peppers play as a band, with no click track. What they play is what you get. Yes, we edited the tape, and yes they played a bunch of takes of each song, and yes we sometimes used the chorus from one take and the verse from another take, and the bridge from yet another one. Or we'd cut the tape to rearrange the order of the song. We did that. No problem. And we first edited things in Pro Tools, to make sure they worked, and for me to figure out my edit points.
Ryan Hewitt: "...it was about the intent of making music as a band, without that digital safety net."
"But it was about the intent of making music as a band, without that digital safety net. It's a wonderful thing to have limitations in your creative process, because you have to decide, in the moment: 'Is it played well enough? Do we move on? Do they play it again, or do we cut those pieces together?' I just think working in analogue is such a beautiful way to make art. It is a romance, because it's a physical medium. The joy of tape editing is that you're making something, in the truest sense of the word."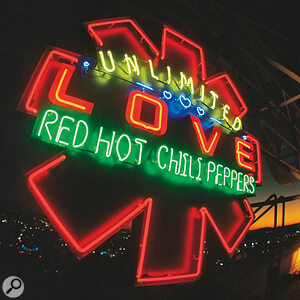 Speaking is Ryan Hewitt, who recorded and mixed the Red Hot Chili Peppers' 12th studio album, Unlimited Love. Released in April, it was the band's most successful album since Stadium Arcadium (2006) in terms of chart positioning, reaching number one in at least 16 countries, including in the US and the UK. It also is the best‑selling vinyl album of the year so far in the US.
Long‑standing guitarist John Frusciante came back into the fold for Unlimited Love after an absence of more than 10 years, as did legendary producer Rick Rubin, who has produced many of the band's classic albums. (He last produced I'm With You in 2011; the album in between, 2016's The Getaway, was produced by Danger Mouse.) Unlimited Love is therefore seen as a return to the classic line‑up and production team for Red Hot Chili Peppers.
Ryan Hewitt is another long‑standing member of the Peppers' production team, with a track record going back 20 years. He was involved in By The Way (2002) as an assistant, and was then an engineer and mixer on Stadium Arcadium, which won the band, and him, a Grammy Award for Best Rock Album.
Ryan Hewitt at EastWest's SSL 4056 G+ console.Photo: Jen Rosenstein
The Red Hot Chili Peppers' and Rubin's predilection for working with analogue is well known, and from Hewitt's words above, one imagines him to be an analogue diehard as well. However, this turns out not to be the case.
"I have two home setups," says Hewitt, "one in Nashville and one in LA, and they're both totally in the box. All I need to work is a computer and a pair of speakers, which in both my studios are PMC 6‑2 actives. Yes, I have monitor controllers and UAD Satellites and things like that, but in general, I'm in the box and I enjoy it. I don't care what sounds better, and am not interested in comparing old to new. I just make it sound as good as I can for whoever I'm mixing for with the tools at my disposal.
"If someone wants to spend a lot of money doing things analogue, I love doing it that way. It's fantastic. The experience with the Chili Peppers has been wonderful. But not everybody has the budget to do that. Also, I want to mix as much music as I can in my lifetime, and the best way to do that is by mixing in the box."
Hewitt is comfortable working with analogue, because, he notes, "I came up at the intersection of analogue and digital, in the late '90s, when a lot of analogue tape was still being used." Hewitt's father David is a well‑known mobile recording engineer, and the teenage Ryan grew up travelling with him to concerts that were to be recorded. His father's ethos, "on the road, you only have one chance to get it right" has stayed with him ever since, and is one reason why the Red Hot Chili Peppers' recording approach appeals to him.
After learning the basics of recording when working with his father, Hewitt junior went on to study electrical engineering at Tufts University in Boston, before moving to New York, where he worked at Sony Music Studios with industry legends like Michael Brauer and Phil Ramone. He then moved to LA, where he first worked for SSL, and later became assistant to Jim Scott, who had engineered and mixed the Chili Peppers' classic Rubin‑produced album Californication (1999).
"Jim also comes from a remote recording background, working for Record Plant Remote LA, so we had this kinship about liking both the road and the studio. When you're on the road, you capture a moment and you move on, but in the studio you're working closely with artists over a period of time. Jim started doing a Chili Peppers record very shortly after I became his assistant, which was By The Way [2002]. That was my entry into working with Rick Rubin and the Chili Peppers, and the beginning of my working relationship with guitarist John Frusciante. So it was a really pivotal moment in my life."
Hewitt worked on half a dozen of Frusciante's solo albums in the '00s. In addition, he has amassed an enviable track record with other artists, which includes engineering, mixing and/or producing credits for acts like the Lumineers, Dixie Chicks, Lady Gaga, Harry Connick, Jamie Cullum, Avett Brothers and Johnny Cash.
In November 2020, Hewitt went to Rick Rubin's Shangri‑La studio in Malibu, Los Angeles. "The Chili Peppers had written and rehearsed for several months, and then moved into Rick's studio in September to do pre‑production with him. When they called me, it was: 'Can you come tomorrow?' I was in Nashville, and all of a sudden I'm on a plane to Los Angeles. I commuted for most of the record, but Shangri‑La is in a large, old house with several bedrooms, so I could always stay there if I wanted. Being in a studio is a bit like being in a bubble, and the pandemic reinforced that idea of hunkering down. A lot of people were unfortunate and had a tough time, so I was very thankful that I got to be in one of the most beautiful places on the planet making the record of my dreams."
Hewitt has been a fan of the Red Hot Chili Peppers since he was 13, so for him, working with the band was like a dream come true. However, having been dragged away suddenly from his comfortable 21st Century in‑the‑box setup, he had to quickly find his bearings at Shangri‑La, where he was faced with a temperamental 1969 API desk, a Studer A827 24‑track tape recorder and a shortage of tape, tons of outboard, ATC monitors, and a commitment by Rubin and the band to record and mix entirely in analogue.
Unlimited Love was recorded onto two Studer A827 2‑inch 24‑track tape machines.Photo: Jen Rosenstein
"Working with analogue is like riding a bike," comments Hewitt. "I hadn't done it in years, but it just came straight back to me. But there were some challenges. For example, it was very hard to get tape. To my knowledge, there are only two companies left that make 2‑inch tape: a French company and ATR Magnetics in the US. They only make tape to order, in small batches, and you have to order it weeks in advance. A 2‑inch tape lasts 15 minutes at 30ips and costs $400. You can buy a hard drive for less than that that will store an entire lifetime's worth of music!
"Also, the API desk was fairly small, at 32 channels, and it had been modified over the years, as many vintage consoles are, and the monitor section had been wrecked and doesn't sound good. The challenge was that I needed 22 channels to monitor the tape machine and didn't have enough channels left to record the entire band together. I could not record 24 tracks, as one tape track was reserved for SMPTE and it's better not to use the adjacent track, as any transients on it can interfere with the time code. So we brought in a Neve BCM10 sidecar, which acted as preamps and summing for the drums, and as a submixer during overdubs, mainly for guitars. When you work with 24‑track tape, you will be submixing some things."
Ryan Hewitt: "When you're working with tape, you have to think ahead, and calculate how things will sound... You sort of have to put a filter in your brain to remember what's going to happen after it hits the tape."
As Hewitt explained earlier, the ethos of Unlimited Love was to record in authentic 20th Century fashion, not only by using analogue gear, but also because of the live‑in‑the studio ethos. This involved a large array of mics and inputs, in addition to the BMC10.
Hewitt: "I like to track sounds that are as close as possible to the end product. I have always done that, also when I'm working with digital. But when you're working with tape, you have to think ahead, and calculate how things will sound. The bottom and top end will change, and the saturation will also affect the sound. The intrinsic characteristic of the magnetic medium is that it is going to change what you record onto it, and so you sort of have to put a filter in your brain to remember what's going to happen after it hits the tape.
"Getting the sound the way you want it when recording also means getting the right microphones, microphone placements, recording signal chains, and the right effects if they are part of the sound. Rick has 24 channels of outboard Neve modules, like 1073s, 31102s, 1066s, and so on. I also brought a bunch of my own preamps, including Chandler TG2s and some Quad Eights. John has a pair of UA 610s that we used occasionally, and we had REDD 47s, CAPI and API mic pres. So we had many different flavours."
The microphones that Hewitt used included an AKG D112 on the inside kick, and an AKG D12 and Neumann FET U47 on the outside, Shure SM57s on the snare (top and bottom), another 57 on the hi‑hat, D12s on toms, AKG C12s as overheads, and room mics like the Telefunken U47, AEA R88 and Royer 121, as well as old PZMs on the walls, adding up to over 16 input channels for the drums alone, illustrating the need for countless mic pres. Flea's bass was recorded via an Acme DI, and his cabinet with an EV RE20. Frusciante's electric guitar cabinets were miked with a Shure SM57 and Telefunken U67, and his acoustics with various Neumanns (a U47, U67, and KM54), while Kiedis' lead vocals were recorded with a Shure SM7.
The decision to record the album entirely in the analogue domain required a modest selection of outboard. Visible in the back of the photo is John Frusciante's modular synthesizer.
According to Hewitt, the recording sessions at Shangri‑La took a whopping eight months, but this did not mean that everyone was always in the same room. "During the first months at Shangri‑La we recorded the basic tracks with all four members of the band performing at the same time, and after that Anthony [Kiedis] went to another studio in Hawaii owned by Rick, where he honed his lyrics and melodies, and overdubbed his final lead vocals. Rick was present for that with him, with Dylan Neustadter engineering.
"The other three guys and I remained in Shangri‑La to do fixes and overdubs. I worked with each of these guys individually, and spent a lot of time with John in particular, overdubbing his guitar and synth parts. He used a Mellotron and a Yamaha DX7, and a large modular synthesizer. John also has a pedal board with lots of effects and things on it, and likes to treat things with delays and reverbs and the modular.
"We'd add things like backwards reverb, where we'd flip the tape over and so on, and we'd process things with the AMS RMX16, and his TC Electronic Fireworx. We got a lot of really cool sounds out of that. His modular synthesizer has many interesting effects, and we'd often process one note or one hit on the drums or one stab on the horns, creating these little vignettes, these little moments, with a cool sound that would strike you in a certain way. We used treatments like that as an instrument, so these perhaps non‑essential parts become more interesting and perhaps a little bit iconic."
The impression has been given in some places that digital was not used at all, but Hewitt explains that he used Pro Tools to "make safety copies of what we had on tape, always at 24‑bit/96kHz, and I'd also do rough mixes in Pro Tools, because it's repeatable. Every time we added an overdub, I would later transfer the tape recordings into Pro Tools, and I'd do a rough mix in there. I had a UAD SSL bus compressor plug‑in and a UAD Chandler Curve Bender mastering EQ plug‑in on the mix bus, which is exactly what I would use on the final mix later on a console. So I figured I wasn't cheating too much!
"But other than that, I did not do much in these rough mixes, apart from balancing and panning. I sometimes added a little slap plug‑in of some description, and maybe a plate reverb or something like that, and John really likes the AMS RMX 16 reverb, so I had the UAD plug‑in version of that sometimes, knowing that when we get to the mix stage, I'll have the real one, and it'll sound better.
"In addition, Anthony's final vocals and John's backing vocals were recorded directly to the computer. It meant that Anthony's vocals could easily be sent to me from Hawaii, comped and ready to use. I then worked them into my rough mixes, so John could play off the lead vocal when he added his guitars and background vocals. Through doing his solo records and working with electronic music for the last 12 years, he has become very quick with the computer, and he recorded and comped his backing vocals himself. I'd also transfer all vocal recordings back to tape, so I could use them in the final mix. By this point we were using two 24‑tracks locked together, so I had 44 tracks to work with."