Our Experts Transform Your Track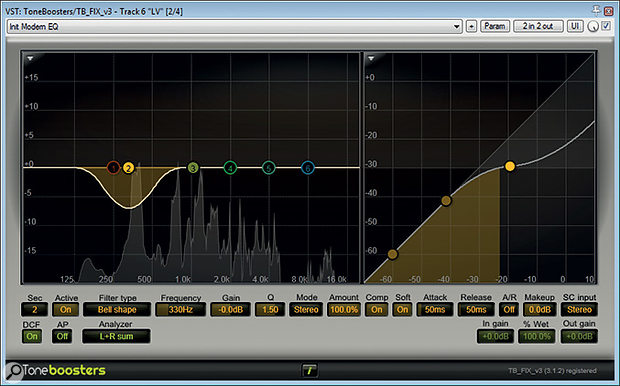 To counteract some variability in the degree of proximity-effect bass boost on the recording, Mike used a band of dynamic EQ from ToneBoosters' TB_FLX to compress with a soft knee at 330Hz.
Our engineer applies his mixing chops to put a professional sheen on an unrepeatable vocal-and-piano performance.
A little while ago, I was approached by singer-songwriter and vocal coach Michaela Betts (www.michaelabetts.co.uk) for advice on mixing a performance by talented young singer Alessia McDermott (www.belfieldandward.co.uk/actor/alessia-mcdermott). It was a recording of a simple piano plus voice arrangement which had come out of a vocal coaching session, and although Alessia had used a high-quality Bock 195 large-diaphragm condenser mic, the intention was always to re‑record her 'final' vocal at a later date. As is so often the case, however, there's no controlling inspiration, and subsequent efforts to capture a more refined version were frustrated — there was something special and unrepeatable about the original demo. The problem for Michaela was that she didn't feel she could quite get the mix sonics of this recording to compete well enough with songs of a similar genre — like Adele's song 'Hello', for instance. So she sent me over the raw piano and vocal tracks, and I loaded them into my Cockos Reaper DAW system to see what I could do.
The vocal was overdubbed against the piano backing, so there was no spill at all between the two tracks, bar a small amount of headphone bleed that was insignificant in practical terms. Given that this was an obviously vocal-led production, I chose to start off with the singer's track in isolation, the aim being to get the best out of that first of all, and then fit the piano around it as necessary. The first thing I noticed was that there was a fair amount of rumble coming through the mic — not an uncommon problem outside the confines of a purpose-built studio space. Fortunately, it's something that's pretty straightforward to deal with using high-pass filtering. The main concern is judging the filter's cutoff frequency and slope such that it doesn't inflict...
You are reading one of the locked subscriber-only articles from our latest 5 issues.
You've only read 10% of this article, so to continue reading...
Option 1: Buy and download this single SOS article in Adobe PDF format
Buy this article now and immediately download the PDF file to your computer.
Single article PDFs look identical to the printed magazine layouts (but exclude advertisements).
Note: Some shorter articles don't always have a PDF version.
Option 2: Buy the Full Issue PDF **NEW**
From the January 2018 edition onwards, it is possible to buy a Full Issue PDF 'replica magazine' (with adverts) for the price of a handful of single PDF articles, and instantly download it. More info...
Option 3: Buy a Digital subscription from our shopstore
A Digital sub can be bought from our online Shop

Store

and used immediately, or contact our Subs staff to discuss an upgrade price to add Digital access to your existing Print subscription.