Ableton Live Tips & Techniques
Screen 1: Drum Racks with the same pad assignments are assigned separate key zones using Live's Pitch MIDI effect. Live's multi-clip Note editor (bottom) shows a clip before and after some notes are transposed to play alternative Racks.
We catch up with the new Packs in Live 10.
Live Suite comes with six new Packs called Curated collections. Two of them (Chop & Swing and Skitter & Step) are included in Live Standard and Chop & Swing is also included in Live Intro. You can purchase the others (Build & Drop, Drive & Glow, Glitch & Wash and Punch & Tilt) for €49$59 each (or, of course, upgrade to Live Suite). Each collection has a different orientation, and together they provide a huge array of sounds that you can mix and match to taste. This month we'll take a detailed look at these Packs and also check out some new and upgraded Max For Live devices from Live's Core Pack. You'll find quick-start documentation in the Max For Live Devices and Packs sections of Live's Help view.
The folder labelled 'Drums' in each Curated collection is loaded with Instrument Racks comprising a single chain holding a Drum Rack, followed by an Audio Effect Rack. All of the Curated Drum Racks use consecutive pads starting with C1. The first 12 pads (C1 through B1) stick close to the standard General MIDI drum assignments, and the remaining pads hold alternative drum sounds, loops, one-shots and sound effects. When you want to mix and match sounds from several of these Racks, one option is to insert them on separate Live tracks. But you gain a lot of flexibility by inserting them as chains in a new Instrument Rack in order to play them from a single input or MIDI clip. Using an Instrument Rack to stack Curated Racks (which are themselves Instrument Racks) ensures that each Curated Rack retains its associated effects. Alternatively, you can create the new Instrument Rack around the Drum Rack inside a Curated Rack and than copy and paste or drag other Curated Drum Racks (not the full Curated Instrument Racks) to new chains in that Rack. That lets you use one of the Curated Rack's effects for processing all the other Drum Racks. Whichever method you choose, all the Drum Racks will respond to the same MIDI notes, but here are two straightforward ways to separate them.
The obvious way is to reassign each new Drum Rack's pads by either dragging the pads to different slots or by reassigning them using the Rack's MIDI In-Note chooser. But that is a one-pad-at-a-time process, and you have to do it every time you want to try out a different Rack. Live's Pitch MIDI effect provides an easier solution: insert one at the beginning of each chain, set its Lowest note and Range to capture just those notes you want to use to trigger the pads of the Drum Rack in that chain (notes outside that range will be blocked) and then set its Pitch to transpose the lowest allowed note to C1. The Drum Rack and full Drum Instrument versions of that process are shown at the top of Screen 1 [shown above]. Once in place, you can swap different Racks into any of the chains without having to make any further adjustments. You'll notice that only buttons for the untransposed chain light up on button boxes although all the buttons play the correct Drum Rack pads.
With the Curated collections, I prefer the slightly different approach of using only the bottom 12 pads (C1 through B1) of each Rack. For one thing, the higher pads tend to be project specific, whereas the bottom 12 are swappable kit pieces. More importantly, swappable pads are now an octave apart so that, when working with MIDI clips, a single keystroke (Shift+Up/Down Arrow) makes the swap. A typical setup with accompanying transposed and untransposed MIDI clips are shown in the lower half of Screen 1. You might want to save multi-chain Racks like these without inserted Instrument Racks to use as templates.
Live's MIDI Note editor behaves a little oddly in this context: note lanes often show multiple Drum Rack pad names separated by '|' even though only the first-named pad is played by notes in that lane. That's because the lane names show the Drum Rack pad assignments both before and after the Pitch effect. This doesn't affect playback, but you can partially clean things up by deleting the unused pads in each Rack.
Each Curated collection has four additional folders: Effects Racks, MIDI Clips, Samples and Sounds. Each of these has subfolders categorising their content. The MIDI Clips folder is a great source of material for the collection's Drum instruments. You can preview them in Live's Browser, and you can use them as fodder for the multi-chain Instrument Racks just described. Live MIDI clips (.alc) include the devices present when they are saved, so dragging them to an empty track automatically inserts the intended devices. But dragging them to a track already holding a device preserves that device. As an example of how far out things can get, audition the Glitch & Wash Pack's MIDI clip Distorted Future Kit groove and then use it to play the Aero Kit from the Skitter & Step Pack.
The Samples folder holds AIFF files (.aif) that have been saved along with Live Clip View settings. They are categorised in the browser by type and by tempo where appropriate. The Sounds folder holds Live Instrument Racks (.adg), which often include MIDI effects before the instrument and audio effects after it. These Racks all have useful Macro knob assignments. The Effects Racks cover all the bases. Most include some very useful Mixing & Mastering Racks along with the usual categories: distortion, filtering, modulation, space and so on.
Screen 2: The General MIDI-compatible 16-pad Drum Rack (top) is made entirely of Max For Live DS modules from Live 10's Core Library Pack.Live 10 Suite includes upgrades for numerous Max For Live devices along with a few new offerings. These are found in the Core Library Pack's Devices folder under the Max category for the appropriate device type. The original versions of these devices, when they exist, are located in the Max For Live Essentials Pack.
In the drum category, the new DS modules are better sounding and have a much simpler user interface than the original DrumSynth modules. The original collection of 13 devices has been whittled down to nine. Eight of these emulate specific kit pieces and one is a mini-sampler, which is a great tool for adding loops and one-shots to your drum kit. Try swapping the Drum Rack made of 16 DS modules shown at the top of Screen 2 using the method shown at the top of Screen 1. And whenever you have a kit piece in a Drum Rack that just isn't making it, one of the DS modules may offer a quick fix.
Most of the Max For Live modulation devices have been upgraded as well. They include the Envelope and Expression Control MIDI effects and the Envelope Follower and LFO audio effects. Each of these is now mappable to as many as eight different destinations with separate range settings for each. The MIDI Monitor MIDI effect has also been upgraded to include a Note view — a keyboard graphic with readouts for note name and velocity along with chord type and root when applicable. The original list view (called Flow) is still available.
The new Shaper audio effect is a looping-envelope generator into which you draw a breakpoint envelope. It offers unlimited breakpoints with optional grid snapping, curve shaping for the lines connecting the breakpoints, sync'ed (1/64th to 32-bar range) and free (0.01 to 10.0 Hz) playback timing with a manual retrigger button in free mode and Phase and vertical Offset controls. With multiple target mappings, a single Shaper can do a lot of damage. The example in Screen 3 combines two Curated Racks and the DS Kit shown at the top of Screen 2 in a three-chain Instrument Rack similar to the 12-pad Swap kit from Screen 1. The Shaper has five mappings:
1. The amount of Feed Delay (echo) from a Note Echo effect that is applied to the snare drum.
2. The mode of the snare drum filter between HP and LP.
3. The amount of audio delay applied to the Dobbs Kit.
4. The rate of decay of pads in the Synth Pulses Kit.
5. The tuning in semitones of the electric piano chord played by the DS Sampler module.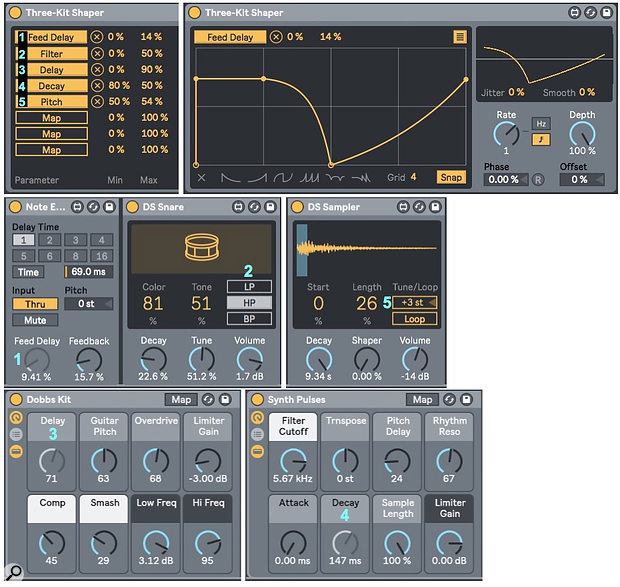 Screen 3: A three drum-kit Instrument Rack's effects and kit-piece parameters are modulated by a single Max For Live Shaper device.
Check out the SOS Tutorials video course on Ableton Live 10.