Avid Pro Tools Tips & Techniques
We explore Ableton Link, record arm options and other new features from the 2020.9 update.
Released in September, Pro Tools 2020.9 coincided with a new version of EuCon, and brought proper support for Folder Tracks in the Avid Control app. This, for me, has been the most significant new feature, though version 2020.9 also made some changes to the way Pro Tools works with Cloud services, as well as adding a couple of exciting new features and incorporating the usual bug fixes.
Ableton Link support is the first of these new features and is the easiest to appreciate, as it brings this simple but addictive feature (already in use by Ableton, Reason, Bitwig and many more desktop apps) to the rather longer‑in‑the-tooth Pro Tools. The idea behind Ableton Link is simple: it's a way for devices to share a common time reference across a local network. By 'time' I mean in the sense of tempo; this isn't to do with sample clock. Because the 'beat clock' is shared across a network it can be shared wirelessly, and it is in this guise, as a way to keep iOS devices playing together in time, that it is best known, but there are many products, including some hardware, which are Link-enabled.
The performance‑based focus of Ableton Link doesn't stop at impromptu iPhone jams, though I can confirm that these are great fun.
The performance‑based focus of Ableton Link doesn't stop at impromptu iPhone jams, though I can confirm that these are great fun. The possibility to sync VJ applications and lighting equipment, hardware such as the Akai MPCs, as well as more open‑ended software like Max and Supercollider, means that Pro Tools can now join this Link‑based creative party. Using Ableton Link with the ELK music operating system is very welcome, as I've been keeping an eye on this particular technology. If you haven't heard of ELK check it out, the potential is very interesting but beyond the scope of this article.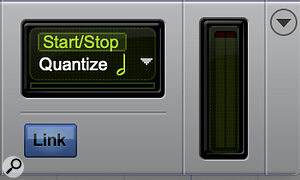 Clicking the new Link button will enable Ableton Link, which you can use to sync Pro Tools with a number of third‑party apps and hardware.To set up Ableton Link you first need to show the new Ableton Link controls, which can be displayed in the Transport Bar or in the Toolbar. Simply right‑click on the Toolbar or click the drop‑down menu on the right of the Transport window. The most important control is the Link button underneath the Link parameter display area. Once Link is enabled and that button is blue, not much will happen until another Link‑enabled device or application is detected. In my case this will be the free Launchpad app on my iPhone.
Whatever it might be, the procedure is similar in that you have to locate and enable Ableton Link in the settings of the compatible app or device. When that is done the sync bar at the bottom of the Link window will start to cycle from left to right and the number of connected hosts will be displayed, in this case just the one.
Once Link is set up, the green bar will ping from left to right to show that everything is in sync, and the number above the Quantize settings shows you how many Link devices are connected.If your connected Apps support it, Pro Tools can transmit Start/Stop messages to start and stop connected apps remotely. The Quantize value might confuse since it controls the timing interval in which Pro Tools responds (on the beat, on the bar etc), not when connected apps respond. Obvious when you understand what it is, but worth noting all the same.
Although in this case I'm discussing connecting a single Link‑enabled app to Pro Tools, Ableton Link has the potential to get very complex indeed. There is no predetermined limit to how many devices can be connected, and I'd imagine that your desire to connect new apps and devices would run out before you ran out of network capacity.
The second new feature introduced is a new behaviour of the record arm buttons in Pro Tools. To understand the significance of this it's worth talking about the record arm button's old behaviour, and the issues this updated behaviour seeks to solve.
Under the hood, recording MIDI and recording audio are quite different things, and Pro Tools makes this difference apparent in a few places. Retrospective MIDI record is one such example. First introduced in Pro Tools 2018, this allows you to add the MIDI you just played even if you weren't in record. Just hit Shift+C and MIDI data played during playback will be added to your session. Something similar is possible with audio but for that you have to be in one of the punch record modes.
Another way in which recording MIDI and audio differ can be found in the default behaviour of the record arm buttons. Prior to 2020.9, track record arm buttons were latched by default for audio tracks, but with the option in the Operation tab of the Pro Tools Preferences to switch the audio track behaviour to non‑latching, where clicking a new record arm button on a different audio track cancels the previous record enable — something referred to by those old enough to remember the old‑fashioned mechanical buttons on car radios as 'radio button' behaviour.
In earlier versions of Pro Tools, MIDI and Instrument tracks were unaffected by the Latch Record Enable Buttons option, which made it all too easy to accidentally overwrite a take.
The issue was that MIDI and Instrument tracks were unaffected by this preference and always remained in 'radio button' mode. The divide between what happened to audio tracks and what happened to MIDI tracks always remained.
The irritation felt by some with this is that if you had an audio track record armed and you record armed a MIDI track (or vice versa), the audio track's record arm status wouldn't be automatically cancelled by record arming the MIDI track. Many accidental overwrites have happened this way.
In 2020.9, there is now a drop‑down menu in the Preferences window which offers three alternatives: Latch Audio Tracks, Cancel Previous On Audio Tracks and Cancel Previous On All Tracks. The first two options replicate the pre‑2020.9 behaviours of latching or non‑latching audio tracks, but with the operation of MIDI tracks remaining non‑latching and separate from the status of audio tracks. The third option, Cancel Previous On All Tracks, gives the missing option of record arming an audio track cancelling a MIDI track or a MIDI track cancelling an audio track.
The new Cancel Previous On All Tracks option lets you apply the same record arm latching behaviour to both audio and MIDI/Instrument tracks.
Although it was quickly resolved there was, on release, an unintended issue with the Standard version of Pro Tools 2020.9, involving voices. This is an area which has caused issues in the recent past as there was an issue in 2019 with the increase in voices for Pro Tools Ultimate and Pro Tools HDX. Whereas the issue in 2019 affected Pro Tools Ultimate users using HDX hardware, this issue affected users of Pro Tools Standard software. Ever since there has been more than one version, the naming of Pro Tools software has had the potential to cause confusion so, to be clear, what is being referred to here is Pro Tools, as opposed to Pro Tools Ultimate or Pro Tools First.
The issue was that the voice count of Pro Tools Standard had accidentally been halved from 256 to 128. This halving was unintentional and was addressed quickly by Avid, who released an updated version (2020.9.1) within days, but it is worth being aware that this issue exists and that there is a fix already in place.
Where restrictions exist, most DAWs refer to track counts, but the way Pro Tools deals with tracks is closer to the way that keyboards deal with polyphony, which is understandable considering Pro Tools' heritage as a hardware system. The situation at present is that Pro Tools Standard 2020.9.1 (the updated release) offers 256 voices, and software‑only (ie. non‑HDX) Pro Tools Ultimate allows for 384 voices. If you are running stereo tracks this number would be halved, and if you were running at 96kHz the count would be halved again, and then halved again at 192kHz. It's easy to see how the additional voice packs Avid started offering in 2019 for Pro Tools Ultimate software‑only users can become necessary. Immersive audio formats like Dolby Atmos eat through those voices fast!