Avid Pro Tools Tips & Techniques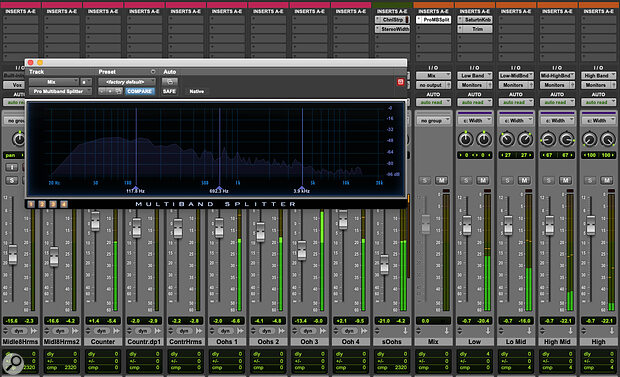 Avid's Pro Multiband Splitter plug‑in lets you separate audio into different frequency bands and send those bands separately to the mixer.
We explore Avid's Pro Multiband Splitter plug‑in.
I've always felt the Pro Series plug‑ins from Avid are unsung heroes of the plug‑in world. They're provided to subscribers as part of the Pro Tools bundle, so they are almost ubiquitous, and they provide a definite step up in terms of features and quality compared to the stock plug‑ins. I've spoken about some of these plug‑ins in the past in this column, but one of the most useful is the Pro Multiband Splitter. It's a simple plug‑in — basically the same as the Pro Multiband Dynamics processor, but without the dynamic processing. One thing that many people don't realise about the Pro Multiband Splitter is that you can output each band to a bus and, via that bus, to anywhere else in the mixer. These buses are automatically created and are accessed via the input selector in the plug‑in menu. The Multiband Splitter gives access to these splits and nothing else.
An important point to make about both the Pro Multiband Dynamics and the Pro Multiband Splitter is that the filters used in their crossovers are of the minimum-phase variety. Linear-phase filters have been available for a long time — the first example of a phase-linear multiband compressor I ever used was the Waves Linear Phase Multiband Compressor back in the early 2000s — but the issue with linear-phase filters has always been that to exhibit the phase response that they do, they necessarily incur significant latency. For the majority of applications the sonic differences between a minimum-phase and a linear-phase filter is subtle, but the latency of a linear-phase filter is large, so in most cases, minimum-phase...
You are reading one of the locked Subscriber-only articles from our latest 5 issues.
You've read 20% of this article for free, so to continue reading...
Buy & Download this Single Article in PDF format

£1.00 GBP

$1.49 USD


For less than the price of a coffee, buy now and immediately download to your computer or smartphone.

Buy & Download the Full Issue PDF
Our 'full SOS magazine' for smartphone/tablet/computer. More info...