Avid Pro Tools: Tips & Techniques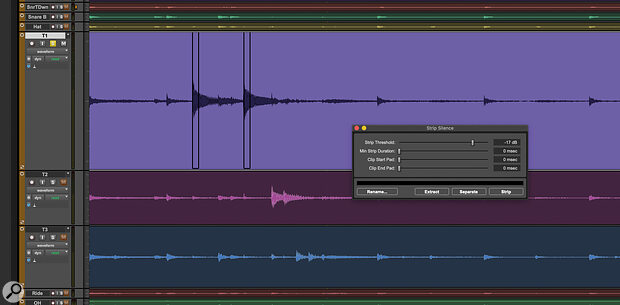 Strip Silence in action. With the Pads set to 0, the clips are cut off as soon as the signal drops below the threshold.
The Strip Silence function can speed up your mix preparation.
The most useful tools are the ones that save you time. I'm sure we'd all agree with that. More specifically, what we all want is tools that save us time by speeding up the tedious stuff, allowing us to focus on the creative elements of a project. And with the current focus on AI and machine learning, it's easy to forget that there are some venerable tools in Pro Tools that can radically speed up session preparation, allowing us to get to the fun bit more quickly. One such tool is Strip Silence.
Strip Silence has been around forever; it's a semi‑automatic way of dividing audio clips into smaller ones based on the amplitude of the audio within those clips. It's most commonly used to clean up audio on import, removing background noise in a way similar to a noise gate. It achieves similar results, but non‑destructively and with complete control.
In pre‑DAW days, considerable effort went in to rooting out the cumulative noise from tape, outboard and instruments. Noise gates were de rigeur, but although they were effective, they could be unforgiving, particularly when printed to tape. So it's little surprise that the ability to manually edit out unwanted noise in a non‑destructive way was greeted with open arms by engineers. Manually editing around the odd tom hit is a few moments' work, but if you're dealing with more than a handful of hits, Strip Silence becomes invaluable. It's one of those examples of a tool which is just clever enough to be helpful without taking away control.
Manually editing around a few tom hits is a few moments' work, but if you're dealing with more than a handful of hits Strip Silence becomes invaluable.
Strip Silence can isolate all your clips in one operation. Open Strip Silence from the Edit menu, or using Command+U (Control+U on a PC). It's a simple window and the principal control is the Threshold slider, with other controls available to fine‑tune the results. In the example of toms in a drum part, the procedure would be as follows: display the entire section of audio you wish to edit. To make sure that you're not getting any false triggers, make sure you can see the whole song (I use Option+A to zoom out horizontally to show the entire session, or if I need a particular section zoomed in, I'll use Option+F to zoom horizontally to fill the screen with my selection).
With Strip Silence open, raise the Threshold control: black rectangles offer a preview of the clip boundaries that would be created by a Strip operation at that threshold. By...
You are reading one of the locked Subscribers-only articles from our latest 5 issues.
You've read 30% of this article for free, so to continue reading...
✅ Log in - if you have a Subscription you bought from SOS.
Buy & Download this Single Article in PDF format

£1.00 GBP

$1.49 USD


For less than the price of a coffee, buy now and immediately download to your computer or smartphone.

Buy & Download the FULL ISSUE PDF
Our 'full SOS magazine' for smartphone/tablet/computer. More info...

RECORDING TECHNOLOGY: Basics & Beyond
Claim your FREE 170-page digital publication
from the makers of Sound On Sound — CLICK HERE