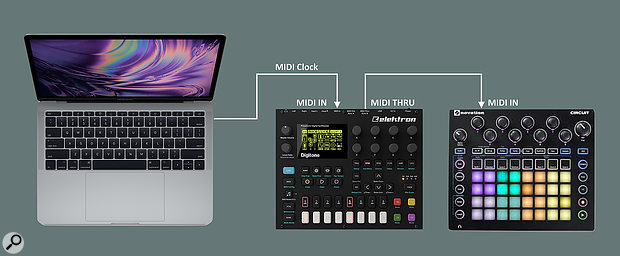 We show you how to keep Reason in sync with the outside world.
Last month we looked at how to use external MIDI hardware with Reason, and this naturally leads on to the consideration of synchronisation. Getting your music and studio gear singing from the same hymn sheet is fundamental unless you only ever want to work purely in Reason.
In his classic thought experiment, Laplace posited that an entity that knew the current location and momentum of every atom in existence could derive the entire past and future of the universe. Synchronisation is defined by the same two properties: position and speed; where am I, and how fast am I going?
Classic timecode (such as LTC and its MIDI equivalent MTC) transmits positional information. It is a stream of 'I'm here' messages. Speed can be inferred by how often these messages arrive. Traditionally 'clock', such as word clock or digital clock, only relates to speed. It's some kind of regularly spaced pulse.
Reason supports three different sync systems: MIDI Clock, Ableton Link, and ReWire. This month we're looking at MIDI Clock (or MIDI Beat Clock), which is extra versatile because it actually carries both speed and position data. It uses a clock pulse referenced to musical time (24 pulses per quarter note to be exact) and also transmits the bar and beat position of its source. It's very widely supported in music apps and hardware synths and drum machines, some of which may use only the clock, or both clock and the location messages (which are called Song Position Pointers).
Ableton Link, on the other hand, is primarily a speed reference. It provides a shared tempo grid that devices can jump onto...
You are reading one of the locked Subscriber-only articles from our latest 5 issues.
You've read 20% of this article for free, so to continue reading...
Option 1: Buy and download this single SOS article in Adobe PDF format
For less than the price of a coffee shop drink, buy this article now and immediately download the PDF file to your computer or smartphone.
Single article PDFs look identical to the printed magazine layouts (but exclude advertisements).
Note: Some shorter articles don't always have a PDF version.
Option 2: Buy a great value DIGITAL subscription (or Print+Digital) and open ALL web articles & Full Issue PDFs instantly!
It opens ALL premium web articles, plus our Tablet edition App, and now includes your monthly FREE Full Issue PDF download (worth

£3.99

$5.99

each).
Or contact our Subs staff to discuss an upgrade price to add Digital access to your existing Print subscription.
Option 3: Buy & Download TODAY the Full Issue PDF
From January 2018 edition, we began selling a FULL ISSUE PDF 'replica magazine' for the cost of a handful of single PDF articles. More info...
Try these FREE sample FULL ISSUE PDFs on us!