Our Expert Reworks Your Tracks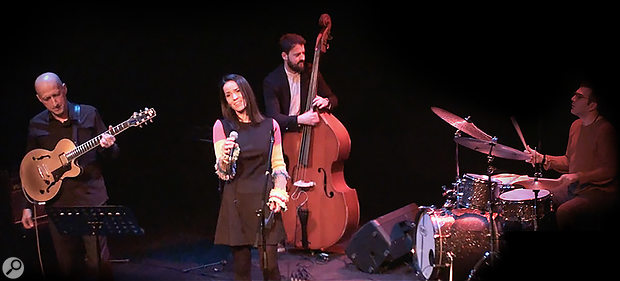 Rescued this month: the Yavuz Akyazici Project, comprising Yavuz Akyazici on guitar, Funda Akyazici on vocals, Enver Muhamedi on bass and Derin Bayhan on drums.
In mixing a live recording of a jazz concert, our engineer had to overcome some unusual spill-related challenges.
I was recently sent a remix project that is a little different from most, in that the source material is a four-track recording of a live jazz concert. The artist who was seeking our help is Yavuz Akyazici, an accomplished jazz guitarist who immersed himself in the New York jazz scene for 17 years before returning home to Istanbul. One of his projects has been to convert Turkey's pop songs into jazz — rather in the manner that American jazz musicians rearranged tunes from the Great American Songbook. While in New York, Akyazici performed in world-famous jazz clubs such as Birdland, Knitting Factory, Smalls and 55 Bar, and numerous festivals including JVC Jazz, Baku Jazz, Charlie Parker Jazz and Akbank Jazz, alongside names like Patricia Barber, Billie Harper, Matt Wilson and Eric Person. His albums Turkish Standards Vol 1 and Vol 2 immediately caught the attention of Istanbul's jazz fraternity, and NPR News featured an interview with Yavuz.
This particular recording features Yavuz's wife Funda Akyazici (who is now a full-time jazz singer) on lead vocals, and 24‑year-old Enver Muhamedi, who comes from a classical background, on upright bass. Derin Bayhan, a veteran of Ronnie Scott's, is on drums. According to the information I was given, the concert was recorded live to just four tracks, with only a single mic used on the drum kit. The guitar was played through a Vox AC10 amplifier with effects from a Maxon OD‑9 Pro drive pedal and a Strymon TimeLine delay, and this was miked using a Shure SM57 dynamic mic. The bass was recorded using a bass pickup running into a Radial passive DI box, and the drums were captured using a small-diaphragm capacitor microphone. Vocals were recorded using a Shure Beta 58A and the venue was St Pulcherié High School Performance Space, with an audience of around 350. I received the 1 hour and 40 minute concert as a Logic Pro X project, since both Yavuz and I use that DAW and Yavuz had already set up a mix — but he hoped I could improve on it! In this article, I'll go into detail about how I approached one of the songs.
As you might expect with a recording of a live performance, there was lots of audible spill, but more so on the vocal and drum mics than the others. The guitar amp was close-miked so there was nothing much in the way of unwanted spill there, and the same was obviously true of the DI'ed bass. That said, as is often the case with DI'ed pickups, the bass sound suffered from an excess of mechanical playing noises, including rattly string slap and the occasional buzz. Perhaps more importantly, though, there was a lack of real depth to the bass sound.
As well as using Waves Bass Rider and a compressor to manage the bass levels, a multiband compressor was used to tackle the playing noises that had been somewhat overemphasised by the pickup, while a chunky EQ boost compensated for the pickup's lack of warmth and fullness.
I tackled the noise issues using Logic's multiband compressor, targeting the 1.2 to 5 kHz range for extra compression, to pull down the offending noises. To even up the level overall, I employed Waves' Bass Rider plug-in pretty much as a transparent-sounding compressor/expander, followed by an instance of the UAD Tube-Tech CL 1B compressor. I set the latter to a 4:1 ratio and adjusted it to give around 3dB of extra gain reduction. At the end of the chain came Logic's Channel EQ set to give a substantial boost around 50Hz, where the bass was lacking depth. The highs were rolled back above 7kHz and the mids dipped slightly at around 2kHz — this helped to further clean up the string noise.
As Yavuz explains in the 'Remix Reaction' box, the vocalist had deliberately switched off her mic during the instrumental solo sections, the understandable idea being to prevent feedback plaguing the performance. Of course, this meant that the bleed onto the mic from other sources changed through the track. There were still points during shorter breaks in the vocal, for example, where guitar spill was very evident.
Paul used automation to fade the vocal track in and out by just a few dB at breaks in the vocal track. This reduced rather than eliminated the spill during these pauses. Fades were automated over a period of about a second, so as to avoid obvious and abrupt changes caused by the mic's spill contribution suddenly changing the guitar sound.
Rather than make hard cuts at the offending points, I used automation to fade the vocal track in and out by just a few dB at these points. This reduced rather than eliminated the spill during these pauses. Where possible, I automated these fades over a period of about a second, so as to avoid obvious and abrupt changes caused by the mic's spill contribution suddenly changing the guitar sound. I extended this housekeeping clean-up task to the starts and ends of the song, too, which necessitated a fairly rapid fade of the applause at the end of the track because some previous trimming work had cut this short and there was no separate audience mic — the only applause we had appeared as spill.
The vocal mic had been switched on and off during the performance, to prevent feedback and unwanted spill, so the spill that was captured needed some gentle automation. The vocal processing chain involved two stages of dynamics processing, courtesy of Waves Vocal Rider and the UAD 1176 compressor, some high-pass filtering to remove unwanted pops and rumble, and a gentle mid-range EQ boost to help the vocal project through the mix a little better.
The vocal was treated to a gentle application of Waves Vocal Rider and a UAD 1176 compressor. As with the Bass Rider, I was using Vocal Rider for transparent level control, rather than ride the vocal relative to an external side-chain signal. The 1176 provided another fairly gentle stage of compression, with a 4:1 ratio and up to around 4dB of gain reduction. Logic's Channel EQ was used mainly to roll off the lows at 140Hz, to avoid unwanted LF spill and popping, and a very broad 3dB lift around 1kHz helped the vocal projection.
Given the way the recording had been made, the vocal actually sounded pretty good. A couple of words started rather harshly, though, and to me this sounded like a recording issue rather than a performance one. I used a fast fade-in at the start of those words just to soften the transient, and a little automation to even up words or phrases that were too quiet. I was also ready to add a little reverb — just enough to take away the dry edge. To that end, I chose the EU setting of Rare Signals' Transatlantic Plate Reverb plug-in, with a decay time of 2.8 seconds and 50ms of pre-delay, and with the reverb's lows rolled off below 200Hz.
Several songs had been tracked in this session, but for the particular song that we decided to focus on there was a large gap in time between the two main vocal sections, during which the main interest was in solos from all the musicians. For this unused section, the vocal track had already been silenced where the mic had been switched off — and I noticed that the drum timbre changed slightly at this point, since the drum spill in the vocal mic disappeared. This was even more noticeable after I applied a little gentle vocal compression, as that further lifted the spill when the mic was switched on. This change in the drum sound when the spill disappeared was a problem, but not an insurmountable one.
The drums suffered from a change in timbre when the vocal mic was switched off, as the spill was actually making a significant contribution to the drum sound. To combat this, Paul automated a high-shelf EQ boost on the drums. After this, his processing chain featured a number of stages, including Logic Pro's Stereo Spread plug-in, to give the mono recording a pleasing sense of width.
My fix was to automate a little high-shelf EQ boost on the drum track to compensate, just in that 'no vocals' region. I also needed to clean up the drum sound a little, because there was a fair bit of unhelpful spill from the other instruments was audible behind the drums. I tried Zynaptiq's Unmix:Drums plug-in to see if this could pick out the drums from the spill and then lift them by a few dB. This definitely helped in reducing the spill level relative to the drums, and it gave the drums a little more presence into the bargain. I also used , which sounded somewhat 'recessed' on the unprocessed file. This was only partially successful, but it certainly helped. A little compression was then added using Logic's FET Live drums compressor preset — but note that when using any compressor presets like this, even if you leave all the other parameters untweaked, the threshold must be adjusted to provide the desired amount of gain reduction for whatever source you're processing. In this case, the gain reduction was only a couple of dB in the main body of the track, but it spiked to as much as 10dB during the drum solo! To try to add further weight and clarity to the drums, I used Logic's Channel EQ to introduce a 67Hz hump and a 2.8kHz shelving boost, in combination with a dip centred at 320Hz, which cleaned up the lower mids.
A modest application of Unmix:Drums' Bass Synth feature was used to add some extra weight to the kick drum.
So that the entire mix didn't end up sounding like a mono recording, I used Logic's Stereo Spread plug-in to widen the drums, but I set this so that it worked mainly on the mid frequencies, with no processing above 5kHz and very little processing on the lows. This added a pleasing sense of width when listening in stereo, without causing problems when the recording is 'collapsed' to mono. Finally, a hint of room ambience was applied using Logic Pro's Space Designer convolution reverb plug-in loaded with a Bricasti Drum and Chamber Room impulse response, with the reverb's EQ rolling off everything below 200Hz.
There was a limit to how much I could change the guitar sound, as some overdrive and delay were included in the signal captured by the mic, but Yavuz did tell me that the raw guitar sound was somewhat brighter than he wanted. To achieve the more rounded jazzy tone he sought, I rolled off the highs above 2.6kHz using Logic's Channel EQ, and also took the opportunity to roll off the deep lows below 75Hz.
A combination of EQ, amp emulation and reverb brought the recorded guitar sound closer to the smooth, jazzy tone Yavuz said he preferred, and Stereo Spread again added some width.
This still didn't provide quite the 'natural' smoothness I was looking for, so after some experimentation I settled on putting the signal through Logic's 'Best of Both Worlds' amp sim preset, set to clean, with the mids and bass turned up and the treble rolled back a little. Rather than using Logic's own cabinet/speaker simulator, I loaded a Celestion Blue impulse response into Space Designer, set to 100 percent wet, and this gave a nice organic-sounding warmth to the instrument. And, as with the drums, I used Logic's Stereo Spread plug-in to give the sound a sense of width when heard in stereo. After a little juggling with the filter's Order parameter, I arrived at a setting that sounded realistic, but as with the drums I reduced the depth of the processing at lower frequencies. Level automation brought the guitar up for the solo section, but after some experimentation with compression I concluded that the on-stage amplifier combined with the modelled amp plug-in was keeping the level even enough already, so further compression was not needed.
As I had only four tracks to play with, and because the bass, drums and vocals all needed to be in the centre of the mix, it made mixing a little tricky. Placing the guitar off centre would leave me with nothing to balance it on the other side. That's the main reason I used Logic's Spread plug-in on both the guitar and drums — without that, the only stereo element of the mix would have been the added vocal reverb. After checking that the start and end of the track sounded clean, I set up a mix-bus chain to add some 'glue' to the mix, after which I made some final tweaks to the automation so that the balance sounded realistic when listening from the next room. Mix-bus plug-ins can change the balance of a mix, of course, which is why these sorts of last-minute tweaks are usually necessary if you add such processing in the later stages of a mix.
After a little bus-processing experimentation towards the end of the mix, Paul settled on a chain that comprised a UAD Tube-Tech compressor emulation (for a little 'glue'), Gulfoss adaptive EQ (to bring some clarity and focus to proceedings), and an instance of UA's Precision Limiter to catch a few peaks and bring the loudness up to a desirable level — without overcooking things!
To help glue the sounds together, I opted for the UAD Tube-Tech CL 1B set to its minimum 2:1 ratio and then adjusted the threshold so that I was getting gain reduction of only 3-4 dB on the louder sections. I followed this with Soundtheory's Gulfoss adaptive EQ set to 5 percent Recover, 25 percent Tame and 2 percent Brighten, the idea being to bring a little focus to the mix. The main function of this plug-in is to identify and boost elements that are in danger of being masked, and also to suppress elements that are overpowering other components of the mix. The effect is subtle but it definitely added that sense of focus and clarity that is so easily lost in a live recording, so I kept this in place, and then followed it with the UAD Precision Limiter, set just to catch the occasional stray peak. This yielded an overall loudness of around -13 LUFS. Overall, the track sounded less like a live demo than it had done before, and although a full multitrack recording would undoubtedly have been easier to deal with in this case, I think we ended up with a good impression of how the band actually sounded on the night.
You can hear Paul's remix for yourself above; or download the Zip file containing 'before' and 'after' mixes in WAV and MP3 formats.

mix-rescue-audio-0519.zip
Here's what Yavuz had to say about it: "The first thing I noticed was that your mix sounded quite close to what happened that day. My mix was, I think, more idealised. I also do not have the patience to go into detail as much as you did! Acoustic bass sound is one of the hardest in live situations, especially when we had to rely on just the bass pickup. You did a great job with that. There was another handicap with the vocal track spill and yes, it did change the bass and drum sound. The vocalist did not leave her mic on all the time, since she was moving around the stage and feedback was risky; she turned her mic off when she was not singing to eliminate unnecessary feedback. That changed the drum sound, which we had not thought of, but you did an excellent job of minimising that change. Overall, I think it sounds great considering the recording situation. Thanks very much!"
If you like what you hear of the Yavuz Akyazici Project, you can find out more about them on: