Our Expert Reworks Your Tracks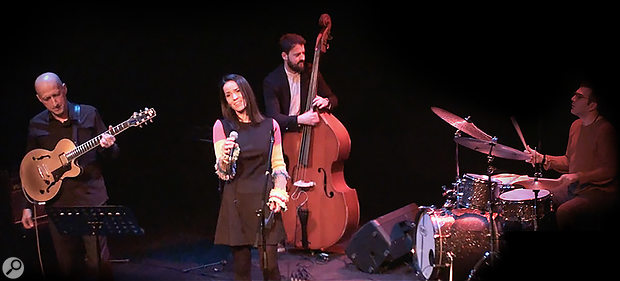 Rescued this month: the Yavuz Akyazici Project, comprising Yavuz Akyazici on guitar, Funda Akyazici on vocals, Enver Muhamedi on bass and Derin Bayhan on drums.
In mixing a live recording of a jazz concert, our engineer had to overcome some unusual spill-related challenges.
I was recently sent a remix project that is a little different from most, in that the source material is a four-track recording of a live jazz concert. The artist who was seeking our help is Yavuz Akyazici, an accomplished jazz guitarist who immersed himself in the New York jazz scene for 17 years before returning home to Istanbul. One of his projects has been to convert Turkey's pop songs into jazz — rather in the manner that American jazz musicians rearranged tunes from the Great American Songbook. While in New York, Akyazici performed in world-famous jazz clubs such as Birdland, Knitting Factory, Smalls and 55 Bar, and numerous festivals including JVC Jazz, Baku Jazz, Charlie Parker Jazz and Akbank Jazz, alongside names like Patricia Barber, Billie Harper, Matt Wilson and Eric Person. His albums Turkish Standards Vol 1 and Vol 2 immediately caught the attention of Istanbul's jazz fraternity, and NPR News featured an interview with Yavuz.
This particular recording features Yavuz's wife Funda Akyazici (who is now a full-time jazz singer) on lead vocals, and 24‑year-old Enver Muhamedi, who comes from a classical background, on upright bass. Derin Bayhan, a veteran of Ronnie Scott's, is on drums. According to the information I was given, the concert was recorded live to just four tracks, with only a single mic used on the drum kit. The guitar was played through a Vox AC10 amplifier with effects from a Maxon OD‑9 Pro drive pedal and a Strymon TimeLine delay, and this was miked using a Shure SM57 dynamic mic. The bass was recorded using a bass pickup running into a Radial passive DI box, and the drums were captured using a small-diaphragm capacitor microphone. Vocals were recorded using a Shure Beta 58A and the venue was St Pulcherié High School Performance Space, with an audience of around 350. I received the 1 hour and 40 minute concert as a Logic Pro X project, since both Yavuz and I use that DAW and Yavuz had already set up a mix — but he hoped I could improve on it! In this article, I'll go into detail about how I approached one of the songs.
As you might expect with a recording of a live performance, there was lots of audible spill, but more so on the vocal and drum mics than the others. The guitar amp was close-miked so there was nothing much in the way of unwanted spill there, and the same was obviously true of the DI'ed bass. That said, as is often the case with DI'ed pickups, the bass sound suffered from an excess of mechanical playing noises, including rattly string slap and the occasional buzz. Perhaps more importantly, though, there was a lack of real depth to the bass sound.
As well as using Waves Bass Rider and a compressor to manage the bass levels, a multiband compressor was used to tackle the playing noises that had been somewhat overemphasised by the pickup, while a chunky...
You are reading one of the locked Subscriber-only articles from our latest 5 issues.
You've only read 20% of this article, so to continue reading...
Option 1: Buy and download this single SOS article in Adobe PDF format
Buy this article now and immediately download the PDF file to your computer.
Single article PDFs look identical to the printed magazine layouts (but exclude advertisements).
Note: Some shorter articles don't always have a PDF version.
Option 2: Buy the Full Issue PDF **NEW**
From January 2018 edition, it is possible to buy a FULL ISSUE PDF 'replica magazine' for the cost of a handful of single PDF articles, and instantly download it. More info...
Option 3: Buy a DIGITAL subscription and open ALL web articles instantly!
It opens ALL web articles, the Tablet edition, plus Full Issue PDF download...
Or contact our Subs staff to discuss an upgrade price to add Digital access to your existing Print subscription.