The Practical Craft of Recording
Richie Malone's demos had been recorded at home on his Boss BR‑800, using some of that device's COSM modelling options. In comparison with the less saturated tracks Rossi had already laid down, the tone was heavily driven, and the juxtaposition worked really well. Again, in keeping with the demo-to-delivery approach, we embraced the Boss unit as part of Malone's sound when he flew over to record his parts. We ended up running that in tandem with a Marshall JCM2000 TSL that I'd brought in, and another AC30 model in Logic.
The only part of the album that was recorded with more than one musician at the same time was when Andrew Bown came in to lay guitar parts for the tracks 'Running Out Of Time' and 'Backing Off'. He'd co-written these songs with Rossi, and we managed to capture a real vibe when both of them played together. This is not to say that recording this way will necessarily be better, but it's always worth experimenting. In this case it made a refreshing change to do things a little differently and, unarguably, you can hear the chemistry in the result.
The more parallel the mic is to the snare head, the more attack it will deliver; and the more perpendicular, the more 'body' it will capture.
I'd previously done some recording with drummer Leon Cave on other projects — we'd even played in the same band at one point — and I knew him to be a no-fuss player who'd nail each song in a couple of takes. So it was imperative that we capture everything successfully in the short time he'd be in the studio, and not rely on pick-ups at a later date.
There was a conscious decision to spot-mic the cymbals and glue the drum kit sound together with a room mic rather than traditional overheads. And despite some pricer and vintage options, an inexpensive AKG D112 was preferred for the main kick mic.
Leon's kick is fitted with a suspended Shure Beta 52 to allow for quick setups, and it sounds great but it's generally a good plan to aim for the right sound before reaching for EQ, so I wanted to audition some other options. I'm a big fan of the Audix D6, but we wanted something less 'snappy' here; warmer, but still with some 3-5 kHz presence. An AKG D12 was certainly warmer but lacked top-end. We ended up preferring an AKG D112, placed just inside the port of the kick drum. I ran this through a Drawmer 1960 tube preamp/compressor, with a slow attack, release timed according to each song, and a ratio of around 3:1 — it wasn't what you'd call subtle, but it gives a nice sustained fat kick sound. I also added a Solomon LoFReQ mic (a variant on the sub-kick theme) just outside the shell to augment this with some smooth low end, and after a couple of placement alterations to improve the phase relationship with the D112 we had our hard-hitting kick sound.
The snare, a Noonan Deluxe 10-lug 14 x 5.5-inch brass drum, was miked with an SM57s on each head (one polarity inverted, of course), paying particular attention to the angle of the one covering the batter head. The more parallel the mic is to the snare head, the more attack it will deliver; and the more perpendicular, the more 'body' it will capture. We wanted snap, so we went with a low profile, and left enough distance to avoid the worst excesses of proximity-effect bass boost.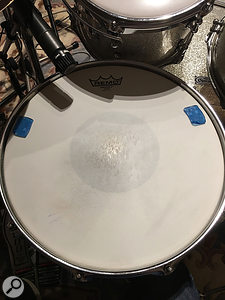 The SM57 snare mic's body was low, and almost parallel with the snare's head, helping to capture plenty of each hit's attack.I approached the toms similarly, using Beyer M201s on the racks and Sennheiser MD 421s on the two floor toms. (The M201s' tight hypercardioid pattern makes them great for isolation, but MD 421s deliver a beefier sound, despite their flatter low-end response.) These were all run through dbx 160 compressors, and some subtle EQ was applied via the Harrison console — this is a parametric EQ, making it easy to isolate and boost the fundamentals for each tom while scooping the mids and adding a touch more attack.
Rather than opt for an X‑Y or A‑B overhead configuration, I spot-miked the crashes, china and ride cymbals individually, with a few Neumann KM184s. This gives ultimate control over their balance in the mix and can deliver a brilliant tonal quality that exaggerates certain nuances often lost with more distant recording techniques. You must make sure these spot mics are not too close to the cymbal, or shear waves can cause the diaphragm of the mic to distort. A good rule of thumb is to have the mic at least the diameter of the cymbal away from the surface, and to offset any transverse wave distortion by angling the mic between 45 to 67.5 degrees. Perhaps counterintuitively, this spot-mic approach can help avoid phase issues — although there are more mics, there's no one overhead pair that all the others need to be phase-aligned to.
For the hi-hat, a U87 was set to fig-8 mode, and the side nulls were aimed at other cymbals for maximum rejection.For the hats, I used a U87 set to figure-8, pointing horizontally towards the floor tom across the hi-hat, and with the side null aiming at the surrounding cymbals. This was extremely effective in rejecting other elements and created a tight isolated hat signal.
Without a typical overhead setup, the room mic could play an important role. I used another U87, this time set to omni and placed at the farthest point in the room from the kit. Being so close to a physical boundary gives it some semblance of a PZM, but with the addition of the low–end boost you'd expect from a U87. Again, with such a distant, ambient mic, phase relationships weren't such a critical issue.
John Edwards played through a Markbass LMK head, each channel of which offers an arsenal of parameters (you can blend between these channels too).
The Markbass cabinet was miked up with an AKG D112 and a Subkick-style Solomon mic, but two DI signals were also captured for maximum flexibility — one direct from the instrument, and one post the Markbass head's preamp stage.The head powered a Markbass 4x10 cab, which I miked with a D112 and a Solomon LoFReQ. I took two DIs (one from the instrument, and one via the head) for possible re-amping. While there were no phase issues between the mics, there was work to do to align those signals with the DIs. (It's not uncommon to find phase-alignment issues between electrical and acoustic signals captured from the same source, so it's always worth checking — the solution usually lies in time-alignment or using an all-pass filter, sometimes called a 'phase rotator'.)