Transfer project files between DAWs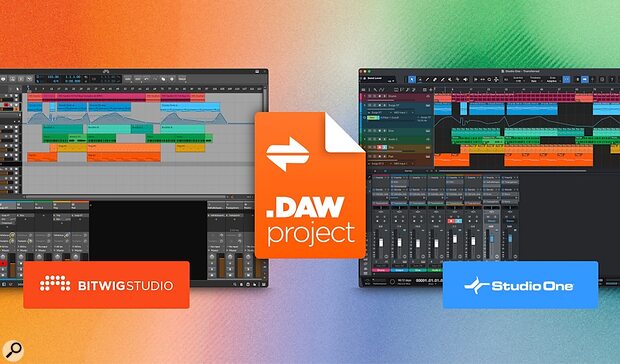 Bitwig and PreSonus have announced DAWproject, a new project file format that aims to allow projects to be transferred between different DAWs. It has already been added to Bitwig Studio 5.0.9 and Studio One 6.5, and is being made available as a free, open-source format so that other companies can implement it in their own software platforms.
Designed both for users who utilise multiple DAWs and collaborators working on the same project in different software, the format has been designed to offer a more comprehensive alternative to exporting and importing multitracks and MIDI files in order to transfer projects between different software environments.
Project files include information about audio clips/events, fades, crossfades, amplitude and panning, time-warping and transposition. Detailed automation data is also included, offering a more in-depth solution to the AAF format which is commonly used in the video and post-production worlds, and the file also incorporates state and parameter automation details for VST2, VST3, AU and CLAP plug-ins.
Below is a chart that compares the new format's features to the information included in MIDI and AAF files:
The specification can be found on Github, and more information about the format can be found in the support section of Bitwig's website.
https://www.bitwig.com/support/technical_support/system-requirements-62/