Special bundles also available to celebrate Bitwig v1.1
Bitwig recently launched their new 1.1 update adding a raft of new features including advanced VST muti-out sidechain support, true latency compensation, improved timestretching, advanced routing, much improved controller integration and six new devices. To find out all about the update, and everything that it adds, check out the Bitwig website.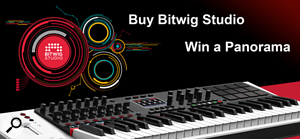 Buy Bitwig, Win a Panorama
If that weren't enough, Nektar Technology, Bitwig's UK distributor are running a promotion called 'Buy Bitwig, Win a Panorama'. This does exactly what is says on the tin. Buy Bitwig Studio from an authorised UK dealer between now and December 31st, and you will be entered into a prize draw to win a Nektar Panorama P4 controller keyboard. To find out more about this promo, check out the website: www.nektartech.com/win-a-panorama. The winner will be randomly drawn from all valid entries on January 15th, 2015.
Bitwig limited time price-drop
Bitwig are also dropping the price of Bitwig for a limited time in the UK to just £199 (normally £239). This offer only runs until January 15th, so get it on your Christmas list!
Bitwig + Nektar Impact LX49 + NP-1 foot pedal bundle
If you want to get going sooner than that, Nektar UK are also selling a special bundle to promote Bitwig 1.1 which includes Bitwig Studio 1.1, a Nektar Impact LX49 controller keyboard, and a Nektar NP-1 foot pedal. This bundle is available now for £249, which is a saving of £65. Like the Bitwig price drop, though, this offer only lasts until January 15th.
http://www.nektartech.com/win-a-panorama