User-friendly reverb powered by AI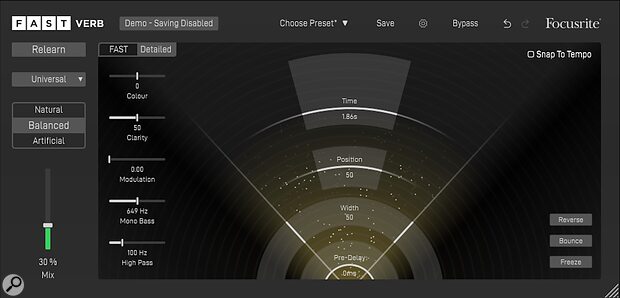 Earlier this year, we reported on a new collaboration between Focusrite and Sonible, the fruits of which were a series of AI-powered plug-in released under the new Focusrite Collective brand. At launch, the range comprised the FAST Equaliser, FAST Compressor, and FAST Reveal (the latter of which we reviewed back in May), and today they're adding a new processor, FAST Verb.
Like the earlier FAST plug-ins, FAST Verb employs artificial intelligence to analyse your source audio, and then allows you to tweak the processing using friendly parameter names such Natural, Artificial, Colour, Clarity and so on, with the aim of allowing even novice producers to get results quickly.
As on previous FAST plug-ins, however, a Detailed view is also available for deeper editing. In addition to the usual reverb treatments, FAST Reverb includes a few more 'out there' effects, including reverse reverb, a reverb/delay combination, and a Freeze mode for turning any source into the basis for a pad.
We've been playing with FAST Verb for a while now, and SOS Executive Editor Paul White has even had time to review it ahead of launch. To read the full Sound On Sound review, click here.
https://collective.focusrite.com/