Five new effects unveiled
The Maestro brand from Gibson has been associated with a huge variety of products, from accordions to tape delays (notably the legendary Echoplex), but its greatest claim to fame is the FZ-1 FuzzTone, the pedal behind the iconic intro to the Rolling Stones' 'Satisfaction'.
The FZ-1, launched in 1962, was soon followed up by a host of other innovative pedals, including the PS-1 phaser and RM-1A ring modulator, both designed by Tom Oberheim. In 1979, however, and with Gibson's then-parent company Norlin in financial trouble, the Maestro brand was essentially retired.
Until now. Some 43 years later, the Maestro name — still under Gibson's ownership — has been revived, and with it a brand-new range of pedals.
The Maestro Original Collection "pays tribute in sound and style" to the classic pedals of the '60s and '70s, and comprises five stompboxes: The FuzzTone FZ-M, the Invader Distortion, the Ranger Overdrive, the Comet Chorus and the Discoverer Delay. All share the same classic stompbox construction and control layout, have true-bypass footswitching, and are resolutely analogue devices.
The new FuzzTone FZ-M is a two-in-one affair, thanks to a toggle switch that selects between Modern and Classic modes. The latter apparently takes its inspiration from the original FZ-1, while Modern mode yields a "thicker, more modern fuzz tone". Its controls comprise Attack (which regulates the amount of fuzz), Tone and Level.
Next up is the Ranger Overdrive, which likewise sports a toggle switch but which here is used to choose between Hi and Lo gain modes — the former offering a "warm, expressive, amp-like overdrive" and the latter a tonality that's "slightly cleaner and exceptionally touch-responsive.
The Maestro Invader Distortion ups the ante, with an "aggressive, dominant sound character and rich harmonics, generating a wide range of distorted sounds". On this pedal, the toggle switch engages a preset gate, to keep noise to a minimum.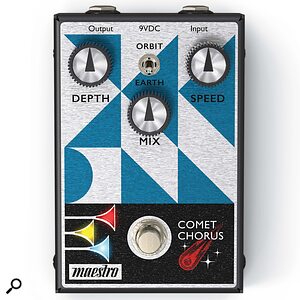 Both the Comet Chorus and Discoverer Delay employ analogue bucket-brigade technology to produce their effects. In addition to the usual depth, rate and mix controls, the Comet's toggle switch chooses between Earth and Orbit modes. The Earth setting produces the classic shimmering chorus effect, while Orbit introduces a bit of amplitude modulation, to simulate the sound of a Leslie speaker. (An internal trim pot adjusts the amount of AM.)
The Discoverer Delay specialises in "warm, inviting delay sounds", and on this pedal the toggle switch applies pitch modulation to the delayed signal. Two internal trim pots govern the modulation's depth and rate, and we're told that it can range from subtle wow & flutter effects to a "heavily pitch-shifted" sound.
The new Maestro Original Collection pedals are available now, and are all priced at $149, with the exception of the Discoverer Delay, which costs $159.
https://www.maestroelectronics.com/