Offers educational insight into vinyl cutting process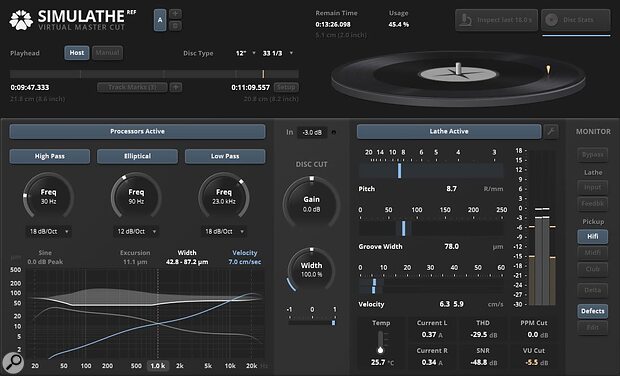 Simulathe Ref is a plug-in developed by Tokyo Dawn Labs which aims to provide audio engineers with an insight into the process of cutting vinyl discs. Equipped with a virtual disc cutting lathe, several turntable pickup models and extensive metering and analysis tools, Simulathe Ref allows users to experiment with preparing their mixes for the format without the risk and expense of wasting lacquers or cutting styli.
Using technology which has been developed in close collaboration with professional disc mastering studios and specialised manufacturers, the plug-in is equipped with a virtual lathe which offers four configurations. A filter section provides a selection of high-pass, low-pass, and elliptical filtering options, whilst metering sections allow users to monitor groove excursion, width, and velocity, as well as gain on disc, stereo width, and more.
There are three physically modelled turntable pickups which allow monitoring and the creation of shareable test cuts, and a groove microscope function enables users to inspect the resulting groove in all dimensions. Tokyo Dawn Labs say that the plug-in is not designed to be a vinyl mastering solution (and certainly isn't intended to replace the engineer operating the lathe!), but rather as an educational tool for those interested in the world of vinyl cutting to better understand the process of disc production.
Compatibility
Simulathe Ref is supported on PCs running Windows 7 and above, and Macs running macOS 10.9 and higher. VST2, VST3, AU, and AAX plug-in versions are all available.
Pricing & Availability
Simulathe Ref is available now, priced at €150.
https://www.tokyodawn.net/tdr-simulathe-ref/