Available to pre-order from today
The Bob Moog Foundation have announced that a new biography, Switched On: Bob Moog and the Synthesizer Revolution, is now available for pre-order. Pre-orders will ship the week of 19 August 2022, with the book being released to the general public on 2 September 2022.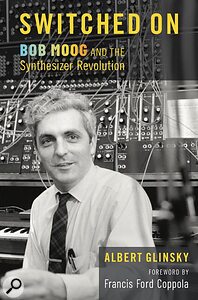 The 496-page hardcover book has been written by Albert Glinsky, with a foreword by Francis Ford Coppola. It is the first complete biography of the synthesizer pioneer's life and career, and draws on exclusive access to Bob Moog's personal archives as well as interviews with his family and a multitude of his associates.
The biography has taken Glinsky over 12 years to research and write, and includes information gathered from over 65 interviews and thousands of archival documents, in addition to 58 black-and-white and colour illustrations.
"I was honored to be asked by Michelle Moog-Koussa, Executive Director of the Bob Moog Foundation, to write Bob's biography," Glinsky said. "The process of writing this book has been an extraordinary experience, and I am proud to be able to offer this definitive story of Bob's complex life and career." 
Pre-orders can be made now via the Bob Moog Foundation website, priced at $39.95. It will be available for purchase from the Moogseum store from 2 September 2022.
https://moogfoundation.org/