The Capstone Theatre, Liverpool 22 April 2023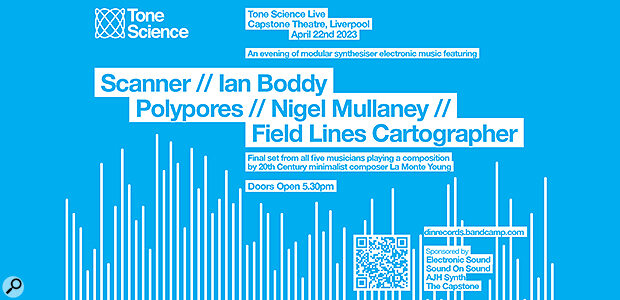 Tone Science are hosting an extended-length electronic music concert which will feature live performances from some of the most creative and innovative musicians in the field. The event will feature performances from Scanner (Robin Rimbaud), Ian Boddy, Polypores, Nigel Mullaney and Field Lines Cartographer, and will culminate in a collaborative performance of a composition by American minimalist and drone music pioneer La Monte Young.
Tone Science is a sub-label of DiN Records, a label set up by Ian Boddy in 1999 to combine analogue music of Boddy's heritage and the emerging digital possibilities of the future. Inspired by his experimental electronic music release "Tone Science" (DiN48), the Tone Science label was created in 2018. This series of albums currently comprises six releases and features compositions from more than 40 musicians focused on modular synthesis.
The concert will take place at the Capstone Theatre in Liverpool on 22 April 2023. Tickets are available now from the The Capstone Theatre website, priced at £20.
You can find out more about the DiN label and Ian's 40 years as a fixture in the electronic music scene by listening to this SOS Podcast.
http://www.thecapstonetheatre.com/whatson/tone-science-concert.html