Duality series gains muted articulation library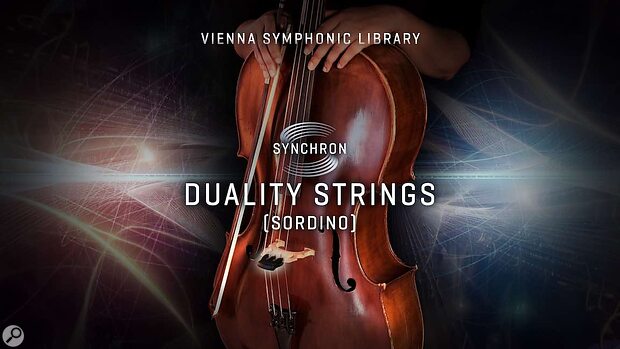 Vienna Symphonic Library's recent Synchron Duality Strings release sampled two ensembles of different sizes playing together in two separate rooms, allowing users to seamlessly blend between two distinctly different string section sounds and room acoustics. The series has now been expanded with the addition of Synchron Duality Strings Sordino, which captures the same ensembles performing with mutes fitted at the bridges of each instrument.
The library once again features the contrasting acoustics of VSL's Stage A and Stage B rooms at their Synchron Stage Vienna facility, with the two ensembles performing simultaneously whilst following a single conductor. The tonal change imparted by playing 'con sordino', and the effect it has on the musicians' playing styles, offer a wide variety of tonal options when combined with the previous Duality release, and all of the new parts were recorded immediately after their non-sordino equivalents in the original recording session in an effort to provide the most consistent results when switching between articulations in the two libraries.
All of the articulations present in the original library have a counterpart in this latest offering, with the exception of the snap pizzicato, and with both libraries installed, matching articulations will be combined into a Merged preset to allow for easy switching. As the content was captured during the same recording sessions as the previous release, Synchron Duality Strings Sordino also benefits from all of the same microphone position choices.
There are two versions of the library available: Standard and Full. Both feature the full selection of articulations, but the Standard variant comes with a reduced set of microphone positions.
Compatibility
Pricing & Availability
Synchron Duality Strings Sordino is available now, with an introductory pricing offer running until 30 October 2023. During the same period, VSL will also be offering the original Synchron Duality Strings library at the introductory prices from its release. Prices are as follows:
SDS Sordino Standard Library: €395 (reduced from €545)
SDS Sordino Full Library: €635 (reduced from €870)
SDS Standard Library: €425 (reduced from €595)
SDS Full Library: €695 (reduced from €960)
https://www.vsl.co.at/en/Duality_Strings_sordino