Business End enables you to have your demo reviewed by a panel of producers, songwriters, musicians and managers. If you want your demo to be heard by them, please mark it 'Business End'.
GN: "There's quite a mix of styles; they remind me of the 5678s at times but then there's this bit in the second track that's very like Neil Hannon."
CW: "The harmonies are actually quite clever."
GN: "It's like they haven't found their identity yet. It's a real mish-mash of influences."
CW: "I think it's quite good — I think it's fun, but this is a hard one for me, because it's personally not the sort of music I would listen to. My advice to them would be make the intros a lot shorter so the songs come in lot quicker — I mean I thought the first song was an instrumental! If you're specifically aiming for this genre you need to be doing something that's going to get radio play somewhere, and for that it needs to go into the song in under 20 seconds at most, 10 if you can."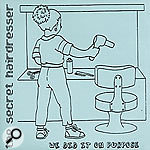 GN: "I think there's a lot of mileage to be had and really good music to be made from two human voices of different gender singing together — I like that aspect of it, but it seems that this band haven't nailed down where they want to go. It comes back to what we were saying earlier about writing from the heart rather than writing stuff that's derivative of other things."
MN: "I find it hard to get a complete picture. It sounds like they're slightly tongue-in-cheek and it's a bit hard to gauge what they're going for. Are they presenting a visual thing? Would seeing them live or seeing a video complete the impression or something?"
CW: "It would be good to see what they look like and see what they're like live. They've got that slightly mad sort of B52s-ish thing going on."
MN: "Yeah, but with that you've had such strong melody and lyrics. I think the B52s are a very strong thing to compare it to; I mean you've got the quirky side but you've also got no-messing-around pop songs. Maybe they're on their way to something good like that.
"I think with some things you get a very strong impression, like with the last CD by David Kenny [featured in last month's Business End] you get a very clear image just from listening, and with this I feel like I'm getting 60 or 70 percent of a picture. Possibly it's just about developing songs — maybe as they progress and get more eloquent they'll be able to project what they're doing and what they intend to do more strongly."
CW: "Maybe they should try putting something out as a one-off on a small label like Transgressive and see how it does."
MN: "They imply that they've got their own label — it's got 'Lap Records' on the sleeve of the CD. But how do you interpret that? On the sheet here it says that there's a record label already there. What does it mean?"
CW: "I think someone's told them that it looks better."
MN: "So on the one hand you get the impression that they're on the case and things are organised but on the other hand it doesn't feel fully formed musically yet.
"I guess with this one they're trying to present it as a finished thing and saying 'will you release it please', and, if I received this, I would have to say 'No, but keep going, because it sounds like it could be possible.' I can feel that they have an idea of what they're doing — it's just not fully formed yet."
GN: "If you're going to present it like this and say you're from such-and-such records you're obviously trying to pitch it as a finished thing and it's just not. It's just not focused enough. I think it could do with some more hooks; this is a very common thing you find with demos — you get bands who write really good, interesting verse melodies but if you write a good verse melody you've got to write a chorus that's going to top it. You've got to step it up because otherwise it's just not going to work dynamically."
MN: "I was reading Sound On Sound magazine this morning and there was an interview with Nile Rodgers in it, where he was saying that Chic always came up with the chorus first, and once they had that, the rest of the song would pretty much write itself."
GN: "He's got a great voice — it's one of those voices that just stands out."
CW: "Yeah — it's not that pure but it's very distinctive and that's what I prefer. Even when he's singing on the edge of his range it sounds good."
GN: "There are some really strong production ideas in the third track, it's got a much stronger sense of identity."
MN: "Yeah, I think this third track is easily the most accomplished so far, both mixing-wise and production-wise."
CW: "I think it's absolutely brilliant."
GN: "You get the feeling that they know what they want to sound like."
MN: "I think this third one is nearly great, I just think he's maybe pedalling the same feeling for slightly longer than maybe he should."
GN: "You can just see that they've got the beginnings of something really good here. You can see that he's just feeding his own need to write but it also needs to go somewhere. There's a bit of Talk Talk here — those kind of bands."
MN: "Yeah, Tears For Fears, that sort of thing."
CW: "There's a real Depeche Mode, Bauhaus influence."
MN: "They've got their own sound though. You don't have to completely reinvent everything but you do need to bring something new to the party.
"The first song is quite striking and the second song has a very similar composition but the third one is a bit different becasue the melody started straight away, but then it stays there. I think it could have progressed a bit more and maybe done something different."
GN: "This is a perfect example of what a demo should be. There's only three tracks, which is as many as you need at this stage, and each track shows you a different side of the band."
MN: "It's about imagination, if they came up with a second melodic place that this could go to where he sang out and it moved then this third one could be a really engaging track.
"They definitely have a direction, they just need to concentrate on the writing."
CW: "If I got this in my office I'd certainly look into it more and go to see them play."
GN: "With most people, they're either fully fledged and ready to roll, or you simply think 'They'll come back to me when they are ready.' With something like this, I'd bang off an email saying 'Look, I've had a listen to it, you've got something here but take a step or two back and listen to your influences again and try to work out what they were doing right — how they keep your interest.' It is just the interest factor: all the raw materials are there and there's a super voice as well."
MN: "It's really well produced. There's a real sense of space but it still has a very rich sound."
CW: "I really like the vocals. I always like singers who do really long, sustained notes."
MN: "In many ways it sounds so accomplished. You feel like they're only a step away from being a really great band."
Gavin Nugent.Gavin Nugent is the Label Manager for Double Dragon Music (doubledragonmusic.com), an independent label which has released music by Ash, The Crimea, Fi-Lo Radio and Charlotte Hatherley.
Gavin's music career has been interesting and varied; in and out of bands since 1987, he went on to specialise in studio design and construction and subsequently became involved in designing bespoke music computers. He ran his own studio in Dublin for four years before moving to the UK to work for Double Dragon.
Michael Nielsen joined Strongroom in the early '90s where he trained as an assistant engineer. He soon went on to become a recording and mix engineer and began producing records in 1993.
Michael Nielsen.His production credits to date include two Jamiroquai albums and he has been responsible for the mixing on four albums by Underworld.
Lately he has become interested in 5.1 mixing and has worked on several albums (including Underworld's groundbreaking Everything Everything LP) and two movies using this format.
Coral Worman is a Director of a management company for artists, producers and composers based at Strongroom Studios, and entitled (perhaps unsurprisingly) Strongroom Management.
Coral Worman.
Coral has been involved in the music business for more than 20 years. In that time she has worked in A&R at both RCA and Polydor. Her long experience in artist and producer management led her to work for Orinoco Management in the early '90s and latterly to her current position at Strongroom.
Many thanks to Nina Mistry and Strongroom Studios (www.strongroom.com) for organising and hosting the session.