Nashville heavy hitter Paul Worley was so impressed by Lady Antebellum that he gave up his high‑profile job at Warner Bros to produce them. With Clarke Schleicher at the desk, the gamble paid off in style.
Paul Worley
Paul Worley is one of Nashville's most high‑profile musicians and producers, having worked with the likes of the Nitty Gritty Dirt Band, Neil Diamond, Willie Nelson, the Dixie Chicks, and many, many others. He has also been Executive VP at Sony Nashville and then Head of A&R at Warners Nashville, and his latest success has come as producer of another Nashville band, Lady Antebellum, one of country music's brightest new groups. Their eponymously titled debut album (2008) was a great success in the US, while the follow‑up, Need You Now (2010), not only topped the country charts in the USA but also the main Billboard hit parade and the charts in Canada, New Zealand and Australia. In addition, Need You Now reached number eight in the UK chart, and was a major success in many other countries.
"The international success of Lady Antebellum is amazing," enthuses Worley. "It's great when something transcends its own genre like that. The musical divisions are breaking down, and that's a good thing. There is a blurring of lines and it's a great time to be an artist and to approach the world. Musicians have a much broader palette than any one format would indicate, and here in Nashville the country identity is much less important than it once was. But we do have a tradition of sound, of the way songs are constructed and sounds are recorded, and that still flows through what we do. Within that tradition we are influenced by music from everywhere. Music is a universal language, yet there are people who want to fragment it and turn it into 20 different languages. My response to that is: 'Just shut up and listen!'"
Shut up and listen is more or less exactly not what EMI International did with Need You Now, as the British wing of the company decided to have half of the songs on the album remixed by the eminent David Bascombe, his brief being to "lose" or "dial back" country elements such as steel guitar, mandolin, and fiddle for the international release. "Welcome to my world," quips Worley, with a weary sigh.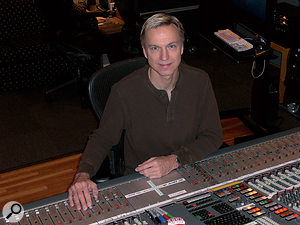 Clarke Schleicher
Worley is talking on the phone from Warner Music Studios in Nashville, which is home away from home for him. He regularly works there with his collaborator of 25 years, engineer and mixer Clarke Schleicher who is, as Studio Services Director, in charge of the studio.
"Nashville is still very much a live musician recording centre," insists Schleicher. "There is very little pre‑programming done here, ie. there is very little of what we call 'machine music'. Nashville still has a guy out in a room playing a guitar, regardless of the genre of music that he's playing. Insofar as studios are concerned, this town is about capturing performances, about capturing the magic that musicians are delivering, whereas New York and Los Angeles are a little bit more about programming performances."
It's an opinion that's seconded by Worley, who adds that Nashville is also still the world's last great songwriting community. "There are great songwriters everywhere, but Nashville is the only place where you have several thousand songwriters living in a few square blocks. It harks back to Tin Pan Alley and the other great songwriting communities that have existed."
Worley was born in Nashville in 1950, and graduated in philosophy at Vanderbilt University. From a young age, his real passion was playing the guitar. He started his professional music career in the '70s as a session guitarist, primarily in the house band at Audio Media Studios in Nashville, where he was spotted by well‑known producer Jim Ed Norman, who subsequently put him on the path towards producing. As Worley's credits and reputation grew, he built a studio called The Money Pit, which is where he first met Schleicher, who became assistant engineer there. Worley joined Sony Music in 1989, and later moved to Warners, before reverting to an independent role in 2006. He stresses, however, that the guitar is still at the heart of everything he does.
"The guitar pulled me into music. I was an acoustic rock player when I went to high school and college, into country music, but also into blues and rock. The guitar remains the lens through which I relate to everything musical. I played clarinet and piano as a kid, but when I switched to the guitar it all came together for me. I never learned to read music, but instead learned a way of approaching music by using a number system. It's all about intervals and relative movements of intervals. You don't think about what key you're in, you're always in the key of one, whatever that is, and you're focused on the relative movements of the chords and the structure and form of whatever song you're working on. It's a very convenient way of looking at music, especially when you're dealing with singers and popular songs. If the singer wants to change key, everything still fits together in exactly the same relative way."
The main control room at Warner Bros' Nashville studio is based around a Neve VR60 console.
As a producer, Paul Worley looks through his guitar "lens" at the next two essential ingredients in his Nashville sonic kitchen: the song and the artist. Starting with the song aspect, Worley calls himself "not a songwriter but a song user", and adds, "Writing a great song, and especially a great lyric, is a total mystery to me. I don't understand how it happens. The melody is like the wrapping on the package, it is what attracts you and when you open that melody up, inside you discover a great lyric. That is what makes the world go round for me. In the tradition of music, lyrics have perhaps been more important in country than in other music genres. On the other hand, all great pop and rock songs I can think of also have great lyrics too, so again, there's this blurring of all the lines.
"As a producer, and in working for Skyline [the publishing company he co‑runs], coaching songwriters is a big thing for me. I constantly work with songwriters and help them understand whether or not they are getting across what they are trying to do, and that enables me to help them tweak the structure and get the arrangement right. If there's a great melody and a great songwriting idea, but it's not quite coming together, I'm pretty good at finishing the craft of it. I don't call that songwriting, I call that editing."
Worley adds that he loves "connecting great songs with great singers", and has a reputation as a great discoverer and developer of new talent. He discovered the Dixie Chicks, then co‑produced their first two albums with Blake Chancey and brought them to international success. At Warners, he was the first record company representative to go all out to sign Lady Antebellum. When that didn't work out, he left the company to produce the band, and again, international success was the result.
"Lady A did a showcase in Nashville and two of my scouts told me I had to go and see them," recalls Worley. "I didn't like the name, but went and the room was packed with A&R people: RCA, Universal, Disney. The band got up and just knocked me out: the songs, the personalities, the vocals, it was all there. After they were finished I ran straight up to the stage and said: 'Guys, I'm in. I'd like to sign you and be involved in your career.' At that time I was head of A&R and didn't assume I would produce them, but when asked during meetings who they wanted as a producer, they looked down the table at me. I was very grateful, because I was creatively unhappy at Warners. When Warners didn't sign them, and instead they signed with Capitol, I resigned and then literally walked across the street to make the record with them. That was four years ago, and it was a very scary, strange time.
"I like working with new artists. It is always fun to discover new things in people. The first thing I look for is a great voice. I am attracted to melody, and with the voice being the vehicle for that, I am attracted to great singers. If you are a great singer, I will walk through the rest of the doors with you. Other considerations are: Can you entertain? Do you have a point of view that is special? Are you the kind of person who is going to make the right decisions? Are you willing to learn? Are you going to stand up for yourself but not stupidly? And are you a good functioning person? There are many gifted musicians and singers, but if they have personal or drug or ego problems, it will stand in the way of success. The really great entertainers tend to be very open and friendly and engaging, although the occasional tortured soul does get through once in a while."
Returning to the subject of songwriting and Lady Antebellum, Worley explains: "I rarely get involved with Lady A in the songwriting stage, because they are great songwriters and they have an innate sense of dynamics and of how songs should be structured. When we worked on their first album, they had the basic sketch of what their music should sound like, but the musicians were not the right ones to pull that off in the studio, so we had to get other musicians to be able to design the Lady A sound. With every artist, I will talk about their influences and what kind of band they want to be on the road, and I'll then help them make an album that's compatible with that. They knew that for the second album they had to step up to the plate and make an album that's better than the first one. God forbid that your first album will always be your best! So they really applied themselves and also chose several outside songs; 'Hello World' is an example of a song that was written by friends of theirs."
One notable feature of the live area at Warner Bros Nashville is the large number of isolation booths, allowing large live bands to be tracked with good separation between instruments.
The recording studio is also central to Worley's work. He regards doing the "sound design" for a group a crucial part of his job as a producer, through a working method that sounds almost revolutionary in the 21st century, but is in fact tried and tested old-school. Schleicher comments: "As a producer, Paul has an amazing ability to see the big picture. He always has the vision. He can marry artists to his songs with his productions and is always able to see the forest for the trees, whereas many producers get bogged down in certain areas and lose sight of the overall concept. In achieving this, Paul uses a technique that people initially think is crazy and a waste of money, but that has in fact saved us hundreds of hours of studio time and many tens of thousands of dollars. Before the tracking date Paul will take the band and session musicians into a rehearsal room, and will spend a couple of days rehearsing and arranging the songs."
"It's something I learned from a great British producer who lives here, Peter Collins [who has worked with Rush and Bon Jovi, among many others]. Six years ago, he hired me as a musician for a session at the behest of the artist, so I could take my A&R hat off and be one of the troops again for a moment. He then asked me to come over to a rehearsal hall, and I was like, 'What the hell is this?' When he explained it, I thought, 'Oh, rehearsal. I remember that.' But then, when we went to the studio later on, it was like, 'How could I forget this?' So I've been rehearsing bands again during the last six years before going into the studio. Studios are terrible places to communicate. The band is out there, and the only way you can communicate is by pressing a button to get a sound that blasts into people's headphones. Recording studios are built for isolation, by definition; rehearsal rooms are built for rehearsal, and for me, rehearsing has become a big part of the sound design. It means that you don't have to waste your time in the studio having discussions about structure, what instruments to play, what amp to plug in, because you have already figured all that out."
Schleicher: "Paul will pick his guys for the session, and pay them a demo or single scale for the rehearsals. The arrangements they come up with aren't written in stone, but rather than focus on them [at the recording stage], we can instead focus on getting the best sounds. Also, the musicians are very comfortable with their parts as they come in, so there's not this anxiety of 'I need to be a genius now.' It makes for unbelievably smooth and efficient recording sessions. In the past, we were lucky to record one song in a three‑hour session with an OK arrangement. Now we easily record two songs in one session with great arrangements and amazing sounds. I generally go to the rehearsal for an hour or two, to get a feel for who will be playing and what they'll be playing, but I don't have the time to attend all of the rehearsals. They use a live PA setup, and will record everything with a bunch of SM57s to Pro Tools. Paul will have those recordings burnt onto CDs and I can then pop in a rehearsal disc when the session starts to remind the guys of what they worked on. Paul is always looking for ways to use some of these recordings, because the playing can be amazing, but technically the recordings aren't very good, and we're able to come up with much better sounds in the studio."
This composite screen shot shows the Pro Tools Session for Need You Now's title track. Note the 'herd' of stacked acoustic guitar tracks in the middle.
Warner's Nashville recording studio, which Worley and Schleicher call "wonderful" and "unique", had lain dormant for many years until it was revived in 2005 by Worley, who was at the time still working for Warners and asked Schleicher to get it up and running again. Today it consists of one large Neve VR60 tracking and mixing room and one smaller overdubbing suite with a Digidesign D‑Command control surface. Both men extol the fact that it has, in Worley's words, "a central drum room with six isolation booths around it, all with windows, so the musicians can all look and be connected with each other. It therefore works really well for the Nashville way of working, which is all about recording the band on the floor with everyone playing at the same time and then embellishing that, as opposed to layering things from the start. We recorded 'Hello World' with Lady A as a first take, including the vocals. It happened in real time. We knew that that was a huge song and that something was likely to happen when we would record it. And so it proved. None of us could talk for an hour afterwards. The whole building blew up. I couldn't even grab the talkback mic button and say: 'Nice job, come on in.' It was amazing. When you rehearse and have great musicians, moments like that can happen."
Schleicher also has vivid memories of recording said song, recalling that "it was such an emotional performance. We were like 'Wow!' It gave us chills. The Lady A album was for the most part created on the floor with very few overdubs. The isolation possibilities are good in Warner Studio, and the musicians will generally be in the room with the drummer, and have their amps in the booths. So they're all there, looking at each other. One crucial ingredient to make this work is our headphone system, which is a 12‑channel Mytek Private Q system. Studios often have a 16‑channel Mackie mixer for headphone systems, but that tends to overwhelm the musicians: they're spending too much time straightening out their headphone balance. So we decided that 12 channels is enough; we have eight mono and two stereo sends, and when we're tracking, I'll set up a stereo send, and musicians that don't want to be an engineer can just use that, or they can tweak the eight mono sends, which are basically 'more mes'. It gives flexibility, but it's not overwhelming. The sound in the headphones has to be inspiring to the musicians, otherwise you won't get optimum performances and magic isn't going to happen."
Much of the responsibility for realising Worley's "sound design" rests in Schleicher's hands. The 51‑year old engineer and mixer originally hails from Louisville, Kentucky and moved to Tennessee to follow a course in audio engineering at Middle Tennessee State University. He went on to learn many of his skills from studio legends Gene Eichelberger (JJ Cale, Lyle Lovett, Neil Young) and Ed Seay (Emmylou Harris, Dolly Parton, Willie Nelson). In step with Worley's desire to find the right sound design for each artist he works with, Schleicher tries out different mics and signal chains for each recording session, meaning that much of the gear used in recording the two Lady A albums was markedly different.
Schleicher: "We really strive for sonic integrity here in the studio, so we'll spend lots of time auditioning microphones and preamps and compressors and equalisers. Our studio is very well stocked, and I have $100,000 of my own equipment here. In other facilities they may simply go with what they have, but I don't hesitate to hire something in if I think it can make things better. For example, I use a trick to record guitars that I learned from Neil Dorfsman [Springsteen, Sting, Dire Straits], which is to record guitar amps with a dynamic and a condenser mic at the same time and blend the two together to get the tone you want. That way you don't have to equalise and you can avoid the harshness that can happen with phase shift. It's an amazing technique and learning it was one of these 'lightbulb over the head' moments for me. For the last Lady A album I purchased some Royer ribbon mics, and adapted Neil's technique to a dynamic and a ribbon. Then Kenny Greenberg, a local guitar player, mentioned the Avantone CR14 ribbon mic to me. They only cost 200 bucks, which is unheard of. But they sound great, and on the Lady A album I used a dynamic with either the Avantone or the Royers to get different guitar tones." (See 'Miking Lady Antebellum' box for more details on Schleicher's mic approaches.)
Tracking at Warners Music Studio is mostly done to Pro Tools, and in the case of Need You Now, at 24‑bit, 96kHz. "I spent most of my life aligning two‑inch tape machines," explains Schleicher. "We were quick to jump to digital tape machines here in Nashville, but for many years I was extremely disappointed in the sound of digital and also of plug‑ins. But digital has, over the years, improved to such a degree that I get a little tired of people saying analogue is the best, because it absolutely is not. Digital has finally come of age, and I can make better recordings with digital than I ever could with analogue. We have finally overcome the harsh, jitter aspect of recording. Having said that, I still use a lot of analogue equipment when recording and mixing — tube mics, mic pres. Really accurate clocks and top‑quality A‑D and D‑A converters are also crucial. We use the Big Ben here, and for the money it sounds absolutely amazing, and our converters are Pro Tools 192s and Apogees. I now completely disagree with the old‑school dudes that say that analogue is still the best, because it is not."
Schleicher mixes almost all the material he records for Worley, on his Neve VR60. His enthusiasm for digital audio clearly does not extend to mixing 'in the box'. "I lay things out on the Neve, because I hate mixing in the box. The biggest issue with digital is that in summing to stereo, music loses width and depth. So I try to do as little submixing as I can in Pro Tools. The convenience of recording and mixing in the computer has created a new kind of engineer, who has become this kind of computer‑mad scientist. But with that people have lost the knowledge of how to use compressors and other gear. Many younger engineers today are totally focused on the in‑the‑box aspect and use only plug‑ins. Plug‑ins are better than they have ever been, and for instance the Waves Mercury bundle with Jack Joseph Puig's plug‑ins sounds really good. But are Jack's Fairchilds as good as the real thing? Probably not, even though a lot of the vintage gear is old and crappy, and finding a good Fairchild or LA2A is difficult.
"The main problem is that people working in the box may have great computer skills, but often know less about mic technique, and processor techniques, and mixing techniques. So many studios have gone out of business that the training grounds for learning these things have almost disappeared. For example, very few people today seem to understand how compression actually works. It can be used to enhance the dynamics of the music, but also to destroy it. My release and attack times are always in time with the tempo of the music, unless I go for an effect, but I'll never allow it to pump against the music. I'll use compression and other effects mainly during the mix, because I go light on processing while tracking. While tracking I work really hard on getting everything to sound as big and bold and beefy as I can, to the point that sometimes I'll have much too much bottom end in the track. Tracking is like giving myself a big block of wood to work with, and mixing is a sculpting job, carving away things that I don't need. So for me, tracking and mixing are two very distinct processes."
"Clarke is the best at what he does," elaborates Worley, "and my role during the mixing process is simply to come in with fresh ears after Clarke has worked on a mix for a number of hours. In doing so, I focus mainly on the centre information — vocal, kick, snare and bass — making sure that it's cohesive and cuts through. For me, mixing and mastering are part of the same process. I'm old‑school, and mastering is really the last stage of mixing, and I like to be hands‑on with that as well. To this day, every mastering engineer that I know, if left to his own devices, will automatically chop off everything below 20‑40, sometimes even 50 cycles. They say you can't hear those frequencies and that they just affect the limiters, and they want to make things as loud as possible. And I go: 'That's wrong!' If you truncate at 40 cycles, all the multiples of that, 80, 160, 320 Hz, are also impacted by removing the fundamental of a chain of frequencies. So you're going to affect the kick, and the snare, and the vocal, all the centre information will have its guts ripped out. I don't care how loud things are — people have volume knobs after all. I just want my low end!"
Worley and Schleicher had no involvement in the process of 'internationalising' Need You Now, though they did do the remix of the title song that was included on the international version, and that appears to have functioned as a template for Dave Bascombe's remixes. Worley: "Clarke and I did a version of the song 'Need You Now' for American radio, for which we were asked to replace the electric slide guitar, because the programmers thought it was a steel guitar. Of course, slide and steel guitars are not the same, but we couldn't talk them out of it, and we made a new version in which we replaced the slide with a regular electric guitar. It was hard for us to do that, because the original slide weeps so beautifully and expresses the bittersweet nature of the song so well. It was also decided that remixes were needed for some territories outside of the US, and that was done without our involvement. Of course, remixes done by others are not my favourite thing, because as a producer you get very attached to the music that you work on. But the music belongs to EMI, and what happens to it after we're done with it is not my business."
The UK record company will, of course, feel vindicated by the international success of Need You Now. It's unclear what Lady Antebellum make of it all, though one imagines that they, in Worley's words, saw it as taking an opportunity they had to break through internationally. Worley: "We have allowed it, but the conversations I'm now having with them are more like, 'Let's not do that again.' Let's say to people: 'We're glad you like it, and if you don't, that's OK too.' In order to get airplay somewhere, we don't want to let anybody just do what they do. If you look at any artist who has had a 30- or 40‑year career, it will be built on their uniqueness, not their capacity to sound like others. It's the difference that's appealing. The Lady A kids get that. Their music is awesome, because they are great artists. What they do is art. The music industry business people will say: we're standing where art meets commerce. My reply to that is: art never met commerce. Commerce will chase art down the road to the end of time, but the two will never meet. And we are on the art side of things."  
Clarke Schleicher loves experimenting with different ways of recording things, and the drum recording setups he used on Lady Antebellum's first and second albums provide a good example. The debut had a Shure SM57 on the snare, Sennheiser MD421s on the toms, Telefunken ELAM 251s as overheads, and a Neumman U47 FET and Audio‑Technica ATM25 on the kick. On the more recent album, Schleicher used FET 47 and Electrovoice RE20 on the kick, a 57 on the top of the snare and an AKG C451 on the bottom, another 451 on the hi‑hat, 421s on top and bottom of the toms, and Neumann KM184s as overheads. "I experiment with mic pres as well. I like the GML mic pres in general, because they are clean and quick and can handle fast transients. We recently purchased some API preamps, which I have always loved on drums, so I used them on the kick and snare on some of the cuts on Need You Now."
For acoustic guitars, Schleicher used a Neumann/Gefell M582 close to the 12th fret, pointing downwards, and a Neumann U67 placed towards the body of the guitar, pointing upwards. "Both mics are at a 45-degree angles. The 582 is brighter and the 67 a bit warmer. I record them to separate tracks and blend them according to what's needed. I sent the mics through these really amazing Gordon mic pres, and then through a Manley Vari‑mu, with some subtle compression, to add some air at the top. I also used a GML EQ.
"With regards to vocals, for Hillary [Scott: vocals] I used a 67, going into a GML pre, a Tube‑Tech compressor, and a GMP EQ. Charles [Kelley: vocals] was recorded with a Korby 251 and the same signal path as Hillary. To be honest, I was never happy with Charles' signal path, and recently during a live thing for AOL he sang through a [Neumann] U87 and an LA2A, and he liked the way he could sing against the latter. So I'm now using that on him. It gives a warmer tone and helps with Charles' enormous dynamic range. For Dave's [Haywood: vocals, guitar, piano, mandolin] vocal I use a customised 87 with a tube in it, which we call a hotrod, run through a GMP pre and EQ, and then again the Tube‑Tech compressor.
"For budget and time reasons, the string sections are relatively small, usually eight or 10 players. We've developed an interesting technique over the years, with the players doing two passes, then the third pass with mutes on bridges. I'll also crank up the preamps to get a different tonality in the room, and we blend the three passes together to create a bigger sound. The acoustic piano was recorded with two Telefunken 251s, going into a GML pre and GML EQ. The piano booth at Warner Studio is very large, so I can back the mics off to get more of a concert grand sound, or put them right on the hammers for a more traditional country sound. The most important thing about recording piano, however, is the touch of the player. If you have a slob of a player and a great piano and a great setup, it will still sound crap, whereas a great player will make even an average piano sound great."
One of the ingredients that Paul Worley often uses as part of his "sound design" is something he calls the "guitar herd". "The guitar herd is an idea that was given to me many years ago by Ed Seay, who in turn had been thinking about a technique by Jeff Lynne, on records by ELO and the Traveling Wilburys. It's used for driving, up-and-down acoustic guitar strumming, and Lynne's idea was to sit several players around an omnidirectional microphone and record them several times and stack that as many times as possible, or to take one player and lots of guitars and use capos in different positions and different microphones and you move them around and stack as many guitars as you can. You end up with a stereo rhythm acoustic track that is very powerful."
Schleicher: "The guitar herd creates a huge wash of tone that stays kind of underneath the track. I can bring it up or down depending on the dynamic that we want, in a similar way as how a lot of pop records in the past would use synthesizers to beef up choruses, without you really hearing them. There simply is a bigger presence that helps to build the dynamics, particularly of the chorus. The way Paul does it is by overdubbing his 15 or 16 amazing acoustic guitars. The key to this is that they all have to be played exactly the same, otherwise you just end up with a jumbled mess. For a lot of guys that's really tough, but Paul can just do it. We will usually do two passes of the same guitar, and change miking each time to get a broader range of tone. It really is kind of a rocket science thing! I can pan them as wide or as tight as I need them, depending on where I have space in the mix."