Creating The Sunlight Sound
The author (left) and Tomas Skogsberg in the control room at Sunlight Studios, Sweden.
Deep in the Swedish forest, we track down a producer whose work has defined the sound of modern metal.
Located about an hour's drive north-east of Stockholm, and a few minutes out of the nearest town Gräddö, the birthplace of Swedish death metal sits quietly in the woods. For the past three decades, this converted barn-cum-studio has been churning out its signature 'Sunlight Studio Sound', and the man responsible is producer, engineer and studio owner Tomas Skogsberg.
Skogsberg learned his trade working at conventional studios in Stockholm, but found the environment restrictive, and wanted to pursue a more original approach to capturing sounds. "I was working in some studios with people who were like thinking in a box," he recalls of his early years. "I would just tell them to not look at the VU meters, but instead listen to the speakers, but it was hard to get them to do this. So I decided I had to start my own studio — but it was a long way to get there."
Eventually, he made the decision to go it alone, and in 1982, he set up the first Sunlight Studios in Stockholm. "I started first with a two-track tape recorder," he says. "Then I moved onto eight tracks, and then moved onto 16 tracks. And it took a couple of years before I began to do some commercial stuff so I could earn enough money for me to be able to do that."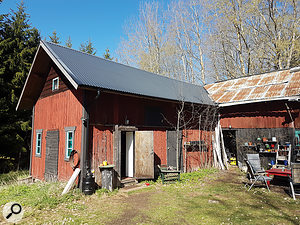 After many years working in Stockholm, Skogsberg relocated Sunlight Studios to the countryside in 2002.In 2002, Skogsberg relocated the studio to its current country location. "I worked in Stockholm for about 15 years and it was a little bit more stressful because of the big city and everything else that came with it. I prefer to do it in a much softer and more relaxed place. Maybe it does not influence the sound directly, but definitely the recording approach and softness to the work, since you are in a country place where it is more of a relaxed atmosphere."
Moving to the country also allows artists to stay in the small cottage next door. With most modern luxuries forgone, it provides the perfect atmosphere for creating and focusing on nothing but music.
As far as the studio itself goes, though, Skogsberg's principles are unchanged. "In the beginning and even now, I had cheap equipment; and even before that, I had very cheap microphones and stuff like that. I really like the sound in the cheap gear rather than the expensive stuff, because you get the sound for free and it's totally unique."
Skogsberg's quest to capture original sounds paid off when in December 1989 a group of...
You are reading one of the locked Subscriber-only articles from our latest 5 issues.
You've read 20% of this article for free, so to continue reading...
Buy & Download this single article in PDF format

£1.00 GBP

$1.49 USD


For less than the price of a coffee, buy now and immediately download to your computer or smartphone.

Buy & Download the Full Issue PDF
Our 'replica SOS magazine' for smartphone/tablet/desktop. More info...

Published December 2019