Desktop Workstation Computer
With 64-bit quad-core processing in every model and the ability to run both Mac OS X and Windows, is the Mac Pro the computer all musicians have been waiting for?
When Apple CEO Steve Jobs unveiled the Power Mac G5 at the company's 2003 Worldwide Developer's Conference, it offered a maximum of two G5 processors running at 2.0GHz, with the promise that a Power Mac G5 system running at 3.0GHz would arrive within a year. For a company that rarely talks about forthcoming products, this showed a certain amount of desperation on Apple's part. Despite having repeatedly attacked the so-called Megahertz myth, saying that balanced system performance was more important than how many clock cycles per second the processor could run at, Apple seemed to be losing a numbers war with Intel, whose CPUs were already reaching speeds of 3GHz.
A year later, Jobs had to admit that Apple weren't able to provide Power Macs running at 3GHz, and a year after that, the company announced that they would move over from Power PC processors to those manufactured by Intel. During this time, though, a funny thing happened in the processor world: the numbers stopped being so important. As processor manufacturing techniques changed, and emphasis in design switched to different architectures with lower power consumption, better performance was found in areas other than simply increasing clock speeds.
This year has seen the introduction of Intel-based iMacs, Mac Minis, Macbooks and Macbook Pros, and there was much speculation as to what Apple would offer as a Power Mac replacement. That question was answered at this year's WWDC with the introduction of the Mac Pro. And although the Megahertz count is less important as a marketing tool, the Mac Pro is the first Apple computer to break that 3GHz barrier.
Unlike all other Mac product lines, Apple no longer offer a choice of different configurations for the Mac Pro, opting instead for one standard configuration that can be customised according to a user's needs. This makes a great deal of sense, and it actually makes ordering a Mac Pro far simpler than ordering a Power Mac, especially when you're purchasing from Apple's on-line store. The standard configuration model retails for £1699, and you can see pricing options on Apple's web site (www.apple.com).
No matter how you configure your Mac Pro, all models come with dual-Xeon 5100 processors (see the 'Core Of The Apple' box for more information), meaning that every Mac Pro is a quad-core machine. Utilising a front-side buss speed of 1.33GHz, the standard configuration has 2.66GHz processors, but you can also scale down to 2GHz or up to 3GHz processors if you want.
For memory, the standard Mac Pro offers 1GB of fully buffered 667MHz DDR2 ECC memory, and can be expanded to a maximum of 16GB. The use of fully buffered DIMM (FB-DIMM) memory is a bit of a departure for Apple; instead of the usual memory slots on the motherboard, the Mac Pro features two memory riser cards in a cage at the bottom of the chassis. In order to install memory, you need to pull out these cards to insert the memory chips. Each card has four slots, and the standard 1GB of memory is installed as two 512MB DIMMS in the upper riser card.
While installing memory now feels almost like you're repairing the ENIAC, according to Apple, fully buffered memory affords "more memory capacity, higher speed memory, and better memory reliability". Although an FB-DIMM uses standard DDR2 memory, each DIMM has an Advanced Memory Buffer (AMB) that acts as a bridge between the system's memory controller and the actual memory. This is where the term 'fully buffered' comes from, because all memory read and writes have to be buffered through the AMB, and unlike previous parallel memory architectures, the memory controller communicates with the AMB on each memory module on a serial buss instead, which helps with reliability.
The reason fully buffered memory is useful is that it scales efficiently, and the performance doesn't drop significantly as you increase the number of memory modules on each memory channel. The only slight down side is that there is a small increase in memory latency, although this is where Intel's SMA technology helps out a little, so overall the performance is pretty good, and will be really good in a year's time if you're running, say, a 64-bit version of Logic on a Mac Pro with 16GB memory!
The FB-DIMMs themselves have fairly hefty heat sinks on them, and it's worth mentioning that some third-party memory suppliers initially had problems with the heat sinks, causing memory to malfunction. While buying additional memory from Apple is slightly more expensive, you can be pretty sure it will work, and although I've rarely purchased memory from Apple in the past, this was one occasion where I did. While most of the early teething problems have now been resolved, it's worth checking for user reports when purchasing memory for your Mac Pro from other vendors.
In terms of graphics hardware, the standard Mac Pro configuration comes with an Nvidia GeForce 7300 GT card offering 256MB GDDR2 SDRAM, one dual-link DVI port (for a 30-inch Cinema Display), and one single-link DVI port. Alternatively, you could choose an ATI Radeon X1900 XT with 512MB GDDR3 SDRAM and two dual-link DVI ports, or an Nvidia Quadro FX4500 with 512MB of GDDR3 SDRAM, two dual-link DVI ports and a stereo 3D port. The latter port supports the use of stereo goggles to view 3D imagery.
While the Mac Pro looks outwardly identical to its G5 ancestors, inside it's an altogether different machine, with easy-access RAM ports and hard drive bays, and significantly fewer cooling fans.Although you can order a Mac with multiple graphics cards, such as two, three, or even four Nvidia GeForce 7300 GT cards, making it possible for a single Mac to drive up to eight 23-inch Cinema Displays, one slightly disappointing issue from a technical perspective is that there's no support in OS X as yet for either Nvidia's SLI (Scalable Link Interface) or ATI's Crossfire. These technologies allow you to link multiple graphics cards together to produce a single output, and while this will be more of an issue for those working in high-end graphics or visualisation than music and audio, one interesting (yet still highly experimental) area is the potential for using graphics processors for audio-related tasks. This was discussed briefly in September's Apple Notes column, and could mean that these high-end graphics technologies become more relevant for audio.
At an Apple press briefing, I had the opportunity to ask a representative why they had decided not to offer SLI or Crossfire support as an option, and the answer was, quite reasonably, that there aren't that many applications supporting these technologies right now (on other operating systems), and they will be evaluated again in the future.
For storage, the Mac Pro offers a 16-speed Superdrive with dual-layer support and can now accommodate an optional second Superdrive as well. Apparently this is a really popular request from those working in the video field, making it possible to burn two copies of the same disc simultaneously, or copy a disc from one drive to the other.
What's perhaps more significant, though, is that, for the first time since the Power Mac G4, it's now possible to have four drives inside your professional desktop Mac once again. The Mac Pro now supports 3.0GB/s SATA (sometimes referred to as SATA II) for increased bandwidth, and the standard configuration comes with one 250GB 7200rpm drive. You can optionally order 160GB or 500GB drives, meaning it's possible to have 2TB of storage inside your Mac Pro.
Like the G5, the Mac Pro features a single, catch-release panel providing access to the interior.
Although Apple supply Hitachi drives with the Mac Pro (the model number on the 500GB model is HDS725050KLA360) you may have noticed that Seagate are now offering 750GB SATA drives, making it theoretically possible to put 3TB of storage inside a Mac Pro. However, these drives seem to have compatibility issues with the Mac Pro right now, especially if you use OS X's software RAID functionality (see this month's Apple Notes for more about that), so it's probably best to avoid them for the time being.
For expansion, three PCI Express slots are provided (see the 'Take The Express' box), and for connectivity, the Mac Pro now offers two Firewire 800 ports (one on the back, and one — wait for it — on the front, thank goodness!), two Firewire 400 ports (one on the back and one on the front), five USB 2 ports (two on the front and three on the back), a front-panel headphone mini-jack, and mini line-in and out connections on the back, with Toslink ports for digital audio I/O as well. There are also two Gigabit Ethernet ports, and you can optionally order the Mac Pro with Airport Extreme and Bluetooth if you require them.
In terms of appearance, the first thing you'll notice about the Mac Pro is that it looks rather like a Power Mac G5; the only obvious difference is the inclusion of a second optical-drive bay for an additional Superdrive. Instead of redesigning the previous enclosure, Apple decided to keep it basically the same, which is a bit of a shame since while it still looks aesthetically pleasing, the fact that there's no good way to mount the system in a standard 19-inch rack has been a bit of a pain for musicians and audio engineers.
Previous approaches to putting a G5 in a rack have involved either standing it vertically, which consumes a large amount of space, or hacking off the handles and mounting it on a sliding shelf. Not only does the latter result in a seriously mutilated computer, but it also invalidates your warranty. So it's a pity this issue wasn't addressed, especially as it's still not clear if the new (and unreleased at the time of writing) Intel-based Xserve (which can be rackmounted) will be suitable for those running music and audio applications.
The hard drives are mounted in these handy, pull-out drive bays.While the exterior is pretty much the same, the interior is actually quite a huge step forward. Because the Xeon processors require far less in terms of cooling hardware, there's now extra room inside the chassis for the second Superdrive and extra hard drives, as mentioned earlier. On the Power Mac G4, it was a real pain to access the internal drives, and this was also true of the Power Mac G5 to some extent, but the Mac Pro features a row of drive bays along the middle of the chassis that can be pulled in and out, with no wires to connect, and no fiddly screws to worry about.
That last point isn't entirely accurate, of course, because if you don't order your Mac Pro with all its drive bays populated, you'll still have to screw the additional drives into the bays before they can be inserted into the chassis. However, this new drive system is a big step forward, and is going to be especially useful if you need to be able to swap drives between Mac Pros without the need for any tools.
Speaking of a lack of tools being required, an improvement has also been made to way in which you install PCI Express cards. Previously, Mac PCI expansion slots have always had blank slot covers screwed in individually, so that when you want to install a card, you unscrew the slot cover, install the card, and then put the screw back in to keep the card in place. On the Mac Pro, instead of each slot having its own screw, there's now a plate with two integrated screws that you place on top of all the expansion cards to keep everything in place.
This kind of approach is quite common from other manufacturers, like Dell, who use a technique that requires no screwing at all, with a lever that fastens down on all the expansion cards and can be raised by pushing a release. Apple apparently considered this approach for the Mac Pro, but ultimately decided there wouldn't be enough tension to keep cards in place. Still, the solution in the Mac Pro is definitely an improvement over the previous method of dealing with (and inevitably losing) little screws.
On the subject of PCI Express slots, another benefit of having more space is that there's now an extra slot of space between the PCI Express slot for the graphics card and the three additional PCI Express slots for expansion. This is handy, as many graphics cards now require the space of two slots (even though they only use one actual slot on the motherboard) and in the old G5 case, installing a double-slot graphics card would block one of the PCI expansion slots.
The Expansion Slot Utility allows you to configure the way lanes are allocated to the Mac Pro's PCI Express slots. In the configuration shown I have the basic Nvidia graphics card and the Pro Tools Expansion HD PCI Express host card installed.The Mac Pro is now the second generation of professional Mac desktops to feature only PCI Express slots for expansion. While Apple could have used a hybrid PCI-X/Express approach for expansion (as many other Xeon 5100-based systems provide), since the previous generation of Power Mac already took the PCI Express-only approach, it makes sense for Apple to stick with this decision, as this is where the computing industry is heading anyway.
PCI Express connections contain one or more 'lanes' in order to communicate data between an expansion card and the host computer. The higher the number of lanes, the larger the amount of data that can be communicated. The width of the edge connector on a PCI Express card reflects how many lanes the card needs, and on some motherboards you'll notice different-shaped slots — the shape dictates the maximum number of lanes supported by each slot. While a 1x lane card can be used in a 2x lane slot, the reverse obviously wouldn't be true.
On the Mac Pro, much like the Power Mac, all the slots look the same length, supporting, in theory, up to 16x lanes in each slot. However, despite this physical appearance, not every slot in the Mac Pro is actually capable of supporting 16x lanes. Instead, the Mac Pro dynamically allocates the number of lanes to a slot depending on the requirements of the card in a given slot, and the allocation of lanes to slots can be manually configured in Apple's Expansion Slot Utility.
So with all these great new features in the hardware, what's the Mac Pro like to use in practice? The first thing you'll notice when you switch it on is that it feels really fast, which while a hard point to quantify, is valid in that the system is noticeably more responsive than, say, a Power Mac. Once everything is set up, it's also impressive to note that the boot time of the machine is usually under 20 seconds!
When I first got the Mac Pro, the current version of Logic Pro (my usual tool of choice for performance testing) was v7.2.1, which didn't fully support the additional processing cores available on the Power Mac Quad or Mac Pro. So I proceeded with the usual testing to see how Logic would perform without specific optimisation.
Starting with the number of Platinumverbs, I could get 176 instances with Logic Pro reporting 193 percent CPU usage and the overall System usage being 48 percent in Activity Monitor. With Space Designer I could run 38 instances, with 142 percent Logic Pro usage and 36 percent User usage.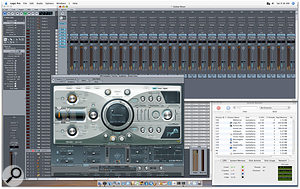 Here you can see Logic Pro v7.2.3 running a test to see how many stereo voices multiple instances of Sculpture can play back simultaneously. Notice how Logic's System Performance monitor window now includes four bars to represent the Mac Pro's four processing cores.Moving onto instruments, it was possible to get 224 Sculpture voices (running eight voices on 28 different instances) with 187 percent Logic Pro usage and 48 percent User usage. With EXS24 set to original storage and without any filters, I could play back 1344 (stereo) voices with 188 percent Logic Pro usage and 49 percent User; with the filters enabled, this dropped to 768 voices with 199 percent Logic Pro usage and 50 percent User. Setting the sample storage mode to 32-bit in EXS24, and disabling the filters, it was possible to play back 2432 voices simultaneously with 203 percent Logic Pro usage and 52 percent User usage. And, finally, enabling the filters again in the 32-bit mode, I could get 896 voices with 183 percent Logic Pro usage and 48 percent User usage.
During the course of this review, Apple released Logic versions 7.2.2 and 7.2.3, the first having optimisations for the Mac Pro, and the latter having further optimisations for the Mac Pro and support for the Power Mac Quad as well. When running Logic on these systems, you'll notice the System Performance window now offers four CPU bars for monitoring audio performance instead of two.
Repeating the same tests on v7.2.3, I could get 210 Platinumverb instances with 222 percent Logic Pro Usage and 56 percent User usage, and interestingly, the maximum number of instances I could get with v7.2.2 was 186, so clearly the extra work for v7.2.3 made a difference. With Space Designer I could get 52 instances with 215 percent Logic Pro usage and 55 percent User usage.
Running 39 instances of Sculpture, I could play 312 voices simultaneously with 259 percent Logic Pro usage and 67 percent User usage, and moving onto EXS24, using the original storage mode and with filters disabled, I could get 1856 simultaneous voices with 248 percent Logic Pro usage and 65 percent User usage. Enabling the filters lowered the number of voices to 1280 with 258 percent Logic Pro Usage and 67 percent User. Using 32-bit storage mode without the filter enabled, it was possible to play back 3200 voices with 267 percent Logic Pro usage and 68 percent User, while enabling the filter brought this number down to 960 with 240 percent Logic Pro usage and 60 percent User.
The Mac Pro is based around Intel's Xeon 5100 processor, which, like the Core 2 processors now used in the iMac, is based on Intel's latest Core microarchitecture. A microarchitecture refers to the actual design of a processor, such as what features are included in the processor; and despite the 'Core' name for the new microarchitecture, it has little to do with the original Intel Core processors (as used in the current Macbook, Macbook Pro and Mac Mini systems), which used an earlier microarchitecture based on the Pentium-M processor.
The 5100 is a dual-core chip, and, like the G5, is a 64-bit processor, supporting Intel's EMT64 (Extended Memory Technology). When Mac OS X Leopard ships next year with the ability to run full 64-bit applications, this is going to become much more relevant, as we will hopefully start to see 64-bit versions of applications such as Logic, Digital Performer, Pro Tools and Cubase that can address much more memory than the current generation of 32-bit applications. This will be great for audio streaming, sample playback and other memory-intensive tasks.
While EMT64 technology has been around for a while, the Core microarchitecture also offers many new technologies, such as Advanced Digital Media Boost (ADMB), which allows an SSE instruction to be executed in a single processor clock cycle. SSE is the Intel-equivalent technology of the Altivec (or Velocity Engine) instruction set found on the G4 and G5 processor to help optimise performance for tasks such as DSP algorithms, and on previous Intel processors SSE instructions required two cycles to complete. So what this means is that SSE-based algorithms can now potentially run twice as fast as before; and while this doesn't mean your audio software will literally run twice as fast, it does mean that you can expect to see a performance increase for algorithms that are optimised for SSE.
The Core microarchitecture also introduces two technologies called Advanced Smart Cache (ASC) and Smart Memory Access (SMA). Each 5100 processor has a 4MB L2 cache that's shared between the two cores, and ASC provides even lower latency access to commonly accessed data and instructions than you would normally expect from a high-performance cache. The really neat thing about ASC and the shared cache memory, though, is that if one core needs data that the other core already requested, that data will already be in the cache; and, also, the cache is dynamically allocated so if one core is idle, for example, the other core on the processor can utilise the full 4MB of cache.
SMA optimises the overall memory performance, hiding any latency involved in memory access to the system. Tasks such as streaming audio from disk or running a sampler are examples of memory-intensive applications that will be aided by these new technologies.
Finally, but perhaps most importantly, the Core microarchitecture features Intelligent Power Capability, meaning that, in addition to offering amazing performance, the Xeon 5100 is also a really economic chip when it comes to power consumption. While low power consumption is usually cited as an advantage in laptops, it's also an advantage in desktops, because it reduces the amount of cooling hardware (such as fans) that is required. Where the Power Mac G5 enclosure had nine fans, the Mac Pro has just four; and although the G5 was reasonably quiet most of the time, the Mac Pro is pretty quiet nearly all of the time, even when running flat out. In fact, the fans are so quiet, the components that makes the loudest noise are the hard drives!
While the Logic Pro results show a definite improvement, both over the v7.2.1 Mac Pro results and the dual 2.7GHz G5, the improvement isn't perhaps as significant as we might have expected. If you look at the User usage figures from Activity Monitor, though, they indicate that the system is still not quite being pushed as far as it could by Logic. At present, it's not quite hitting 70 percent usage, where 100 percent User usage would theoretically imply all four processor cores being completely maxed out.
Here you can see the number of reverb instances possible on a variety of different Mac systems for comparison. As you'd expect, the Mac Pro comes out on top, but you'll notice how with the current version of Logic the venerable dual-2.7GHz Power Mac isn't as far behind as you might have thought. Hopefully we will continue to see optimisations for Logic to take full advantage of the quad-core architecture.However, if you look at the EXS24 results for original sample storage, both with and without the filter enabled, we see a tremendous improvement over the figures for Power PC-based Macs (and the Core Duo-based iMac). This is a huge advantage, since this mode takes up less memory than using 32-bit sample storage. If you're a Logic user who gets a great deal of use out of EXS24, the Mac Pro is the machine for you.
To see how Logic 's performance compares with that of another music application, I tried a similar test in Cubase v4.0.1 (which now runs as a Universal Binary and supports four processing cores) to see how many Roomworks reverb plug-ins I could run simultaneously. In order to gauge how the software was taking advantage of the cores, I ran the test three times with different numbers of processing cores enabled in the operating system: first with one core, then with two cores, and finally with four cores.
With one core enabled it was possible to run 19 instances of the plug-in, with Cubase reporting 91 percent usage and the User usage at 46 percent. This User value is obviously not quite accurate for one core as its still reporting the User usage of one processor, albeit with one core disabled. However, by enabling two cores (on the same processor), I was able to use 40 instances of Roomworks with 187 percent Cubase usage and 95 percent User usage. And, finally, with all four cores enabled I could run 60 Roomworks instances with 381 percent Cubase usage and 91 percent User usage.
This chart shows the number of stereo voices in Sculpture and EXS24 that different Mac systems are capable of playing back simultaneously.While I don't have any figures for other systems running Roomworks instances to offer as a comparison to show the relative performance of the Mac Pro, these numbers show Cubase scaling much better than Logic to use the full potential of the four processing cores. Even if you just look at the User usage figure, it's clear that Cubase is utilising more of the processing by hitting 91 percent User usage with four cores enabled. The advantage in Logic not pushing the system to 90 percent, though, is that the user interface never becomes unresponsive, which it does in Cubase when the system is running that much audio processing, because the user interface is always given a lower processing priority.
In the way Cubase scales to the number of cores available, we see an example of the law of diminishing returns (or what computer scientists refer to as Amdahl's law), where, simply put, the increase in overall performance by increasing just the number of processing cores eventually reaches a point where the performance gain just doesn't make it worth adding any more cores to the system. Obviously we're not at that point just yet, with Cubase providing a 165 percent improvement over a two-core system, but it's easy to see how we'll start to see less of a difference as we move to four cores per processor and beyond with the current audio architectures.
The Mac Pro is a pretty appealing computer. It really is the Fastest Mac Ever, as you would hope, but it's so much more than that as well. Intel's Xeon 5100 processor offers a huge amount of power with a low amount of power consumption, and features such as the advanced cache and media boost will really make a difference to music and audio applications as developers further optimise applications for Apple's new Intel-based platform — not forgetting that every Mac Pro is now a quad-core system. A new chassis would have been nice, but at least the design has been improved to allow for more storage, make it easier to install PCI Express cards and locate a Firewire 800 port on the front panel.
This graph gives an indication of the performance increase possible by using multiple processors with Cubase and Logic, plotted against a theoretical linear increase in performance. There are a couple of caveats: firstly, the values for three processors are interpolated, since there isn't an easy way to test this; and, secondly, the results are based on specific plug-ins. In the case of Cubase it's Roomworks, and in the case of Logic it's Platinumverb. While this shouldn't make a difference in showing the overall performance increase, as each algorithm represents a constant block of processing (regardless of the algorithm's efficiency), if you look at the results in the reverb and instrument charts for Logic you'll see this isn't quite the case.Another feature that makes the Mac Pro appealing is Boot Camp, Apple's currently-in-beta software that makes it possible to dual-boot between Mac OS X and Windows XP. This could be absolutely indispensable if you need to run both operating systems — maybe you work in Logic, but like to master in Wavelab, for example — which you could now do without having to swap audio hardware or use multiple input and display devices, and so on. With Boot Camp v1.1 you can now install Windows XP on a dedicated drive (another reason why being able to have four drives in the Mac Pro is useful), which is what I did on the Mac Pro I have on my desk. Although there a few anomalies in Device Manager and with the Realtek audio driver misbehaving on occasion, the Mac Pro performs pretty much flawlessly as a Windows workstation.
For those who simply prefer using a Mac to other systems, or those who have to use a Mac because their software of choice (say, Logic) isn't available on any other platform, the Mac Pro levels the playing field with the rest of computer industry to some extent in terms of performance and price. But if you're someone who's never used a Mac before and wants to buy a new, high-performance system for music and audio, the Mac Pro might be the perfect machine for you. Not only can you continue to run all your Windows software, but you can transition to a Mac-based system at your own pace and curiosity.
The standard configuration concept is notable, and it has the advantage of making the Mac Pro seem deceptively cheap for £1699. However, if I was to recommend a configuration, it would be to go for the 3GHz processors, have 4GB memory installed and two (or more) 500GB drives, which takes the price to £3379, which is still pretty competitive when compared to other similarly specified workstations, and you could save on that price by sourcing your own drives and memory — at your own risk of course!
Overall, the Mac Pro is an impressive machine, and while I hate to use a nondescript phrase like 'it's a joy to use', you really do feel like you've got the best machine of its class in this particular market. And, in truth, you probably have. 
Pros
The fastest Mac ever, thanks to Intel's new Xeon 5100 processor and the new Core microarchitecture.
Runs considerably cooler and with less fan noise than the previous quad-core Mac, the Power Mac Quad.
The new internal design allows four hard drives to be mounted inside the Mac Pro, and to be easily swapped in and out in a cable- and screw-free manner.
Apple's Boot Camp software allows the Mac Pro to boot into either Mac OS X or Windows XP, which might save you having to buy two computers if you need to run both operating systems.
Cons
The case still can't easily be rackmounted.
The ability to install an additional graphics card and have compatibility with either Nvidia's SLI or ATI's Crossfire technologies would have been nice, even though it's not something that might not yet be to the benefit of musicians or audio engineers.
Summary
The Mac Pro really is a great machine. While it would have been nice to have more high-end workstation features such as hardware RAID and support for linking multiple graphics cards, by combining Intel's latest hardware with Mac OS X, Apple have created possibly the finest machine on the market for musicians and audio engineers. (And it runs Windows too!)
information
Standard-configuration model £1699 including VAT.