Now in its seventh incarnation and offering three new instruments, Arturia's V Collection just keeps getting bigger and better.
Having avoided them in their infancy, I reviewed my first soft synth 16 years ago this month. Running on just 64MB of RAM on a Mac G4, it was a recreation of the ARP Odyssey and, even then, it captured much of the essence of the original synth. In the intervening years soft synths have come on in leaps and bounds, taking full advantage of the power that modern computers can offer. But if someone had told the younger me that in 2019 it would be possible to buy a bundle containing much enhanced equivalents of the ARP 2600, the Buchla Music Easel, the Casio CZ1, the EMS Synthi AKS, the Fairlight CMI/IIx, the Hohner Clavinet D6, the Mellotron M400, Moog Minimoog and Modular systems, the Oberheim Matrix 12 and SEM (and, by extension 4-Voice and 8-Voice), the Roland Jupiter 8, the Sequential Prophet 5 and VS, the Solina String Synth, the Synclavier, the Yamaha CS80 and DX7, Rhodes 73 and Wurlitzer EP200 e-pianos, Hammond B3, Farfisa Compact Duo and Vox Continental 300 organs, plus a selection of acoustic pianos, all for less than £20 per instrument, I would have been stunned.
Of the instruments listed, the ones that mark the major step up from Arturia's V Collection 6 to V Collection 7 are emulations of the Casio CZ series, the EMS Synthi AKS and the Mellotron, but I make no apologies for listing the complete set of instruments in the previous paragraph; it's one thing to write 'lots of desirable synthesisers, organs and pianos' but quite another to read the names of every instrument that V7 contains. That many of these emulations are, for most musical purposes, accurate enough to use in place of the originals is even more remarkable. Sure, fanatics will point out that there are cases in which some of them fail to emulate their inspirations with implausible accuracy but, since many of those people have never owned (and probably never will own) the likes of a Synthi AKS, a Moog System 55, an Oberheim 8-Voice or a Yamaha CS80, the point is at best a moot one.
Like other Arturia soft synths, the architecture of CZ V starts with that of the synths on which it's based and then takes things much further. Before investigating all of the extra facilities on offer, I conducted an A/B comparison between the soft synth and my CZ‑1. First, I checked the unmodified waveforms and found them to sound very similar to those of the original. That wasn't a great surprise; this is a case of one digital synth emulating another so, even if the original code isn't available, it shouldn't be impossible to recreate the underlying waveforms. Sure, tiny differences in their shapes will make subtle differences to their timbres, and we should also remember that the D–A converters in the original CZ‑1 were products of the 1980s, whereas those in your computer or external converter should have far greater accuracy. (A vintage CZ D–A mode in CZ V seeks to emulate the older electronics, but I found it to be too subtle to be of any great significance.) But having said all of that, the underlying timbre of CZ V is clearly that of the Casio synths. If I had to find a difference, it's that CZ V was a touch brighter than my CZ‑1, giving the impression that the sound of the vintage synth had more body. But this was an illusion; with a few tweaks and an occasional touch of EQ I could make many of the two synths' sounds indistinguishable from one another.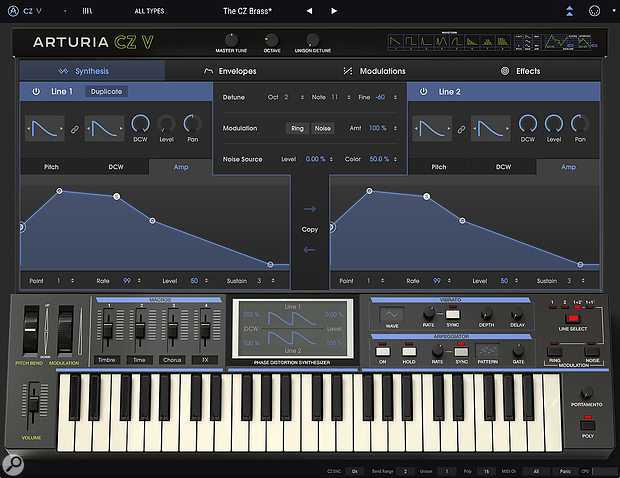 The CZ V's extended panel view offers far more control than the original.
Having tested this, I explored the programming on both. The equivalence could be excellent; the phase distortion equivalent of a filter sweep was recreated well on CZ V, and careful programming of amplitude shaping and modulation generated sounds that, while not always identical to the original's, could be used interchangeably without...
You are reading one of the locked Subscriber-only articles from our latest 5 issues.
You've read 20% of this article for free, so to continue reading...
Buy & Download this single article in PDF format

£1.00 GBP

$1.49 USD


For less than the price of a coffee, buy now and immediately download to your computer or smartphone.

Buy & Download the Full Issue PDF
Our 'replica SOS magazine' for smartphone/tablet/desktop. More info...