Dual-channel Microphone Preamplifier
Given the continually evolving and demanding pressures of the pro-audio industry, any product which remains available and largely unchanged for more than a decade must have arrived at a near-perfect combination of technical excellence, operational usability, reliability, and price. And one such design with which I've recently had chance to re-familiarise myself is the DACS Clarity MicAmp. I first reviewed this British-made two-channel mic preamp way back in SOS November 1997 (http://sosm.ag/dacsmicamp), and although the current version has acquired a '2' in its name the updates are minimal and mostly cosmetic. This same basic design has also been released in the form of a single-channel 500-series preamp called, logically enough, the MicAmp 500 (reviewed in July 2013).
The triple stack of transistors.DACS' Clarity MicAmp2 is a deceptively simple but extremely high-quality and genuinely transparent rackmounting two-channel mic preamp. The front-panel styling has a certain quaint British DIY look about it, but don't let that mislead: this is a stunningly good mic preamp which really does adhere to the mantra of 'add nothing and take nothing away'.
Each channel is provided with a rotary switch to set the gain (20 to 62 dB in 6dB increments), plus a tiny Trim knob providing 0-10 dB of additional gain, giving a maximum of 72dB, which is a very healthy range, and ideal for anyone working with passive ribbons and distant placements. A second rotary switch, this time a three-way one, introduces two different high-pass filter options in addition to the default flat response, while a toggle switch implements a polarity inversion.
Signal level metering is courtesy of a trio of LEDs in a triangular grouping, with the green illuminating progressively from around -30 up to 0 dBu. The yellow then takes over and glows stronger up to about +10dBu, when the red starts to glow. A separate — and extremely large — red Peak LED comes on at +20dBu, 3dB below clipping. The unusual trio LED grouping is derived from the first incarnation of this preamp, which employed an unusual integrated LED unit shaped a bit like the CND logo or, for the more mature British reader, the tail lights of a MkI Ford Cortina! Sadly, that fabulous LED unit went out of production but DACS have retained its essence with discrete LEDs in the MicAmp2.
A sneaky peak inside the DACS Clarity MicAmp2.
The rear-panel connections are pretty much as you'd expect, except that each channel is provided with three XLRs, two of which are inputs and one an output. One of the input sockets permanently carries 48V phantom power, while the other is phantom-free and connects directly to the front-end of the preamp, completely bypassing the DC-blocking capacitors. This latter input is intended for dynamic or self-powered mics, such as ribbons and valve capacitor mics, and it avoids the inherent phase shift, LF roll-off, and additional distortion products associated with DC-blocking capacitors.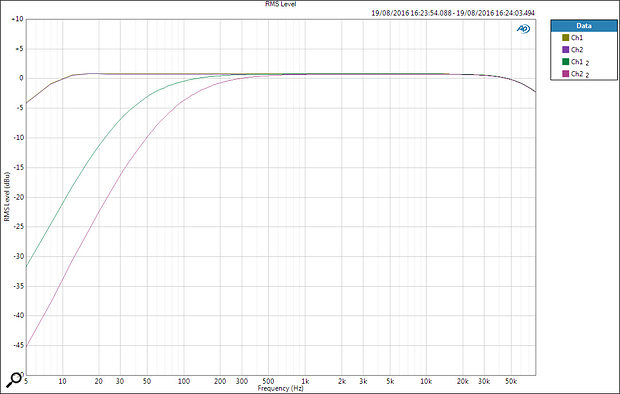 An Audio Precision frequency response chart showing the phantom-free input response with the two high-pass filter options.
However, in situations where subsonic noise might be a problem — such as from air-con, traffic or footfall — having a direct input which is flat down to 7Hz (-3dB) might not be very helpful, and that's why there are those two high-pass filter options. Both filters have gentle 6dB/octave slopes, and the first is 3dB down at 120Hz while the second is 3dB down at 60Hz. The DC-blocking capacitors in the phantom-powered signal path impose a roll-off below 20Hz.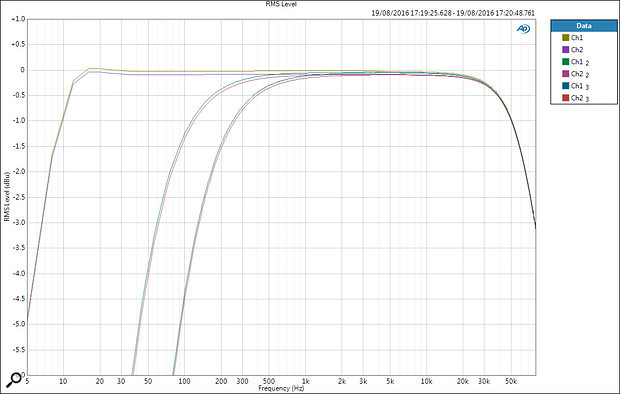 As above, but with expanded gain scale. The response between -3dB points is 7Hz to 80kHz, and 10-Hz to 50kHz at -1dB.
As with the original version, the MicAmp2 features a discrete front-end based around a stack of three Analog Devices SSM2220 chips, which are piggy-backed directly on top of each other. Each chip contains a single pair of low-noise, precision-matched PNP transistors, and by paralleling the transistor pairs in this way with a relatively high quiescent current, DACS have managed to bestow the MicAmp2 with a stunningly low effective input noise level, combined with a beautifully open and neutral sound character. The rest of the gain-stage elements employ a handful of very high-quality Burr Brown OPA604 op-amps.
A plot showing the noise floor spectrum at minimum (purple) and maximum (green) gain settings. Although more mains power supply harmonics are apparent when the unit is operating with maximum (+62dB) gain, as would be expected, they all lie below -85dBu.
While examining the circuit board, my eye was drawn to a rather unusual arrangement where a number of discrete transistors which form the metering circuitry were installed with their legs crossed over. Apparently, the original devices became obsolete and the best replacements have a different pin-out configuration. Such are the frustrations of production engineering!
The only significant difference between the original design and the MicAmp2, aside from the metering LEDs, are that the circuitry for both channels is now all on a single PCB occupying most of the floor-area of the chassis, and the PSU section has been upgraded to improve the noise performance slightly.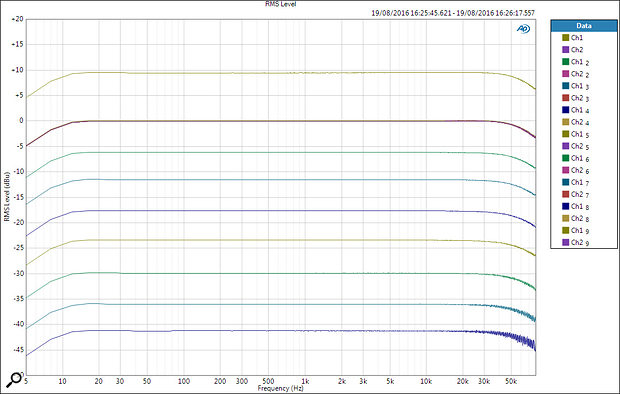 A series of frequency responses gathered for each input gain setting (and with the Trim control at maximum) with a -62dBu input. The high and low roll-offs don't change at all, regardless of gain setting, which is unusual and highly commendable.
When I reviewed the original MicAmp, I was completely bowled over with how quiet and transparent it was, even in comparison to some serious high-end designs. Of course, technology has moved on quite a lot since, and it's certainly true that budget mic preamps have narrowed the gap to high-end units quite dramatically. Nevertheless, the Clarity MicAmp2 continues to hold its ground as a top-class and extremely capable mic preamp, and one which easily matched the performance and resolution of both my AEA TRP ribbon mic preamp and a GML 8304.
Of course, the MicAmp2 costs a little more than the original design back in 1997, but it actually works out to be about 25 percent less expensive when inflation is taken into account! That makes this preamp even more of a bargain and I wholeheartedly recommend an audition if you're in the market for a clean, neutral, and quiet mic preamp.