Stereo Headphone Amplifier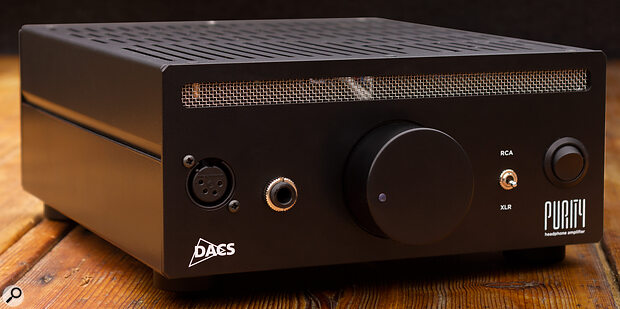 If you've invested in a pair of high‑end headphones, you'll want a high‑quality headphone amp to power them. And headphone amps don't get much better than this...
British pro‑audio electronics manufacturers DACS have built an enviable reputation for high‑quality studio headphone amplifiers over more than two decades. Mostly, these have been marketed under the 'DACS HeadLite' banner, and I've reviewed several models over the years, all of which have been highly capable and versatile, with the latest version (the HeadLite 3+, reviewedin SOS August 2021) having been upgraded to provide sufficient power for even the most demanding of low‑impedance headphones which dominate the market today.
Today, the very best headphones tend to be relatively power‑hungry 'planar magnetic' models, which only achieve their true potential when paired with very well‑designed and capable headphone amplifiers. To that end, the boffins at DACS decided they'd set out to build the ultimate headphone amplifier — one that could realise every nuance in the audio signal with total fidelity through the world's most demanding headphones. The design took two years of careful development, and the result is this: the Purity stereo headphone amp.
Shipped in a surprisingly large, velvet‑feel cardboard case and well‑protected in fairly dense, moulded, black polystyrene, the Purity itself is a pleasingly simple and understated black box, with few connections and even fewer controls. A brief user manual describes some of the technology and design choices, but it really isn't needed to get up and running. Also included with the review unit was a hand‑made, heavy‑duty IEC mains cable (using oxygen‑free copper wire). I can't say I noticed any audible difference between that and a cheap, standard moulded IEC cable but it's a nice inclusion, nonetheless!
The sturdy steel chassis measures 210 x 100 x 300mm (WHD, including feet, knobs and rear connectors), and it weighs a little under 5kg, which is lighter than it looks. The rear panel carries an IEC mains inlet with integrated fuse and separate 120/240 V AC mains voltage selector, while the audio connections are a pair of RCA phono sockets for unbalanced inputs and a pair of combi XLRs for balanced inputs. It's worth noting that as these inputs feed physically separate circuit boards for the left and right channels, the left and right connectors are spaced 55mm apart. While that won't be an issue for XLR or TRS cables, it might be a challenge for some exotic hi‑fi RCA phono cables built with the expectation of closely adjacent sockets.
Connection posts on the rear panel provide external access to the chassis/mains safety earth (black) and the audio ground (green), and the two are kept separate internally.
A pair of spring‑loaded connection posts is also provided on the rear panel, for external access to the chassis/mains safety earth (black) and the audio ground (green); these two ground references are kept separate internally. I expected to find a suitable rod or wire link in the box to couple these terminals, but none is supplied and I operated the unit without linking the audio/chassis grounds in a variety of systems without any issues at all. As the headphone amplifier is biased into Class‑A mode all the time (see 'Technology' box) the output drivers get quite hot, and so a large cooling fan is built into the lid of the unit. However, this is genuinely completely silent in operation.
Moving around to the front, a very large volume knob dominates the centre of the panel, with an embedded light to indicate the Volume setting. Initially glowing red, the light gently fades and pulses like a heartbeat as the unit warms up, gradually moving through purples and on to blue as the unit reaches its optimal operating condition — an effective and elegant feature. To the right of the huge volume control is a miniature toggle switch selecting the unbalanced RCA...
You are reading one of the locked Subscribers-only articles from our latest 5 issues.
You've read 30% of this article for free, so to continue reading...
✅ Log in - if you have a Subscription you bought from SOS.
Buy & Download this Single Article in PDF format

£1.00 GBP

$1.49 USD


For less than the price of a coffee, buy now and immediately download to your computer or smartphone.

Buy & Download the FULL ISSUE PDF
Our 'full SOS magazine' for smartphone/tablet/computer. More info...

RECORDING TECHNOLOGY: Basics & Beyond
Claim your FREE 170-page digital publication
from the makers of Sound On Sound — CLICK HERE