Compact Active Line Array
EV's latest rig takes the column PA format and adds a host of thoughtful extra features.
The Evolve 50M from respected makers Electro‑Voice is described as a 'compact column loudspeaker system'. It builds upon an earlier model (the Evolve 50), but this latest version incorporates a few new tricks in the mixer and control department. Various manufacturers produce outwardly similar 'all‑in‑one' systems, and the convenience of having a single unit containing mid/high speakers, subwoofer, power amp and mixer is something most gigging performers appreciate. The top section of the speaker system is in the form of a vertical array, and that brings with it the advantages of compact dimensions, very wide coverage and a high degree of inherent resistance to acoustic feedback. The Evolve 50M components require no interconnecting cables — all you need is a mains lead and whatever is being plugged into the input stages.
The Evolve 50M is made up of two active parts, the subwoofer and the vertical speaker array; the sub contains the mixer module and power amp stages for both speaker sections. The column array is formed from a composite material and contains eight 3.5‑inch neodymium drivers mounted on waveguides that result in very wide 120‑degree horizontal coverage, and the curve helps it to deliver a tightly focused 40‑degree vertical coverage, which aims the acoustic output where it's needed (the audience) while not wasting energy on the floor and ceiling. The overall tuning is assisted by four ports at the rear of the column.
The subwoofer section is made from 15mm wood and houses a single 12‑inch driver mounted in a vented enclosure, and is also home to a Class‑D amplifier module rated at 1000W, as well as an eight‑channel programmable digital mixer that provides for various combinations of mics, line inputs, stereo inputs, high‑impedance and Bluetooth sources — we'll take a brief look at some of these later, but all the fine detail is available on EV's product page (better still, download the user manual and read at your leisure).
Both speaker sections are well‑balanced and easy to lift and carry, and the array module has an integral handle that's large enough for both horizontal carrying and vertical placement or removal. Black steel grilles finish the package off nicely and should protect the speaker components against most pre‑apocalyptic hazards.
No matter how good they sound, compact all‑in‑one systems are a bit off the mark unless they are neat and unobtrusive when in use, and quick and easy to assemble and pack away; the Evolve 50M scores very highly in both these categories. The two sections are designed to travel as two components and the speaker array is supplied in a neat, high‑quality carrying bag with a shoulder strap, so it's quite possible for one person to carry the whole system. EV supplied a pair of systems for this review, so I tried carrying both by myself, with a sub in each hand and a 'top' bag over each shoulder. It is indeed possible... for a while!
The carry bag houses the speaker array itself and a spacing section or pole that sits between sub and top speakers. Putting the three pieces of the Evolve 50M together is extremely easy — it takes longer to unzip the carrying case and remove the array and pole than it does to connect them together. I particularly like the magnetic assist feature, mainly because it obviated the need for any heavy‑duty mechanical or electrical coupling which, on some systems, can present problems when trying to pull the pieces apart. The EV system works really well and it's hard to imagine an easier method that would actually work. As far as I can tell, the array section can't be coupled directly to the base unit, so the spacer pole has to be used. I believe that a shorter section is available as an optional extra, and this would be useful in some applications, for example if the Evolve 50M were being used as a close‑up monitor for say, piano, or for small‑group AV applications. All in all, assembling the Evolve 50M is about as clumsy‑proof and easy as it gets, short of having a built‑in robot pop out of a little hatch and do it for you.
The mixer and control section of the Evolve 50M fits neatly into the back panel of the subwoofer and contains everything you'd need for a modest combo performing live. The mixer has eight inputs: four mono mic/line channels plus two further stereo channels, making up the eight. Channels 1 to 4 have standard balanced XLR or TRS inputs with phantom power permanently enabled, and these have sensing and protection features to detect when anything not requiring power is plugged in. Channels 5 and 6 operate as a stereo pair with a choice of balanced XLR, TRS, unbalanced RCA and even stereo 3.5mm mini‑jack input connectors, so all common analogue devices should be well covered. Inputs 7 and 8 are reserved for Bluetooth and are accessed by any compatible paired device. This type of input can be really handy in any application using backing tracks, as playback can be controlled by someone off stage, a feature I've found useful at numerous school events where the teacher can be given the job of starting and stopping the tracks without the hassle of trailing cables.
The subwoofer unit also houses a digital mixer, with eight analogue inputs plus a stereo Bluetooth channel.As if this wasn't enough, channel 4 has an additional physical input in the form of a high‑impedance TS jack intended for direct connection of instruments, without the need to use a separate DI box. There's also a guitarist‑friendly footswitch jack for switching the user‑selectable DSP functions.
The Evolve 50M mixer surface, which bears the Dynacord name and logo as testament to the design lineage, is clearly and cleanly laid out to present a simple and functionally obvious control panel. There is only one rotary control, whose default function is master volume, but this also functions as an adjuster/encoder for other functions. Each channel's parameters are accessed via a row of buttons above the input connectors, and whichever channel is selected can be adjusted at either a basic or more advanced level. There are several pages of mixer functions in the manual, and these describe in detail what can be adjusted — suffice it to say here that this is indeed a full‑function digital mixer, and can of course be controlled either on the panel or, with a lot more facility, via EV's QuickSmart app. I found both the panel controls and the app to be easy to use, and adjustments are quick and smooth. Many users of this system will be looking after their own sound balance from the stage, so this is an important aspect of a system such as this.
All the expected complement of dynamics processors, detailed EQ, two full effects engines and so on are included, and I think that the mixer section alone would probably find an appreciative market if it were available as a standalone item. The best way of controlling the adjustable parameters is by means of the QuickSmart app, but the little LCD display does a good job of summarising the main mixer functions and shows a neat all‑channel meter view so you can see what's going on with your input levels with a quick glance at the rear of the unit. Just as assembling the Evolve 50M is impossible to get wrong, the built‑in protection circuits should keep all but the relentlessly determined user within the unit's performance boundaries.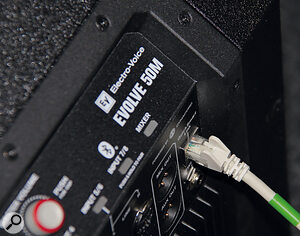 One major new feature built into the Evolve 50M is the ability to connect two systems together. A few years back I remember getting my hands on a portable column‑over‑sub system when the idea was fairly new, and the first and (to me) obvious question that came to mind was 'Could you use two to make a nice little stereo array‑type PA system?' Of course that's always been possible to an extent, but what EV have done with the Evolve 50M is, firstly, make a system that truly does produce a respectable output level for live gigs, and secondly, make pairing two systems as a left‑right PA really easy. Not only that, but when two systems are linked together using the QuickSmart digital link, they are automatically configured as you desire (for example as left and right mains, if that's what you fancy), and the two mixer modules act together to provide twice the input count, all properly integrated into a single mix. In short, a pair of Evolve 50Ms can act as a front‑of‑house stereo rig, with a 16‑input digital mixer, and two auxiliary mix outputs into the bargain, all with one single Cat‑5 cable running between the two.
Linking two units with a Cat‑5 cable combines their inputs, allowing you to share aux sends and control both systems from a single device.Linking two systems is simply a matter of connecting them together with such a cable plugged into the RJ45 sockets labelled 'QuickSmart Link'. Although these look like standard network ports they don't work that way — the interconnection protocol is very much EV's own and they are dedicated to the Link function. With two systems hooked up you can then, as mentioned, make use of all 16 inputs, and control both units as a single sound system from one instance of the QuickSmart app, although you do have to identify which system you're accessing — I didn't find a way of swiping across both sets of inputs within a single layer view, but the app layout is very clear and free of screen clutter, and it's obvious which set of inputs are in focus at any time. When the Cat‑5 cable is connected, the unit will automatically configure itself depending on your chosen mode, and will either send to or receive control parameters from the other Evolve unit, presenting options for running the two units together in mono or stereo, as well as offering various send or receive parameters. I set the two demo systems up with 'house left' designated as 'stereo left', as I would normally mix with the app from a front‑of‑house position if not actually playing on stage. Once linked, all control parameters are duplicated across to the 'receive' unit and most functions will then be linked, although individual master volume levels can be controlled on a per‑speaker basis for room balance.
Although the manual warns that firmware updates can take close to an hour, in practice the process only lasts a few minutes.When the control device (phone or tablet) is connected via Bluetooth to any Evolve system, an automatic firmware update check is carried out, and if an update is available it must be installed to bring the system up to date before Bluetooth control can be established. The manual says that this can take up to 50 minutes (!) and advises against doing this just before a performance! When I first got the devices and systems paired up the app informed me that a firmware update was indeed required, however it was all done and fully operational in just over four minutes.
When control is acquired everything apart from physically plugging into the unit can be done from the app, and it's as well to check that the input and/or master levels are down before applying audio as the Evolve 50M can generate a respectable output level — a lot more than you'd expect from its modest size.
The EV QuickSmart control app.
So, what about the sound from this very portable rig? It's crisp and clear and, as you'd expect from a vertical array like this, horizontal coverage is wide and even. In my studio live room test I had to stand almost directly to the side of the array before any significant lack of top end became noticeable. I had initially only rigged up one of the Evolve systems, and fed it with a selection of mono test tracks just to get used to the sound and then find out where it would run out of steam. As I said, I have used these types of mini‑array speakers in the past on many corporate gigs and band rehearsals, and they're perfectly fine so long as you don't need to go too loud, but these EVs have been crammed with lots of power and really do deliver a respectable output, all with the trademark full, rounded sound we expect from this maker. The spec sheet gives the maximum output as 127dB SPL at 1 metre, and the quality and focus is very impressive.
When I added the second system and ran them as a stereo rig, I was convinced that I'd easily have enough level to run an average band gig in a club or pub. Unfortunately because of the remaining Covid restrictions at the time of testing I wasn't able to find a live event for a proper road test, but I did take the two Evolve 50M units outside and run them at almost full chat for a while with a wide range of recorded material. The mids and top end carried well (over a mixture of hard standing and grass), and the balance stayed fairly constant over a reasonable distance. Even the two 12‑inch subs managed to keep up and pushed out a decent level, certainly more than I'd have expected given their size and weight, and the sub output level can be controlled independently for achieving the best sound balance. The only way to test PA systems is to use them for real, and I would have been very happy to take these along to a smaller‑scale gig and run a live band through them, but for the special circumstances.
As a pair at front of house it's a real miniature line‑array rig with a clear, powerful, focused sound...
The Evolve 50M has far too many settings, features and user options to go into here, but I did experiment with the overall system EQ presets (the 'Mode' setting), which offer a choice between Live, Speech, Club and the default Music mode. No prizes for guessing roughly what these do, but my personal default mode would always be Live as this is the 'neutral' setting.
You would expect any product of this type, brand and price to be well designed and to sound great for its intended purpose, which it does, but often it's the little practical things that can make the difference. I didn't find any aspect of the Evolve 50M impractical, annoying, or disappointing — this is a system that delivers all that is promised. In use, it is easy to use and will keep producing output if app control is lost for any reason.
If two units are SmartLinked and the 'master' system loses power, the 'downstream' one will be muted, and I found that when power is restored the second system remained muted until re‑linked. They can of course be linked with an XLR cable if you don't trust these new‑fashioned digital things, but the mix output is still an active connection as it's under the control of the first system's mix settings. When powering on and off I could not produce any thumps or pops from the speakers even by pulling the mains plugs straight out — these are well‑behaved speakers.
Time for a quick summary, then. There is truly a lot to say about the Evolve 50M, and I have only touched on the standout aspects as I saw and heard them, however I believe this neat little system has finally stepped up to the 'real band PA' level, and offers many of the advantages of a line array in a compact, portable and virtually user‑proof package. It is surprisingly loud for such a small set of boxes, flexible in that you can use one or two depending on the application (or indeed use the Evolve 50M together with other systems), and provides an all‑in‑one sound solution that can reduce extra gear and cabling whilst still offering all the bells and gizmos. As a single 'stick PA' it has that 'fill the room' quality, while as a pair at front of house it's a real miniature line‑array rig with a clear, powerful, focused sound, with good resistance to mic feedback. I hope I get to try one when the diary fills up again!
In terms of quality and price, HK Audio's Polar range probably comes closest, but while those systems do include digital mixing facilities, they lack the Evolve 50M's linking ability when used in pairs.
Pros
Powerful performance in a small and easy‑to‑use package.
Lots of onboard DSP and good control from the app.
Easy linking between systems with the ability to combine mixer inputs.
Can be used without the app if necessary.
Cons
Nothing significant, though I would like to see level meters alongside the app on‑screen faders.
Unless I've missed it, I'd like a 'skip firmware update until next time' option.
Summary
A portable yet powerful and high‑quality column system that boasts some useful extras, including the ability to run two as a pair with all their mixer inputs combined.