Active Three-way Monitors
Event eye up the uncrowded market for affordable three-way speakers with their new active 2030s.
Since the Event monitor brand was bought by the makers of Rode microphones, the company's product range has undergone a complete redesign, which kicked off with the high-end Opals (reviewed in SOS August 2009) and was then followed up by a much-improved incarnation of Event's popular BAS 2020 two-way active design (SOS March 2012). Now the company have launched the Event 2030, an active, three-way design that covers a wider frequency range than its compact cabinet size might lead you to believe. Like the 2020, the speaker is designed in Australia but manufactured in China, which keeps the costs down.
Like other Event models, the 2030's ported cabinet is understated in design and is made from wood composite (MDF). Each speaker measures 260 x 375 x 310mm, weighs a substantial 14.6kg, and is finished in a satin-black foil. Both the woofer and the waveguide panel are recessed flush with the front baffle, and the cabinet corners are slightly rounded. These cabinets, supplied as a mirror-image pair, are designed to be set up in a 'landscape' orientation, which puts the tweeter directly above the mid-range driver.
A circular port is located on the rear panel, alongside a balanced XLR for the input-signal connection and an IEC inlet with adjacent switch for mains power. In addition to an input-sensitivity rotary control, there are high and low shelving EQ controls to help tailor the speakers' response to the room and to user preference.
Waveguide assemblies are employed in many monitor designs, but they normally only surround the tweeter. In this design, both the tweeter and the 3.5-inch mid-range driver sit in their own waveguides, with a view to controlling the dispersion of the various drivers so that they integrate properly at the crossover points. These waveguides are asymmetrical and fairly shallow, but are nevertheless a fundamental part of the acoustic design as they create a wider dispersion in the horizontal plane than they do in the vertical plane. In theory, this should yield a wide sweet spot and reduce reflections from the floor and ceiling.
Looking at the drivers themselves in a little more detail, the woofer has a 7.1-inch cone diameter, sits in a chassis around eight inches wide, and is driven by a 1.5-inch copper voice-coil, wound onto a Kapton (polyimide film) coil former. Its magnet is ferrite and, like the other drivers, is magnetically shielded. The cone itself is made from mineral-filled polypropylene.
Also powered by a ferrite magnet, the mid-range cone driver has a 3.5-inch diameter and a one-inch voice coil. Its cone is made from a combination of paper and mineral-filled polypropylene. That leaves the 19mm ferrofluid-cooled aluminium tweeter handling the highs. Overall, the frequency response is quoted as an impressive 38Hz-22kHz, and the sustained SPL available is in excess of 111dB at one metre, with a peak SPL capability some 3dB higher.
Powering the three drivers are a 120W amplifier for the low end and an 80W amp shared between the mid-range driver and the tweeter. The upper crossover is a passive, second-order type set at 3kHz, while the low/mid-range crossover (400Hz) is active and has a fourth-order Linkwitz-Riley response.
Protection for the drivers is provided by Event's own IC-based fast limiter. If the temperature becomes dangerously high, there's also a thermal cut-off switch, which automatically resets when a safe temperature has been restored. A conventional power supply based around a generously rated 270VA toroidal transformer provides the necessary power for the two amplifiers.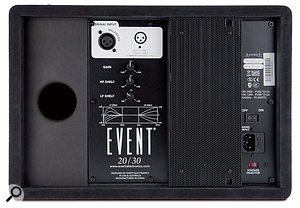 The rear panel houses the XLR input, as well as controls for input gain and the high- and low-frequency shelving filters.
Powering up the speakers lights up the Event logo on the front panel, and with all the controls set flat, the sound in my studio came over as smooth and deep. On first listening, the smooth sound of these speakers can lead to the impression that they lack a little clarity, but often what we hear and interpret as high-end detail is actually distortion, especially in the case of cheaper speakers. Because the three-way design employed here allows each driver to work within its optimal frequency range, the level of distortion is actually quite low, hence the smooth character of these monitors. That's not to say that there isn't much high-end information on offer — there's plenty, and this little tweeter actually goes higher than most of the one-inch designs used in typical two-way monitors — but it doesn't have quite the same airy character as my own (much more expensive) Event Opals, or something like the Adam A7Xs, which I also had on hand for comparison. The plus side of this smooth sound, however, is that you can work with these speakers for long periods without suffering listener fatigue. If you want a more 'present' high end, you can always tweak the HF control.
Another big benefit of three-way designs is that they allow vocals to come across in a very natural way, as they're handled mainly by the mid-range driver. In many two-way designs, the crossover sits right in the middle of the vocal range, which can compromise their clarity, but that isn't the case here, and vocals sound very natural compared with similarly priced two-way monitors.
How the low end behaves depends to a large extent on how the speakers are positioned and mounted — and since the 2030s are rear ported, it pays to keep them spaced away from the back wall to allow the ports to do their job properly. As with any ported small cabinet, there is a trade-off between extended low end and 'overhang' on low notes, which makes the low frequencies sound a touch blurry. In other words, sounds like gated kick drums become slightly elongated rather than cutting off tightly.
While there's certainly plenty of bass level on offer from the 2030s, they lack the tightly controlled firmness of the Opals. To put it in perspective, though, the degree of bass overhang is comparable with other monitors of a similar physical size, and using a speaker-isolation platform with a solid top-plate firmed up the lows to a useful extent. In general, though, the 2030s do a pretty good job of telling it like it is.
Like that of any speaker, the 2030s' performance has to be evaluated in the context of their price, and they come in cheaper than many similarly sized two-way monitors, while avoiding the crossover issues that such speakers can suffer from in the mid-range. If you've been brought up to appreciate smooth-sounding speakers that translate the music without flattering it, the Event 2030s could be just what you're looking for. On the other hand, if you're used to more forward-sounding monitors, you might find that these take a little getting used to. Either way, they're a welcome addition to the Event range and definitely offer a good cost-to-performance ratio.  
The KRK Rokit RP10 3 is one of the few other three-way active monitors available in this price bracket.
Pros
Nicely engineered.
Magnetically shielded.
Smooth sound with wide frequency range.
Cons
Smoothness may be interpreted as lack of HF detail.
Summary
A very affordable three-way monitor well suited to home studio use or for smaller commercial facilities.
information
£799 per pair including VAT.
Hand In Hand +44 (0)1752 696633.
$1199 per pair.
Event Electronics +1 805 566 7777.