Since Event changed ownership in 2006, their popular 20/20 BAS monitor has been completely redesigned, and relaunched at a very attractive price.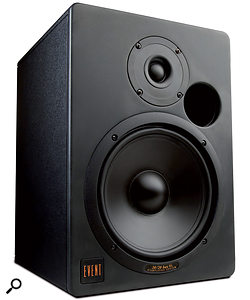 If the name of this loudspeaker sounds familiar, that's because US-based company Event had great success with an active monitor of the same name back in the mid '90s. It was built to a price, and I seem to recall that the corrugated bass port was even held in place with string! But it actually sounded pretty good, and the 20/20 BAS (versions 1 and 2) appeared in studios right around the world.
In 2006, the Event brand was purchased by Freedman Electronics, the parent company of Rode in Australia, where Peter Freedman took the entirely unexpected step of discontinuing every single product in the Event catalogue. The new engineering team he set up for Event had an impressive provenance: Marcelo Vercelli, formerly of Mackie and RCF, took on the role of Director Of Engineering, and set up Event's R&D labs in Woodinville, close to the Mackie headquarters. He was joined by analogue amplifier specialist Anibal Yusem, formerly a designer for QSC, while production for their high-end speakers was set up just outside Sydney, Australia, where Rode were already building their microphones. The company's first new monitor, the upmarket Opal, really made everyone sit up and take notice, so the reborn Event were clearly on to something.
Behind the scenes, end users were apparently asking for a relaunch of the popular 20/20 BAS, but the new team wanted to improve on the original, and so employed design concepts pioneered in the creation of the Opals. Their aim was to keep the same general character of the original, but with improved dynamics and lower distortion. To keep down costs for this model, the finished design was sent to China for production.
The result is the new two-way, front-ported 20/20 BAS v3. Boasting a frequency response of 35Hz-20kHz (±2dB), it's based around a 7.1-inch bass/mid driver, with a one-inch, ferrofluid-cooled, silk-dome tweeter looking after the highs. The LF driver is a mineral-filled, polypropylene cone powered by a 1.5-inch, high-temperature polyamide and fibreglass voice-coil assembly. Crossover frequency between the drivers is 2.3kHz. A peak SPL of 108dB is quoted, while the long-term SPL figure is 105dB (both measured at one metre). A field-cancelling magnet is fitted to each driver, to minimise interference with CRT-style monitors.
Powering the drivers is a pair of Class-A/B amplifiers, capable of providing peak power levels of 80W for the tweeter and 120W for the woofer. A subsonic filter attenuates anything below 30Hz, and there's also the expected protection against short circuiting and overheating. Cooling is by convection via an aluminium heat-sink.
The 20/20 BAS's rear panel hosts the balanced and unbalanced inputs, and controls for input gain and high- and low-frequency shelving.
All this is built into a rigid, 15mm-thick MDF cabinet that measures 375 x 260 x 300mm (HWD), and weighs a hefty 17kg. The standard of finish transcends that of the original, while remaining faithful to its general design ethos: the styling is still fairly unfussy, but the cabinet has a practical plastic-foil finish with rounded corners and a matte-black baffle, with the drivers set flush into it. A trim ring around the bass driver bears the 20/20 BAS name, while the Event logo illuminates to act as a power indicator. As with the original, the port is long and folds around inside the cabinet.
The rear of the speaker has the finned heat-sink covered by a perforated grille, while the signal input is on either a balanced XLR or unbalanced RCA socket (there's no jack input option). Non-detented rotary controls are used to adjust the input gain, and to provide ±3dB of separate high- and low-frequency shelving, affecting frequencies above 2kHz and below 400Hz, respectively. The high-frequency adjustment can be set to taste, while the low-frequency adjustment is useful in compensating for the effects of room placement. Mains power comes in on the usual IEC socket, with the power switch set just above it, while a recessed voltage selector allows for operation at 115V or 230V.
Having set up the 20/20s alongside my own pair of Event Opal monitors (with all controls set flat), I set about listening to my selection of reference tracks and soon got a feel for what these speakers were all about. In the mid-range and at the high end, they work extremely well, presenting a very detailed but non-abrasive sound with fabulous stereo imaging. The lows also hold their own against just about any comparably-priced speaker, with plenty of depth and not too much in the way of obvious time smearing — an issue with most ported speakers. My Opals fared rather better, with tighter and better-defined lows, but they are far more expensive.
The difference in the way the low end is handled is very obvious when you switch from one speaker to the other, but it is amazing how quickly you adapt to the selected speaker, and I found the 20/20 BAS very comfortable to work with. They managed to reveal MP3 artifacts in 240kbps music files that went unnoticed on other speakers, and I was particularly impressed by the very natural way they presented the human voice, both spoken and sung — always a sign of a good monitor.
Where mixes are rough and aggressive, this shows up quite clearly, while a smooth and classy mix sounds well-balanced and polished. It would be worthwhile putting these speakers on isolation platforms to tighten up the bass a little, and in smaller rooms they also work well with improvised foam plugs fitted into the bass ports, which reduces the level of low bass slightly but also tightens up the low end.
At the price, these monitors are going to be a tough act to beat, as they cover a wide frequency range, they are capable of playing very loudly, and they present a natural and detailed sound. Their low end has punch and depth, and while not as tightly controlled as a large sealed-box system, they are very workable and better than you might expect from monitors of their size and in this price range.
So does this newest version meet the design aspiration of building on the strengths of Event's original 20/20 BAS models? I'd say that it does, with better overall clarity and definition. These are definitely ones to audition if you're in the market for a sub-£1000 pair of monitors for use in all but the smallest personal studios.  
At this price point, the 20/20 BAS competes with the likes of Adam's A7X and Mackie's HR624. Also at a similar price are Genelec's 8030A and the KRK Rokit RP6 G2 models. Other models you might like to compare include the Fostex PM 0.5n, Tannoy's Reveal 601A and the M-Audio CX8.
Pros
Very clean and well-defined mid-range and high frequencies.
Excellent stereo imaging.
Good bass extension.
Cons
As with the vast majority of ported nearfield speakers, the low end isn't quite as tightly controlled as you'd expect from a high-end, sealed-box monitor.
Summary
These speakers provide a clear perspective on a mix and are comfortable to work with for extended periods. They have enough bass extension to cover the useful part of the audio range spectrum, have panoramic stereo imaging, and sound surprisingly natural on speech.
information
$900 per pair.
Event Electronics +1 805 566 7777