Thunderbolt Audio Interface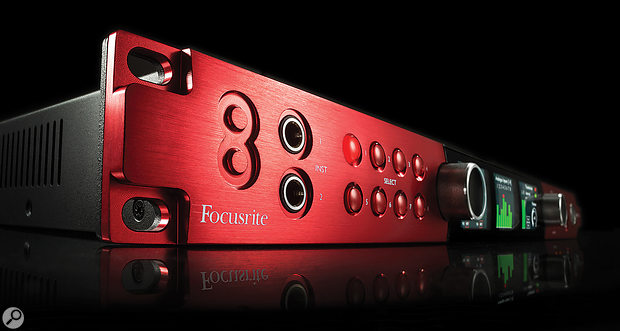 The Red 8Pre is the new flagship of Focusrite's audio interface range. Is it their best yet?
Focusrite have always made high-end products, but until last year, the only audio interfaces among them were the Dante-powered units in the RedNet series. That changed with the Red 4Pre, a lavishly engineered and impressively specified 1U device that bridges the worlds of native Thunderbolt operation, Dante networking and Pro Tools HDX compatibility.
The Red 4Pre remains a very attractive product, but has just surrendered its position as the flagship of Focusrite's audio interface range to the new Red 8Pre. As the name suggests, this has a good deal in common with its older sibling, and I'd urge anyone who's interested to read our in-depth review of the 4Pre in SOS May 2016.
The main differences between the two concern the amount of analogue I/O that's included. Whereas the 4Pre had a total of eight analogue inputs, with four mic preamps built in, the 8Pre has — you guessed it — twice as many. (If they made a line-level only version, would it be called the Red 0Pre?) Its eight mic preamps can be individually switched to accept inputs at line level, and there are eight more line-level inputs, plus 16 line-level outputs. The two interfaces share the same extensive array of digital I/O, comprising two sets of optical connectors for up to 16 channels of ADAT I/O, coaxial S/PDIF, and RJ45 connectors that enable up to 32 channels to be brought in and out using the Dante protocol, plus the DigiLink Mini connectors that allow them to be used as HDX interfaces. There are two Thunderbolt sockets, and unlike so many Thunderbolt interfaces, the 8Pre comes with a Thunderbolt cable.
The Red 8Pre's extra analogue I/O is very welcome, and means there will be many situations where its digital connectivity isn't needed. However, the practicalities of fitting it all into a 1U rack mean there are actually fewer full-sized audio connectors here than on the 4Pre. The 8Pre's main stereo Monitor outputs still emerge on quarter-inch jacks, as do its two headphone outputs and high-impedance guitar sockets; but there is nary an XLR to be seen. Instead, all the mic and line-level I/O is on DB25 connectors.
This is one of those moves that will divide opinion. D-sub looms are a convenient option if your interface will reside permanently in a studio rack, but those who do location recording will likely prefer the option of plugging things in directly. I'm in the latter camp, and would happily sacrifice another U or two of rack space if it meant I never had to try to screw in another DB25. There are, at least, separate line and mic DB25 sockets for the first eight channels, so you can leave line-level sources permanently plugged in and switch them as needed.
The Red 8Pre's richly populated back panel.
Like the Red 4Pre, the 8Pre is a smart-looking, well-built unit that is quite a bit deeper and heavier than most 1U interfaces. The 4Pre's front panel, with its rotary encoders and three separate colour screens, does duty here to equally good effect. Compared with its sibling, however, the 8Pre seems to require slightly more aggressive cooling; its fan always came on during extended use, and though not horribly intrusive, is audible in an otherwise quiet room.
Manufacturers who produce interfaces in this price bracket take different approaches to built-in DSP and software control. On the one hand, companies such as RME and MOTU pack as much mixing and processing functionality as possible into their interfaces, and as a result, the software that controls this functionality can be forbidding. Focusrite, along with Apogee, take a different direction, supplying a much simpler utility that is restricted to basic cue mixing and routing. The idea is that because these interfaces can operate with very low latency, anyone with more advanced requirements will be able to implement them within their DAW of choice.
This definitely makes the Red 8Pre one of the friendliest interfaces to get to know, and as its excellent low-latency performance is identical to that of the Red 4Pre and Clarett range, running everything in your DAW is very feasible. I think most people will be up and running within half an hour or so of plugging in their Thunderbolt cable, which you certainly can't say for some rival products; and if you prefer not to do cue mixing in your DAW, Focusrite Control lets you have a separate mix for each output pair, which is more than enough for most contexts. However, its simplicity does mean you can't use effects and signal processing within a cue mix.
And, as on the Red 4Pre, it means the built-in monitor control is too basic for many studio needs. The large volume control on the front can be configured to act on just the monitor outputs, or on various numbers of line outs too, and it carries out its volume adjustment in the analogue domain, which is as it should be for preserving sound quality. There are also Mute and Dim controls and, er, that's it. If you require speaker switching, talkback or mono fold-down you'll need a separate monitor controller.
Input routing in the Focusrite Control software.
When the Red 4Pre first appeared, some buyers also found its routing options too restrictive when used with Pro Tools, which can only address a limited number of inputs and outputs. That has now been addressed, and in the latest version of Focusrite Control, you'll see a new page labelled Input Routing. This lets you reassign the order in which the 8Pre's physical inputs are presented as inputs to your DAW; so if, for example, you want its ADAT inputs to show up as inputs 1-16 rather than 21-26, this is easily accomplished.
Whichever inputs you use, the Red 8Pre provides the same excellent audio specifications and pristine subjective sound quality as the 4Pre. The Red Evolution preamp design used in the 4Pre and 8Pre is rather different from Focusrite's classic Red and ISA circuits; it's not transformer-balanced and doesn't offer the same massive gain range, but on the plus side, everything is fully digitally controlled, and you get a useful alternative tonality courtesy of the Air option. Focusrite themselves say that they use the Red term not to distinguish particular circuit topologies but to signify that this is their premium design. Either way, I can't imagine anyone complaining about having eight of them, and alternatives are readily added if needs be.
Having only four mic preamps and eight analogue inputs in total, Focusrite's 4Pre is arguably as much a hub for adding ADAT and Dante converters as a complete interface in its own right. The Red 8Pre has the same open-ended expansion options, but with eight mic preamps and 16 channels of very high-quality A-D and D-A conversion (not counting the headphone and monitor outputs), it is a much more self-contained product, capable of tackling many recording projects without the need for expansion. And although it's clearly aimed at the upper end of the project-studio market, it's nevertheless competitively priced in comparison with rival Thunderbolt/HDX-compatible interfaces such as Lynx's Aurora 16 or the Apogee Symphony MkII. In the Red 8Pre, Focusrite have created a product that has a role to play in many possible studio setups, and which is unlikely to prove the weak link in any of them.
Pros
Unlike the earlier Red 4Pre, this has enough onboard analogue I/O to tackle many recording sessions without need for expansion.
It sounds great.
Much easier to use than most comparable products.
Excellent low-latency performance.
Can act as a Pro Tools HDX interface.
Versatile digital expansion options.
Cons
On-board monitor control features will be too basic for most studios' needs.
You're going to need looms... lots of looms...
Some fan noise in review model.
Summary
Focusrite's new flagship audio interface is an impressive beast, with enough onboard I/O for many recording projects and almost endless potential for expansion.
information
£3199.99 including VAT.
Focusrite +44 (0)1494 462246