Wooden PA speakers usually sound better than their plastic equivalents, but they've also been more expensive — until now.
There's no doubting that the recession has had a profound effect on the UK gigging scene, with the result that you may be playing a club with your band one day and a tiny pub as a duo or solo act the next. This means PA gear needs to be flexible so that it can be scaled to fit the venue, which is where this little speaker fits in.
Designed in the UK and built in China, the HH Tessen TMP108A is a small, powered PA speaker. Outwardly conventional, this two-way speaker system is built using a 15mm-thick MDF cabinet (435 x 260 x 240 mm) and fitted with a robust perforated-metal grille that is covered with foam. An aperture in the rear of the cabinet doubles as both a carry handle and a bass-reflex port, so there are no external handles to rattle. The whole package weighs just over 14kg, so it might also be pressed into service as a small keyboard amp, or as a guitar amp when partnered with an amp modeller.
A black textured-paint finish gives a somewhat generic but practical appearance, while the cabinet's wedge shape means it is just as happy working on the floor as a monitor as it is on a stand functioning as a small PA or side-fill speaker.
The system's eight-inch woofer works alongside an HH GS 506N HF driver, which is fitted into a 60 x 90-degree horn and is fed via an 18dB/octave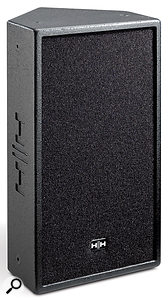 Linkwitz-Reilly active crossover set at 3.2kHz. Power comes from lightweight Class-D amplifiers served by a switching-mode power supply. This provides a peak power-handling capability of 800W and a continuous rating of 200W. The amp/driver combination yields a maximum SPL of 118dB at one metre, though this is calculated rather than measured so will be less if the drivers are run hot due to the inevitable power compression that results from voice-coil heating. Amplifier cooling is purely by convection, so no fan is required. In addition to the usual amplifier protection, there's also a clip-free limiter in the audio path to prevent the drivers being given an unduly hard time.
A 35mm metal 'top hat' pole mount is fitted into one end of the cabinet for vertical PA use, while the angled rear has shallow feet for wedge monitor deployment. The horn can be rotated to optimise dispersion in either the horizontal or vertical planes, depending on the application, though this operation involves a degree of dismantling to gain access to the four horn-flare fixing bolts. Penn-Elcom M10 flying points are fitted at three locations for permanent installation.
The power amp's IEC mains inlet and power switch, plus the audio connectors, are located on the steel rear panel, which also doubles as a heat sink. One obvious design shortcoming is that this panel isn't recessed, leaving the protruding gain control vulnerable to damage in transit. The only other control is a two-way pre-shape EQ push-button switch, for choosing between flat or 'smile' response curves. Balanced audio comes in on a 'combi' XLR/jack with a balanced thru connector on an XLR.
Clearly a cabinet of this size can't be expected to deliver a lot of low end at high levels, but the use a relatively small driver actually helps deliver deeper bass at modest levels, as small drivers don't require such large cabinets as 12- or 15-inch drivers do, in order to achieve the required cabinet tuning. Here, the -3dB points are at 65Hz and 18kHz.
To get a feel for the overall tonal character of the speaker I ran my first test using recorded music played from an iPod. While the TMP108A wouldn't top my list for choice of studio monitor it does surprisingly well for a compact PA speaker, with a decent overall balance. Although there's not a lot of deep bass, it doesn't disgrace itself when reproducing bass guitar and kick parts in a mix. There's a small amount of electrical background noise audible when nothing is plugged in,
As well as the usual I/O connectors and level control, the TMP108A features a switchable 'smile curve' EQ setting intended for music playback. but it's nothing to worry about in a live-sound context.
Engaging the 'smile' curve voicing button brings the bass end up quite noticeably while adding sizzle to the highs. Inevitably there's a fair bit of bass overhang caused by the porting, but for general background music playback between sets, I can't see anybody complaining. A certain amount of budget horn 'edginess' is evident, making the highs a touch aggressive when heard loud at close quarters, but considering that this is a PA speaker designed to be heard at a distance, it delivers a very respectable level of sound quality. I've used plastic-box speakers costing considerably more that don't sound this good.
As a vocal PA, the TMP108A doesn't disappoint either. It dishes up better clarity than you'd expect for its price and size, and with adequate volume for smaller venues or for stage monitoring in larger spaces. The smaller driver helps cover the all-important mids, resulting in a decent sense of vocal focus — and in many cases, acoustic feedback will probably limit the maximum volume level well before the speakers run out of power. Realistically, a pair of these speakers will handle the vocals for a band playing a small pub or club as long as nothing much else goes through them. For a duo looking for a portable, none-too-costly system, or a band looking for compact stage monitors, they'd also be well suited, and teaming them with a small sub to extend the range of the system isn't out of the question either.  
Few wooden or plastic powered PA speakers are as affordable as this one, but brands to look out for include Alto and Behringer.
Pros
Well-balanced audio quality at this price point.
Compact, lightweight and portable.
Versatile insomuch as they can double as small PA speakers or monitors.
Cons
Gain control protrudes from the back panel so needs to be protected in transit.
Summary
A sensible balance of build quality, performance and price.
information
£300 per speaker including VAT.
Headstock Distribution +44 (0)1215 086666