Active PA System
We paired up HH's premium Tessen-X speakers with two active 18-inch subwoofers — and tried them out at an outdoor festival.
Since the brand was taken on by the Headstock Distribution empire, HH have enjoyed something of a resurgence as a company offering a range of PA system components to suit most budgets. The Tessen-X range is their top-of-the-line offering and, though built in China to minimise costs, extensive use is made of Celestion drivers and UK design expertise to maximise performance.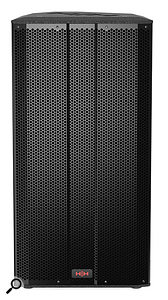 Tessen TNX-1581 full-range, three-way speaker.Headstock were kind enough to put together a review system that we could use at Malvern's annual West Fest,...
You are reading one of the locked subscriber-only articles from our latest 5 issues.
You've only read 10% of this article, so to continue reading...
Option 1: Buy and download this single SOS article in Adobe PDF format
Buy this article now and immediately download the PDF file to your computer.
Single article PDFs look identical to the printed magazine layouts (but exclude advertisements).
Note: Some shorter articles don't always have a PDF version.
Option 2: Buy the Full Issue PDF **NEW**
From the January 2018 edition onwards, it is possible to buy a Full Issue PDF 'replica magazine' (with adverts) for the price of a handful of single PDF articles, and instantly download it. More info...
Option 3: Buy a Digital subscription from our shopstore
A Digital sub can be bought from our online Shop

Store

and used immediately, or contact our Subs staff to discuss an upgrade price to add Digital access to your existing Print subscription.