We paired up HH's premium Tessen-X speakers with two active 18-inch subwoofers — and tried them out at an outdoor festival.
Since the brand was taken on by the Headstock Distribution empire, HH have enjoyed something of a resurgence as a company offering a range of PA system components to suit most budgets. The Tessen-X range is their top-of-the-line offering and, though built in China to minimise costs, extensive use is made of Celestion drivers and UK design expertise to maximise performance.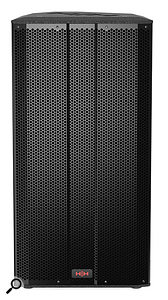 Tessen TNX-1581 full-range, three-way speaker.Headstock were kind enough to put together a review system that we could use at Malvern's annual West Fest, on an outdoor stage facing across what is on other occasions a fairly large sports field. Our system comprised a pair of Tessen TNX-1581 full-range, three-way tops augmented by a pair of TNS-1800 subs. Not a huge system by any means, but one capable of adequate SPLs for our needs.
The TNX-1581 is a three-way, active speaker that can be used stand-alone to cover a 39Hz to 20kHz frequency range, with a 90 x 60-degree coverage angle and a maximum SPL of 134dB. Power comes from a convection-cooled Class-D power section driven from a switch-mode power supply and rated at a total of 2600 Watts. Handling the lows is a Celestion 15-inch TF1525e driver, while the mids are covered by a custom-designed HH MD 428DN eight-inch driver. Feeding the HF horn is a Celestion 1.4-inch compression driver.
All this is packaged in a ply cabinet finished in the usual tough textured paint and with a foam-backed, 1.5mm metal grille protecting the drivers. Handles are formed into the cabinet sides, the overall dimensions being 885 x 450 x 390 mm and with a weight of 31.5 kg. The cabinet incorporates seven M10 fly points to accommodate either vertical or horizontal rigging in addition to a standard 35mm pole-mount socket, and the cabinet shape allows it to be used as a floor monitor at 35 degrees (some drummers like it loud!).
The TNX-1581 incorporates a basic two-channel mixer, as well as a 12-band anti-feedback processor.The controls and connections are on the recessed steel rear panel and a voicing switch steps between four profiles for different applications: Flat, Bass Boost, Monitor and Vocal. As usual I went with Flat. There's also a useful anti-feedback system that can lock onto and notch out up to 12 frequencies when ringing out. Separate HF and LF balance controls are also fitted. Two XLR/jack combi inputs, each with their own gain controls, can be used to mix two separate inputs if required, and there's also a 'thru' XLR to feed additional cabinets. This output can be switched to carry just channel 1, or a mix of both inputs. A switch turns the illuminated logo on or off and an automatic energy-saving sleep mode is available, but can be turned off if not needed.
Also housed in a ply cabinet, the TNS-1800 sub is powered by a 2000 Watt Class-D amplifier driving an 18-inch Celestion TF1830. This covers the range 32Hz to 150Hz and includes a stereo crossover to feed the tops. There are controls for level and phase, the latter allowing for a pair of subs to be configured with one pointing forwards and one rearwards to produce a cardioid polar pattern.
The subwoofer has a built-in stereo crossover, with adjustable frequency and phase controls.There are also performance presets and selectable line-outs, with built-in DSP also dealing with protection and clip-free limiting. The switchable high-pass/thru outputs are on balanced XLRs, and all the clever behind-the-scenes voicing and filtering is handled by a DSP stage. This includes four voicing presets for Flat, Punch, Club and Wide. Again there are flying facilities, in this instance five M10 Penn-Elcom fly points as well as an M20 threaded pole-mount socket. Given its power, the sub isn't too heavy (35kg), and it measures a practical 560 x 600 x 641 mm. Again there's a 'wake on music' energy-saving mode.
We set up the TNX-1581s standing directly on top of the subs and secured the rig with ratchet straps passed through the handles, linking the tops to the subs. The subs were placed on pallets to keep them off the grass. During the soundcheck I played some familiar music through the system and then dropped the sub level slightly to achieve a subjectively natural balance. The overall clarity was commendable, though I had to dial back the HF level control to around its 10 o'clock position to subdue a slight but still noticeable tendency towards brightness in the upper mid-range.
Throughout the day the system was happily kicking out around 97dB SPL, as measured from the mixing position eight metres away.There was plenty of level available, with good audibility right across the field, and the sound held up well until the speakers were pushed into deliberate hard limiting (for testing purposes), at which point they started to sound a little less comfortable. From our mixing position around eight metres from the stage, we were (according to my phone app) registering around 97dB for most of the bands performing during the day, which didn't require pushing the system anywhere close to its limit.
If I had to be picky, I'd suggest that our setup didn't really need the low-end extension of the full-range tops as the subs were doing all the heavy lifting at the bottom end, so a dual 12-inch or maybe triple eight-inch top might have delivered an even better mid-range. As yet HH don't make those, but there are 1x12-inch versions of the tops available if you're always going to use subs. On the other hand, with the system we reviewed, the tops could be used on their own for full-range coverage in smaller venues and with a single sub in slightly larger ones, so it is quite a flexible arrangement.
During the day the musical styles varied from tango with guitars, bass, accordion and violin through to heavy blues and close-harmony pop with close-miked drums. While not as hi-fi sounding or as powerful as the system we tested last year, the reality is that this HH system costs less than half the VATpayable tax on that particular rig, and the overall opinion was that it performed extremely well for what is in reality a very affordable and easy to set up system. There was enough level for comfortable listening right across the field, good vocal clarity, plenty of low-end punch and we didn't suffer from any feedback problems. Indoors this would be a killer rig at a price most bands could live with. Overall then, I'm impressed.  
In this price range you could also consider HK Audio, Mackie, RCF, JBL, LD Systems, Electro-Voice and a few others.
Pros
Loud, clear sound.
Sensibly priced.
High-quality Celestion drivers.
Cons
A little gentle EQ adjustment may be needed to pull the high mids into line.
Summary
During our tests, this rig delivered a very credible sound at a generous volume without any problems. Given its affordability and rugged construction, there's nothing to complain about.
information
TNX-1581 £749, TNS-1800 £799. Prices are per speaker including VAT.
Headstock Distribution +44 (0)1215 086666
TNX-1581 $1079, TNS-1800 $1249. Prices are per speaker.