Guitar Interface & Software For iOS
Until now, connecting guitars to an iOS device has usually been a compromise between sound quality and portability. You essentially have a choice between larger, USB-type interfaces that sound good, or smaller interfaces such as the iRig, which connect via the headphone jack and sound, well, less good. IK Multimedia aim to change all that with the introduction of the iRig HD.
The iRig HD connects to your iOS device via a 30-pin, Lightning or USB connector, which covers just about every generation of Apple or Android device. Best of all is that a separate cable for each connection is supplied with the unit.
The iRig HD enjoys a clean-sounding, low-noise preamp with 24-bit A-D conversion that should satisfy most users (anyone too picky for this probably wouldn't be using modelled guitar apps anyway). The interface has a quarter-inch guitar input, a gain-control wheel and a signal-dependent LED. The unit is particularly light; so light, in fact, that there's a very real danger of your guitar cable yanking it off whatever it's sitting on and dragging your iOS device along with it. Despite this tendency, the iRig HD is a classy device and guitarists seeking a high-quality, highly portable interface need look no further.
Also worthy of attention is IK's new iLine kit (£49.99$59.99), which bundles six useful cables into a handy carrying case and enables you to connect your iOS device to almost anything via stereo or mono adaptors, extenders or splitters. Now plugging your iPhone or iPad into a mixer or guitar amp couldn't be easier. This is a 'must have' addition to any iOS guitarist's kit!
Amplitube 3 is IK Multimedia's latest update to their guitar amp and effects app. The core set of five modelled guitar amps hasn't changed, and includes Fender, Vox, Marshall and Mesa-Boogie models, supplemented with an Ampeg bass. Eleven effects are provided, including the expected delay, chorus, filter, fuzz and overdrive. (Amplitube users purchasing the iRig HD will get two new amps and two new pedals as a bonus.) Surprisingly, there is no compressor included (it's available only via an in-app purchase), and I also missed not having a traditional noise gate (another in-app purchase option). The Noise Filter provided doesn't adequately gate amp noise and instead applies a low-pass EQ to the guitar signal, darkening the sound significantly. On the other hand, this really helps to roll back the digital glassiness present on most amp models. The amps are pretty noisy when cranked up, so this filter will need to be present in the first effect slot most of the time, especially if you're using guitars with single-coil pickups.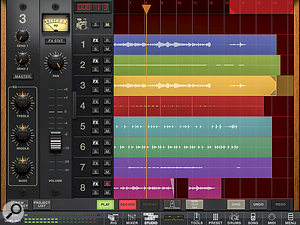 New to version 3 (via another in-app purchase) is Amplitube Studio, which is a DAW package allowing basic recording and editing. It offers a reasonable feature set that includes the ability to click and drag tracks around, create fades, split and trim audio files, punch-in record and loop sections for playback. Each track has a VU meter, three-band EQ, fader, pan knob and two master effects sends (only one on the iPhone). Solo and mute buttons are also available per track. Audiobus integration and support for Audio Copy/Paste allows Amplitube Studio to communicate with other iOS music apps.
A feature referred to as 'effects freeze' allows you to use a separate rig for each track. You record your guitar signal dry and apply the guitar rig settings during playback. This allows you to go back and change the rig after recording, which is especially handy if you're not happy with the way something is sitting in the mix.
This is all good stuff, but not everything is rosy in the garden. I would have expected a few more amps and effects to be included with a third-generation app. Too much time is wasted cancelling out unwanted pop-up dialogues asking if you'd like to make an in-app purchase, and some presets that come loaded with the core app can't be used until you buy the missing amp or effects. I would have preferred banks of presets that worked just with what the app came with. In fact, I couldn't help feeling the whole app is a little bit light on the features, and a bit heavy on in-app purchases, and a fully decked-out Amplitube is a fairly deep investment.
Guitar players can be finicky when it comes to amp and effects tone, so be sure to download the free version and give it a try before buying the full version. I had to work a little harder than usual to get what I considered a good tone. Overall, though, Amplitube 3 bundled with Studio is a well-rounded solution if you need an all-in-one portable rig.
iRig HD £79.99; Amplitube 3 £13.99.
iRig HD $99.99, Amplittube 3 $19.99.