Percussion Synthesizer & Sequencer
The latest model in Korg's unstoppable Volca range offers a typically idiosyncratic approach to drum synthesis.
The Volca Drum joins the Volca Kick and Volca Beats making it the third drum-focused Volca in the series. This time however, the sound generation is 100 percent digital. Korg call it a "percussion synthesizer", which is really just a way to say it can make all manner of interesting and unusual drum sounds. Certainly with six voices, dual layers per voice, wave folding, audio rate modulation, a Waveguide Resonator and the tried-and-tested Volca sequencer, it looks like being a fun ride.
I suspect most readers are now familiar with the Volca format. A 193 x 115 x 46 mm plastic case houses not only the drum machine, but also a small speaker and a battery compartment for six AA batteries. Power can also come from a 9V, 1700mA, centre-positive power supply. Batteries are included, but the power supply isn't. Korg sell a rather expensive KA-350 power supply, but any matching PSU will do.
As a desktop unit, all input and output sockets appear at the top. In this case we have the 9V PSU socket, a single 5-pin DIN MIDI input socket, sync in and out on 3.5mm jacks and a stereo audio output. Below that are the various knobs and buttons for sound design and transport controls. And at the bottom, the touch-sensitive keyboard, which is used for triggering parts, X0X-style sequencing and various other functions.
One unfamiliar sight is the custom LCD screen, a first for the Volca range. It is used for showing aspects of the DSP engine that would be difficult to keep track of using knobs alone and also gives useful feedback when doing operations such as copy and paste, or load and save. I must say, it looks rather snazzy with its orange, retro–styled fonts.
At the Volca Drum's core are six identical drum voices. Each one has two independent layers, and each layer is built from a sound source, a pitch modulator and an amplitude envelope. Additionally, each drum voice has a number of insert effects and can send to the Waveguide Resonator, a feedback delay effect, which we'll explore later.
To build a sound from scratch, you would select a sound source for your first layer. Five are available: sine wave, sawtooth wave, high-pass filtered noise, low-pass filtered noise and band-pass filtered noise. The sine and sawtooth waves' pitch can be adjusted using the Pitch control and in the case of the filtered noise, this is used to change the filter frequency.
You might then proceed to choose a pitch modulation source from a rise and fall envelope, a sine wave or a random wave. The speed of the source and the amount can both be controlled from their relative front panel controls. Finally, you choose an amplitude envelope type from linear attack release, exponential attack release or a multi-peak attack release. The multi-peak option is great for clap emulation or ratchet-type sounds. A duo of knobs control the attack and release times of the chosen envelope.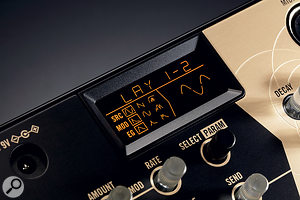 The Volca Drum is the first Volca to have an LCD screen. Good news for anyone curious about what the DSP engine is up to.I will point out that a single encoder is used to select sound source, pitch modulation source and amp modulation...
You are reading one of the locked Subscriber-only articles from our latest 5 issues.
You've read 20% of this article for free, so to continue reading...
Buy & Download this single article in PDF format

£1.00 GBP

$1.49 USD


For less than the price of a coffee, buy now and immediately download to your computer or smartphone.

Buy & Download the Full Issue PDF
Our 'replica SOS magazine' for smartphone/tablet/desktop. More info...