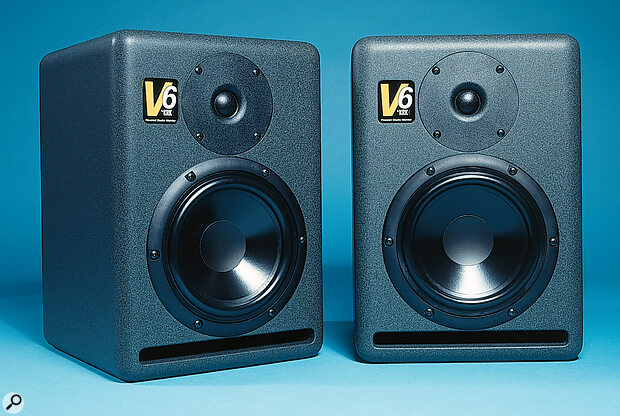 Paul White road‑tests the KRK V6 monitors to see whether quality has been sacrificed to meet an attractive price point.
Affordable active monitors seem to be one of the major growth areas within the project studio market, so it's no surprise that Californian speaker company KRK have drawn on the technology developed for their V8 active monitor to produce this scaled‑down V6 version. Measuring 33.2 x 22.9 x 25.4cm, the 21lb V6s are solidly built from MDF with internal crossbracing. The heavily radiused corners ward off cabinet‑edge diffraction which could otherwise compromise stereo imaging. KRK's familiar textured grey finish and slot‑shaped bass port give the speakers a distinctive family feel, even though the yellow kevlar cone of their larger monitors isn't evident on this model. The bass/mid is served by a six‑inch, polyvinyl‑coned woofer with a high‑sensitivity voice coil, while the highs are presented via a one‑inch, silk‑domed tweeter. The bass/mid dust cap is concave, rather than the more usual convex design, and a profiled mounting ring is used to smooth the transition from the speaker edge to the baffle. An integral magnetic shielding system makes the V6s suitable for use near TVs or computer VDUs, and KRK envisage the compact format will also draw interest from the mobile recording, DAW and broadcast markets.
Driving the speakers are two power amplifiers rated at 30 Watts for the tweeter and 60 Watts for the bass/mid. The heat sinks for these are on the rear panel along with the mains inlet, power switch and combined jack/XLR input socket. According to the data sheet, individual monitors are matched to within ±0.5dB of each other, so that multiples can be used in surround applications without the need for further matching.
An electronic crossover operates at 1.9kHz (no data on the filter slopes is provided) and the speakers can realise a 58Hz to 20kHz frequency response with only ±2dB of deviation. At 1m, the maximum SPL is 102dB (music) with 105dB peak handling, which although not unusually high is more than loud enough for regular nearfield applications. The power amps use slow‑start circuitry to prevent thumps when they are switched on or off — when they are powered up, a small yellow chevron illuminates on the V6 logo. The system gain is adjustable from ‑30dB to +6dB via a screwdriver preset on the rear panel, but there are no alternative frequency settings.
These monitors definitely have the KRK family sound, which is characterised by clarity, a tightly controlled bass end and an upfront characteristic that stops short of being aggressive. No doubt this is something to do with KRK's choice of silk‑domed tweeters, which usually sound a lot less splashy than their metal counterparts. There's no obvious phasiness or vagueness around the crossover point and the stereo imaging is well focused with a soundfield that hangs coherently between the speakers. I felt the bass could have been a little more extended, but it's still very solid and detailed — it's only at low listening levels where you might feel the sound is thinning out.
Like all well‑designed monitors, the V6s allow you to separate instruments and sounds within a mix, and voices come over as being natural and well‑integrated. As intimated earlier, the speakers have an upfront quality to them — a well‑known American tendency — but I didn't find them fatiguing to work with. They also have a reasonably consistent off‑axis response, so you don't have to sit exactly in the sweet spot to get an accurate sound.
Just a few years ago, there was a real shortage of mid‑priced studio monitors, whether active or passive, but now this sector of the marketplace seems to be the most competitive. The KRK V6s are well‑engineered speakers that look good and perform well, but they also face an increasing amount of worthy competition, including the Alesis M1As and the Harbeth/HHB Circle series. Indeed, there's so much choice now that it would be unwise to come to a decision without conducting comparative listening tests, and although the aim of any monitor is to be accurate, there are various shades of 'truth' that appeal to different people in different ways. For example, some may perceive ruthlessly accurate monitors as sounding rather dull and lifeless, whereas others might find any tendency to forward voicing to seem harsh. The secret of good monitoring is to find a pair of adequately honest, revealing speakers that suit you and that work well in your room. The V6s seem to be pretty room‑tolerant, so if you need a compact, active monitor that provides just a slight over‑enhancement of detail, they should be on your 'must audition' shortlist.
Pros
Open, detailed sound.
Nicely engineered.
Sensibly priced.
Good stereo imaging.
Cons
May be a little bass‑light for some tastes.
Summary
An attractively priced pair of active monitors that sit well alongside the existing KRK range.