Almost as important as where your monitors are is what they're standing on. We round up some of the best available options.
There are many foam-based speaker-decoupling products around these days, but Primacoustic's take on them ups the ante somewhat, by marrying its foam constituent with an inert plate of steel. On top of the plate is a non-slip surface, which helps the speaker grip to it, ultimately adding more mass to the cabinet so that it is less sensitive to wobbling in sympathy with the driver's movement. At the same time, the foam prevents vibrations travelling from the speakers to the desk on which they are placed.
The MS100 is rather more than a simple speaker plinth. Its upper platform provides all manner of decoupling goodness, thanks to its combination of rubber and high-density foam, while also permitting angle and toe-in adjustment. At the other end, isolation between the stand from the floor is provided by the three feet, which are suspended in rubber rings. A nice practical touch is that the column has within it space to accommodate speaker cabling, which keeps things looking neat.
This innovative and unique stand from Irish company Ardán (to rhyme with 'dawn', rather than 'flan') can accommodate a wide range of speaker weights and sizes, thanks to its extensive adjustability. Precise degree markings and highly geared wheels allow exact adjustment of the speakers' vertical and toe-in angles, while the high-density rubber base and speaker supports provide excellent isolation. Our review in November 2011 noted the EVP M1's outstanding manufacturing and engineering quality.
The ISO range (this is the largest of the family) achieve their speaker decoupling via a kind of suspension system that aims to prevent vibrations from monitors travelling through the desk upon which they are sat. The legs are also height adjustable, which lets you angle the speakers up or down according to your requirements. Unusually, IsoAcoustics also recommend this stand for guitar and bass amps, in particular to decouple them from strongly vibrating stage floors.
These floor-standing columns are constructed from powder-coated substrate, and topped with decoupling platforms made by IsoAcoustics, which use exactly the same principle as the ISO platform above. The iStands are available in two sizes (the 360i and 420i) to accommodate a wide range of monitors.
These Italian-designed stands are, unusually, made of wood rather than metal, which means they are virtually immune from self-resonance. They are also height adjustable, between 80 and 129 cm, and can each hold speakers weighing up to a whopping 65kg. They are available in a variety of finishes, including natural wood, black and white.
From the makers of the Rock and Boulder monitors, Unity's Monolith is constructed from 5mm steel, and its legs can
be filled with sand to increase the stands' mass and aid decoupling. The legs have adjustable heights so you can raise or lower your speakers to be level with your ears, and the top plates have been drilled with holes designed to accommodate spikes, which reduce contact between the floor and stand, and are said to be particularly useful in control rooms where the floor is resonant.
Auralex's ProPad uses a three-layer construction that includes a base layer of Auralex's 'Platfoam', similar to that used in their MoPads. This is topped by a 20mm, black, melamine-finished MDF slab, to which is bonded a very dense, rubbery layer, around 8mm thick. This combination of materials provides resilience and damping, while adding mass to help prevent vibrations travelling from the speaker cabinets into the furniture on which they're supported.
Sold in sets of six, China Cones are made of ceramic and, unlike most of the platforms here, they employ a minimal-contact approach to the problem of decoupling. Self-adhesive rubber pads are provided to prevent your speakers sliding around on the very small point of contact that they provide.
Sold in packs of four, Vibro-Pads are said to be resilient to compression, even after long-term use. They can hold monitors vertically or, using the supplied angling pads, at an angle of either five or 10 degrees upwards, to compensate for sub-optimal (slightly low) monitor positioning.
Review:
http://sosm.ag/dec07recoilstabilizer
£66 and up (depending on size)
Shure Distribution +44 (0)1992 703058
Ultimate Support MS100£367
Yamaha UK +44 (0)8448 111 116
Review: http://sosm.ag/nov11ardan
€488
Ardán Audio +353 1902 2881
Review: http://sosm.ag/mar14l8r430
£79
SCV Distribution +44 (0)330 122 2500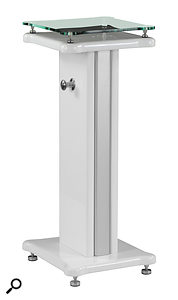 Zaor IsoStand€500
Zaor +352 305 265
Argosy Spire iStand£399
Argosy Console +1 573 557 3150
Unity Audio Monolith£504 (single column), £768 (triple column)
Unity Audio +44 (0)1799 520 786
Link: http://sosm.ag/dec13auralexpropad
£85 per pair
Dolphin Music +44 (0)151 448 2080
China Cones£99 (set of six)
Sound Network +44 (0)20 3008 7530
www.soundnetwork.co.uk/china-cones
Universal Acoustics Vibro-Pads£42
Universal Acoustics +44 (0)845 555 1123
www.universal-acoustics