NI's hybrid hardware and software beat machine promises the best of both worlds. Does it deliver?
Maschine is a beat-production workstation with built‑in drum sequencing, sampling and loop slicing, and is the latest result of NI's initiative to build hybrid hardware and software instruments. The software element runs as a stand‑alone application or as an AU/VST/RTAS plug‑in, while the hardware is a controller for the Maschine software, and also functions as a general‑purpose MIDI controller.
With Maschine, NI wanted to take the tactile, free‑flowing production style of hardware instruments like Akai's MPCs and add the benefits of the computer‑based music studio, and they've largely succeeded. Although the hardware has no sound‑generating capability on its own, the tight integration with the plug‑in gives a similar feel to using a stand‑alone hardware device. The workflow and feature set have also been finely honed, although with some notable exceptions that promise to be addressed later this year.
The Maschine software, with Scene manager at the top, device controls in the centre, and pattern/sequence/sample editor at the bottom.
Installation is via a single DVD for the software and library, and a USB cable for the controller. You can then launch the stand‑alone app or insert the plug‑in into your DAW of choice. Nearly all operations from this point can be performed from the hardware. The controller is sturdy, constructed mostly from plastic, with a matt‑black metal front panel. The buttons and pads are all made of translucent hard rubber, similar to those on Korg's Pad Kontrol, and can all light up. Above the main pads are twin displays and a strip of eight knobs and buttons which make up the main user interface.
The first thing I did was explore some of the NI factory projects to get a feel for what Maschine can do. These examples are complete productions constructed within Maschine. An instance of Maschine offers eight Groups, each of which contains up to 16 sounds, so you can layer numerous parts, including kits, instruments, loops or single samples. In Maschine, each sound element is essentially a sampler, which can contain a single sample or a multisample map. Drum kits each take up a whole Group of 16 sounds, while Instrument patches and loops only use a single sound slot.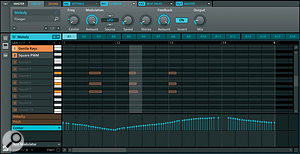 An instrument sequence, with effects automation.
The first step in most Maschine projects is to press the Browse button to load a kit, loop or sound from the library. When browsing, the left screen lets you filter the library by category, and choose which level of Maschine's structure to load into (Master, Group or Sound). This system is powered by the Library's Kore‑style tagging system. Maschine lists the potential candidates on its other screen, and provides controls for selecting and loading your chosen kit. All this is mirrored in the software if you have the Browser column displayed.
Once a kit is loaded, its 16 samples can be played from the pads. I found the pads a pleasure to play, with a sensitive, consistent response. The velocity sensitivity can be tweaked from the plug‑in's preferences. An MPC‑style Note Repeat button allows you to auto‑trigger sounds at a chosen rate, and this combines brilliantly with the pressure sensitivity of the pads: you can hold down a pad with Note Repeat, then vary the pressure you exert to add dynamics. This is great fun, and if you are recording a pattern, it all gets captured.
The library has a category for Patterns, although none are supplied. More seriously, you can't change a kit independently of the current patterns: if you load in a kit, it wipes all the patterns that existed in the Group. The only thing you can do is save out each pattern, change the kit, then load them all back in again. This is a significant oversight: you should be able to audition different kits with your recorded patterns.
Measuring 320 x 295mm, the Maschine hardware control surface is about the size of a vinyl record sleeve.
To write patterns from the pads, you can either play them live, or use the Step Sequence mode. Holding down the Pattern button shows existing patterns on a grid on the right‑hand screen, where you can select them with the pads. Pattern length can be changed quickly with a knob, and there's also a handy Double button, which doubles the pattern length and duplicates any existing notes. Unfortunately, there's no real support for non-4/4 time signatures at the moment: if you change the meter, the loops in Maschine are no longer whole bar lengths.
The workflow for recording patterns is spot-on: while Maschine is looping, simply hit the Record button and play. To rehearse an overdub, disarm the Record button, then punch back in when you're ready. If you make a mistake, Maschine has its own Undo function, or you can hold the Erase button at the same time as other pads, to remove notes in real time. Input Quantise is available, or you can quantise after a record pass with 50 or 100 percent strength. The 50 percent option works cumulatively: multiple presses nudge the notes ever closer to the grid.
The bottom section of the Maschine software interface shows the current pattern. One slight irritation is that the software display doesn't zoom automatically to reflect the pattern length, so you have to grab the mouse and zoom out for patterns longer than one bar. Patterns can be edited or created directly in the software, using a simple left‑click to add notes, right‑click to delete scheme.
If playing pads is not your thing, the controller has a step-sequencing mode, which utilises the pad grid to represent one bar of 16th notes in your loop (you can change this resolution). The right‑hand screen allows you to select which sound's sequence is shown, and navigate through loops longer than 16 steps. Touching a pad adds a trigger at that step. The pads light up in sequence to show the current position, running from bottom to top.
In addition to drum kits, Maschine has a library of sampled instrument patches and loops. The quality is pretty good, certainly better than you'll find on hardware beatbox equivalents, and each sound engine has enough sound-shaping elements, like filters, envelopes, velocity assignments, effects and so on, to bring these basic sampled sources alive.
Instrument sounds can be played from the pads if you're out and about with Maschine and a laptop, but in the studio you can use any MIDI keyboard. Whichever sound slot is selected in Maschine responds to incoming MIDI information, and as well as playing instrument patches you can use this feature to play drum sounds in a kit across different pitches. Each Sound in Maschine has its own Piano Roll display where pitched sequences are recorded and edited.
With this exception, Maschine is a closed environment as far as MIDI is concerned; all sequencing must be done internally. You can't use Maschine simply as a sound source and sequence its kits and instruments using your DAW. This might seem surprising, but when you stop and think about it, Maschine is designed specifically not to work like this, in contrast to other drum sound plug‑ins available, including NI's own Battery.
However, what is an issue is that Maschine can't output MIDI data (other than beat clock) to external devices, so you can't currently use it as a stand-alone production hub like an MPC. NI say this is coming in a future update (seems a good bet, as there's a MIDI out port on the back!). Hopefully, it will also work in the plug‑in version, because it would be really cool to use Maschine's sequencer and workflow to control other software instruments, such as Ableton's Drum Racks.
The final tricks up Maschine's sleeve are sampling and beat slicing. The Maschine library has a (disappointing) collection of loops, split into three categories: Guitar, Synth and Percussion. These are all audio samples that have been beat‑sliced, Recycle‑style. Dropping any of these into a sound slot loads the sample map, along with a MIDI pattern that plays back the loop in its original sequence. As with all beat‑slicing systems, this has the dual advantages of locking the loop's tempo to the song, and allowing individual hits to be played back via MIDI in new patterns.
Unfortunately Maschine doesn't support REX files, but the word is that this is coming in the future. You can, however, import standard audio loops, or record with the built-in sampling functionality. The sampling is nicely done: simply route some audio to Maschine from external devices or other tracks in your DAW. You can also resample Maschine's own internal sources. The on‑board sample editor module can record on‑the‑fly or sync'ed to tempo. You can also specify a loop length if you want, then hit Start and sit back — no topping and tailing.
Sampled or imported audio can be sliced at 16ths or on the transients. Maschine will automatically generate a note sequence to play back the loop, and drop this into the first pattern slot. Alternately, you can go old‑school and re‑pitch the sample to fit the tempo of your song. There's no time‑stretching option.