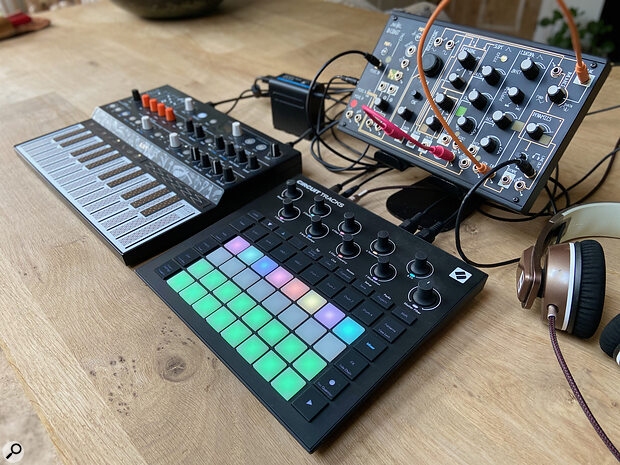 Novation's Circuit Tracks is a portable musical playground.
Novation's Circuit (reviewed SOS January 2016) sparked an obsessive interest for me in portable tabletop music gadgets, and a move away from computer‑centric composition. It offers just enough sonically to sketch out ideas, and its fluid clip‑grid sequencer is great for capturing ideas, generating performances and controlling other synths.
Circuit Tracks is a Mark II Circuit in all but name, expanding on many of the original's features and pushing aside some of the limitations. It has a new moniker instead of a number iteration to differentiate it from the upcoming Circuit Rhythm, which looks to be more of a drum machine/sampling workstation.
Like the original Circuit, the Tracks has two on‑board synths (using the same Nova engines) and four sample‑based drum voices, all played and sequenced in various ways via a 4x8 velocity‑sensitive pad matrix. There's a built‑in mixer, with reverb and delay effects and side‑chain compression, plus a master filter which is great for transitions. Controls are simple and minimal: the eight encoders control preset sound macros, levels, etc, depending on the current view. There's no display, which is mostly a blessing during general operation, although it makes accessing some settings a memory test.
The layout of the Tracks is almost unchanged, but it's had a makeover to match the new Launchpads, with larger, all-square pads. The unit itself covers the same surface area, but has transformed from a chunky box, to a light, sleek wedge. The AA battery bay is replaced by an internal battery, and an AC adaptor is no longer required: the USB‑C port is all you need for power and charging. Yes!
Novation have reverted from TRS MIDI jack connectors to traditional DIN ports, and have even added a Thru which can act as a duplicate Out. There's also a variable‑rate analogue Sync output that worked great with my 303 clone. I like the decision to move the headphone output to the back — although a front‑facing jack seems to make sense on paper, in reality it gets in the way when the unit is on your lap, or is sitting behind a keyboard. Also tucked around the back is a micro...
You are reading one of the locked Subscriber-only articles from our latest 5 issues.
You've read 20% of this article for free, so to continue reading...
Buy & Download this Single Article in PDF format

£1.00 GBP

$1.49 USD


For less than the price of a coffee, buy now and immediately download to your computer or smartphone.

Buy & Download the Full Issue PDF
Our 'full SOS magazine' for smartphone/tablet/computer. More info...