Modelling Guitar Amplifier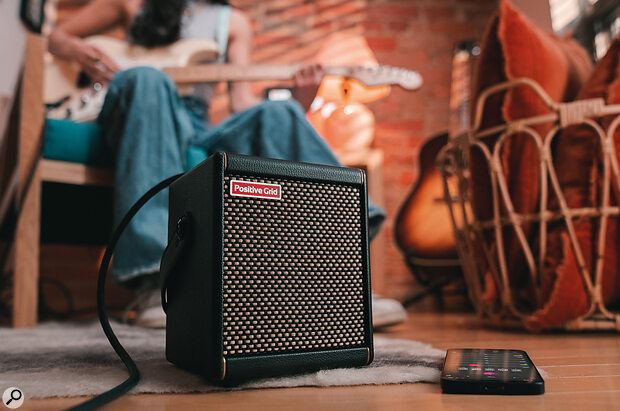 The Spark Mini makes Positive Grid's acclaimed amp sounds more portable than ever.
The Spark Mini is the latest in Positive Grid's Spark range of digital modelling practice amps. These are designed to give the player access to a huge variety of emulated amps and effects, covering every imaginable genre and style, and they do that job very well.
I recently reviewed the Positive Grid Spark 40, and came away impressed — there's still one on the desk in front of me — and the new Mini, despite being significantly smaller, offers up all of the same modelling functionality and app integration. To find out how that side of things works, see: www.soundonsound.com/reviews/positive-grid-spark-40
The USB port provides audio interfacing, as well as powering the unit and charging its internal battery.Crammed into the Mini's tiny cuboid cabinet are Bluetooth audio, USB‑C audio interfacing, and a built‑in battery. Connect the amp with the app on your mobile device and you can use it as a Bluetooth speaker, and also control the guitar modelling, just as on the Spark 40. On the top of the unit are a jack input for guitar or bass, plus knobs for Guitar level, Music level and Preset selection. The presets are Rhythm, Lead, Solo and Custom, with the last being fully user‑customisable. The rear is where the power button, Bluetooth pairing button, USB‑C port, aux input and 3.5mm output all live.
While the Spark 40 had nine knobs...
You are reading one of the locked Subscriber-only articles from our latest 5 issues.
You've read some of this article for free, so to continue reading...
Log in - if you have a Subscription you bought from SOS.

Buy & Download this Single Article in PDF format

£1.00 GBP

$1.49 USD


For less than the price of a coffee, buy now and immediately download to your computer or smartphone.

Buy & Download the Full Issue PDF
Our 'full SOS magazine' for smartphone/tablet/computer. More info...

RECORDING TECHNOLOGY: Basics & Beyond
Claim your FREE 170-page digital publication
from the makers of Sound On Sound — CLICK HERE