Quantum Mix Compact Mixer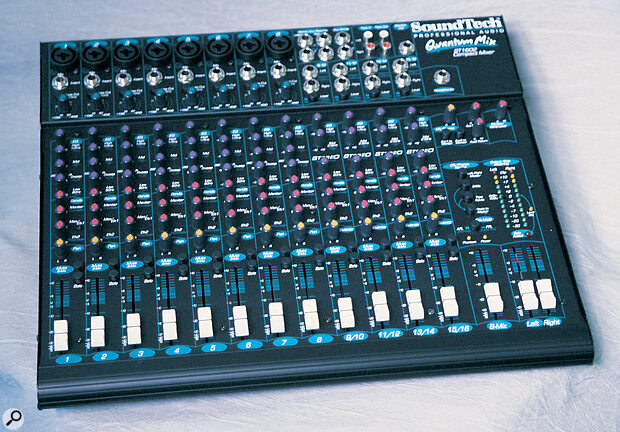 We all know there are lots of compact mixers on the market — but then lots of people need a compact mixer, and SoundTech's 16‑channel Quantum Mix is priced for mass appeal. Mike Crofts looks before he leaps.
The range of audio products in the SoundTech range seems to be expanding almost as fast as my waistline these days, and the ST1602 Quantum Mix is one of their latest offerings aimed at those — like myself — who are involved in live sound and/or home and location recording projects. As with all SoundTech gear, this mixer is available only from Smart Sound Direct, who will, I believe, let you have a 10‑day home trial so that you can be sure that what you've bought is what you really really want.
The ST1602 is a 16‑input, 2 + 2‑output compact mixer with a fairly standard complement of eight mono microphone/line channels and four stereo line‑input channels. Outputs are main left and right, with an additional 'B‑mix' stereo output which is available either as an alternative signal route or as a submix. There are three auxiliary sends, a control room output, and an array of other patching, routing and access features; at first sight this desk appears to pack an awful lot of goodies into its very compact frame.
The ST1602 is one of those mixers which takes you aback when you open the box and discover how small it really is. This is a compliment, as all the features you would normally expect are there, plus a fair few you normally wouldn't, and all the main controls and access points are available from the top panel.
As with every other product I've seen from this company, the mixer is finished in black, which gives it a discreet and businesslike appearance. There's quite a bit of information printed on the main control panel, and this makes operating the desk a piece of cake; the functional legends are in white, and there are helpful reminders in green. SoundTech have also gone to considerable trouble to assist the user in other ways, such as providing detented rotary controls not only for the EQ section but also for the aux sends, which makes a starting setup very easy to achieve if it suits your particular way of working.
At the risk of incurring the wrath of all the technical anoraks out there, I'd like to avoid a lengthy regurgitation of the facts and figures...
You are reading one of the locked Subscriber-only articles from our latest 5 issues.
You've read 20% of this article for free, so to continue reading...
Buy & Download this Single Article in PDF format

£1.00 GBP

$1.49 USD


For less than the price of a coffee, buy now and immediately download to your computer or smartphone.

Buy & Download the Full Issue PDF
Our 'full SOS magazine' for smartphone/tablet/computer. More info...