Spectral Audio Editing Software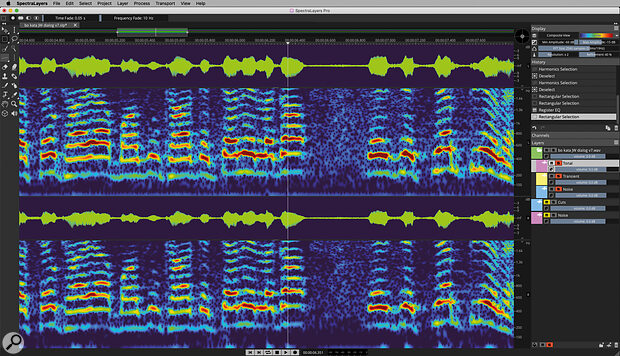 Steinberg are on a mission with SpectraLayers. So, what's new with Pro 8?
Steinberg acquired SpectraLayers in 2019, and SOS have covered both the Pro 6 (December 2019) and Pro 7 (February 2021) releases since then. However, less than 12 months on from the v7 release, Steinberg are back with SpectraLayers Pro 8. Existing users can be reassured that all the established functionality remains and, for those unfamiliar with the product (or spectral editing in general), you can dip into the SOS archives for a comprehensive catch‑up. In this review, I'll focus on the key additions and improvements that the latest release delivers.
Amongst the new additions, perhaps two of the most eye‑catching are the new 'second generation AI'‑fuelled Ambience Match and EQ Match features. The most obvious application for Ambience Match would be within the film/TV ADR process. ADR is commonly used when the dialogue recorded on set is not of sufficient quality, but it can be problematic to make the studio‑based replacement dialogue sound like it was recorded in the same environment as the on‑screen action. Adding some of the background/ambient noise from the original on‑set audio is generally required. SLP8's new Ambience Match feature makes this incredibly simple to do, allowing you to capture the background noise from one audio recording and then apply it evenly across any other audio, including the pristine, studio‑recorded dialogue replacement.
This task can be performed within the standalone version of SLP8 but, for anyone working in a compatible DAW such as Nuendo or Cubase, it's likely to be more efficient to use SLP8 as an ARA2 plug‑in. Once it's inserted as an ARA2 extension on your source track (the original on‑set dialogue), you can simply select a time range that contains just background noise (between dialogue phrases, for example) and execute the Process/ Ambience Match/ Register Ambience command to 'capture' the required ambient sound profile. Once done, you can then select a different audio layer and execute Ambience Match; the captured ambience is then added evenly across the entire length of the audio within the selected layer. You could apply this ambience directly to your ADR track or, for greater flexibility, to an otherwise empty audio clip. The latter option lets you control the balance between ambience and the replacement dialogue track at the final mix stage.
The new AI‑based Ambience Match algorithm will be a boon for those doing lots of ADR (automatic dialogue replacement) work.
The Ambience Match process is very efficient and generates a very even reproduction of your ambient noise capture, without any of the obvious signs of looping that can occur if you simply snag a bit of the noise and repeat that under your ADR. The process can obviously have applications beyond ADR, potentially letting you make any studio‑based audio signal sound like it was recorded in a different environment with very particular ambience characteristics.
Taking the tonal characteristics of one audio signal (your EQ source) and applying them to another (your EQ target) is, of course, something that other software has made possible for quite some time. In that context, SLP8's new EQ Match might not seem too groundbreaking. However, like Ambience Match, it is remarkably easy to use (particularly via ARA2) and is built upon SLP8's AI spectral editing algorithms. The same simple two‑stage process of registering an EQ curve from a reference audio layer, and then applying it to a target audio layer is involved, but you...
You are reading one of the locked Subscriber-only articles from our latest 5 issues.
You've read some of this article for free, so to continue reading...
Log in - if you have a Subscription you bought from SOS.

Buy & Download this Single Article in PDF format

£1.00 GBP

$1.49 USD


For less than the price of a coffee, buy now and immediately download to your computer or smartphone.

Buy & Download the Full Issue PDF
Our 'full SOS magazine' for smartphone/tablet/computer. More info...

RECORDING TECHNOLOGY: Basics & Beyond
Claim your FREE 170-page digital publication
from the makers of Sound On Sound — CLICK HERE