As an all‑round package for multitrack audio editing, mastering and CD burning, Steinberg's Wavelab leads the field. Does the new version 4 keep it ahead of the competition?
Unusually in these days of team‑driven development, Steinberg's Wavelab editing package is nearly all the work of one man, Philippe Goutier — and since its introduction in 1995, it's gone from strength to strength. The upgrade to version 1.5 added its Master Section with six slots for adding real‑time plug‑in effects, while version 1.6 in 1997 added CD burning to its already comprehensive list of features. By 1998 version 2.0 also added support for samplers, as well as a selection of audio analysis tools. However, it was Wavelab 3, launched in 2000, that really pushed it ahead of the competition. Wavelab 3's Audio Montage window provided non‑destructive multitrack audio editing complete with effects and vector automation, making the assembly of complex projects a breeze, although I/O was still limited to stereo.
And so to Wavelab 4.0. As usual, Philippe has been extremely busy over the last year, and there are many new features to explore. He is also extremely quick at responding to reports by users, and by the time my review copy arrived had already posted two updates on the Steinberg web site. Wavelab 4.0 runs under Windows 98, ME, 2000 and XP, but not the older Windows NT 4.0 or 95, and 256Mb of RAM is recommended. Interestingly, Windows XP is the recommended platform, although I had no problems running it under Windows 98SE. Due to better CD protection, the latest version requires no serial numbers to be entered, so installation is very straightforward. Existing users of version 3.0 can also install Wavelab 4 'over the top' if they wish, and when I tried this all my configurations and presets were preserved.
Improved look and feel for windows and plug‑ins.
Redesigned three‑pane Master Section with eight slots.
Apogee UV22 and UV22HR dithering.
Nine new bundled plug‑ins.
Six new audio monitor displays.
OSQ lossless audio compression.
Now supports mixed‑mode and CD Extra CD‑burning formats.
CD label editor and CD copying functions.
Integrated backup tool.
ASIO and WDM driver support.
The most obvious changes are to the graphics. Wavelab has had a complete makeover, with new 'brushed metal' front panels, XP‑style buttons and icons, and a completely new multi‑pane design for the Master Section. Setting your graphics card to 24‑bit or higher colour mode is strongly recommended: leaving mine in 16‑bit mode gave me a warning message and some blank icons on the toolbar. The menus have been reorganised for more intuitive access, and now contain lots of icons and extra keyboard shortcuts, while the electronic help files have been redesigned.
All these improve Wavelab's look and 'feel', but it's the new wave displays themselves that are most eye‑catching, featuring outlined waveforms and graduated backgrounds whose colours change if they are overlapped or selected (see screenshot above). The new‑style wave displays can be toggled off if you have a slow graphics card, but they certainly look very smart, and can be taken beyond mere graphic frippery by using the new Styles options. Using these you can define different colour schemes and then apply 'Conditions' so that they get used automatically depending on what extender a filename has, whether it contains a certain keyword, or what sample rate, bit depth, or number of audio channels the file contains. It only took me a couple of minutes to create new styes for 24/32‑bit files, and for 44.1kHz ones, and to then resave the default style with bright coloured waveforms, so that in future I can easily distinguish 16‑bit from 24/32‑bit formats, and immediately spot any file I load in that isn't 44.1kHz. Handy!
Another fundamental change is that for the first time Wavelab now supports both ASIO and WDM soundcard drivers as well as MME ones. I managed an 8mS ASIO latency with my Echo Mia, although unless you intend to use Wavelab with plug‑in monitoring on a live input, having low latency makes little difference in practice. For some reason the Preferred Playback Resolution options disappear as well, although this does leave ASIO resolution permanently at the optimum 24‑bit setting.
The Master Section, Wavelab's main resource for selecting and applying plug‑in effects, has been completely redesigned, with three panes that you can open in any combination, thus making better use of screen space. Despite its graphic makeover, the Master Level pane provides essentially the same features as before, with master faders, meters, mono button and dropout indicator. However, the Effects pane now has eight rather than six plug‑in slots, and you can drag and drop existing effects into a different order.
Dithering options are now gathered into the new post‑master‑fader Dithering Pane, and there is a wider choice of algorithms on offer than before, with a choice of Apogee UV22 algorithms alongside the existing internal ones. Like the identical plug‑in bundled with Cubase VST/32, the basic UV22 algorithm provides only a fixed 16‑bit setting, but a High Resolution version is also included with Wavelab 4.0, and lets you dither down to 8, 16, 20, or 24 bits. You can also add other plug‑in options to this post‑master slot (such as Waves IDR) by ticking the new PM (Post Master fader) column rather than the FX column in the Organise Master Section Plug‑ins window. The various new audio‑analysis meters can also monitor post‑fader as well as pre‑fader signals.
Operating system: Windows 98, ME, 2000 or XP (but not the older Windows NT 4.0 or 95).
Graphics card: 24‑bit colour mode or higher strongly recommended.
RAM: 256Mb or more recommended.
The metering has been greatly spruced up, with various new options that can be launched in fully resizeable floating windows. The level/pan meter window displays both peak and RMS levels of each channel, with channel balance beneath, and you can define up to five presets with different dynamic range and inertia parameters, while the Phase Scope shows the phase and amplitude relationship between the two stereo channels. As its name suggests, the Wave Scope is an oscilloscope, showing a zoomed view of the current waveforms, normally showing the view around the cursor position. For rough‑and‑ready frequency analysis of your files there's the Spectrum Meter, which splits the audio into 60 coloured bands and displays the top 40dB of dynamic range of each, as well as a decaying peak reading. However, when you need a more detailed look, the new FFT meter provides far more comprehensive options, with various FFT block sizes, smoothing functions and display options over the full 144dB dynamic range.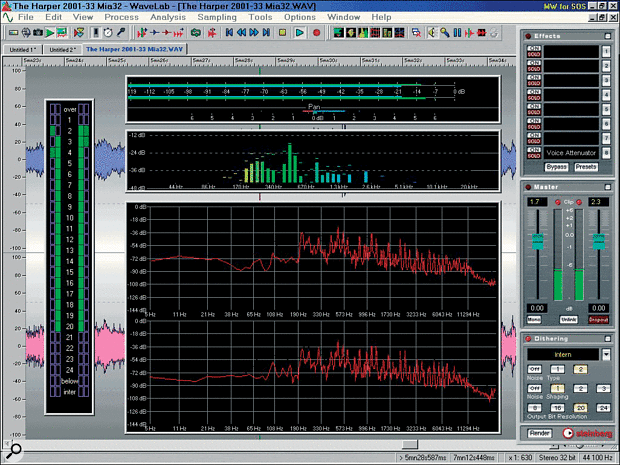 The metering has been greatly spruced up, with various new options that can be launched in fully resizeable floating windows.
The Bit Meter is handy way to find out just how many bits are actually being used in your audio, and whether or not you need to dither. You can either view absolute bit activity (True Mode), or have the display proportional to signal level (Intuitive Mode). In both cases, any segment lit confirms bit activity, so a 16‑bit file will only light the top 16, while a 24‑bit one should light all 24. However, as soon as you perform any real‑time processing such as a level change or plug‑in alteration, all bits become active. The Below segments show activity in bits lower than the 24th, while the Inter segment indicates that there are floating point values 'between the bits'.
All six meters not only monitor playback, but also audio input signals during recording, and you can freeze their current displays as well as hiding their window frames to give you more room on screen. While editing, you can also use them off‑line to display the waveform value at the current edit point, or the averaged value for any length of selected section. Together, they are of huge benefit for mastering.
A number of familiar plug‑ins are now bundled with Wavelab. These include Spectraliser, still my favourite tool for generating extra second and third‑harmonic top‑end sparkle, and the five‑band Compressor from Spectral Designs, both previously available as part of Steinberg's Mastering Edition. DeNoiser and DeClicker are also powerful additions for restoration work, especially since up until recently they cost £299 each and were dongle‑protected. All four have had a graphic makeover, but Spectraliser also seems to be have been re‑optimised — on my Pentium III 1GHz PC its CPU overhead had dropped by about 30 percent compared with the Mastering Edition version.
There are also new additions. Q is a four‑band EQ with two fully parametric mid bands plus low and high bands that can either have shelving or low‑cut/high‑cut filter responses. There's a graphic readout of frequency response with draggable points, and you can also set independent responses for the left and right‑hand channels of a stereo file. Audio quality is noticeably superior to that of the old EQ1 plug‑in, although this is still included as well.
Some of the new effects built into Wavelab 4.0.
The new NaturalVerb reverb provides pre‑delay followed by optional high and low‑pass filters that affect the treated signal before it is passed into the reverb algorithm, allowing the user to create a wide variety of sounds from thin metallic splashiness to thuddy booms. A stereo mix control lets you vary the reverb input width from true‑stereo positioning right down to mono, while the reverb algorithm itself has controls for size, delay, damping, and wet/dry mix. There's even a gate section with sensitivity, threshold, and fade‑out functions. Overall, this is an extremely versatile reverb, but as with most others emerging from the Steinberg stable, the tails are occasionally lumpy and sound 'tacked on' rather than part of a natural acoustic environment.
ReSampler 192 is a handy plug‑in which, unlike the existing Convert Sample Rate function, lets you play back files at any sample rate between 5kHz and 192kHz (subject to soundcard support) in real time — useful if you want to digitally master at a different sample rate.
Finally, for those who want to remove the vocals from an instrumental backing, Voice Attenuator will attempt it in time‑honoured fashion either by cancelling out the central mono image over a user‑defined frequency range, or filtering it out altogether. Like all such 'karaoke' processes, it's far from perfect for vocal extraction, but it produces some interesting effects on drums and percussion, especially in conjunction with distortion.
Along with all the major new features, there are innumerable smaller improvements and new features. Here are a few that I found particularly useful:
The document switch bar can now be repositioned on any side of the screen.
Audio is now saved in the background by default, so you can work on another file while the final edited version of a long song continues to be saved.
You can now open multiple instances of Wavelab from the Tools menu.
There's a new preference to release your audio hardware while not actively recording or playing back audio files, after switching to another application — this makes using Wavelab with an audio sequencer easier for those with only a single stereo output on their soundcard.
The Auto Split tool has a new 'cut head and tail' function to remove silence or other user‑selected data from a file, and to convert stereo files to two mono files.
The Loop Tone Equaliser, used to create loop points in sounds that are decaying or constantly changing in timbre, now has a Chorus Smoothing function that uses phase vocoding to help loop ensemble and choir sounds.
The Audio Montage page benefits from numerous small improvements and new features. For instance, in the CD page there are new buttons allowing you to play the previous and next CD tracks, as well as the first few seconds of each track in turn with a readout of the current track number. This is ideal for checking how things will sound on a CD player. Another handy new feature if you use the Insert Audio Files function to select several tracks at once is that you can now reorder them before they are imported.
Three new features are worthy of special note. As long as your CD‑R drive supports it, Audio in Pauses can be used to create 'hidden' tracks, accessible on a CD player by rewinding from the start of track one. It's also handy if you're compiling a live album with applause between songs — this can be excluded when individual CD tracks are played, but heard when playing the whole CD.
Cue sheets are simple text files containing details of how CD tracks correspond to the audio in an associated CD Image file, and can be created in various applications such as CdrWin and FireBurner as well as Wavelab. Wavelab 4.0 can now import these from other applications and automatically create a Montage from them, which is ideal if you want to add plug‑in effects for instance. The new Audio CD Report replaces the old Generate Cue Sheet function, and creates a much more professional track sheet in RTF (Rich Text Format), ready to send to a CD duplication plant.
Red Book‑compatible audio CDs can now be burned using the Basic Audio CD format, using a simple track list whose contents can be edited, played back, optionally saved as a complete disc image file, and burned onto CD‑R. This approach is ideal for simple projects, being quicker and easier than using the Montage functions.
The new CD Project environment lets you create mixed‑mode CDs containing both audio and data (which occupies track 1). It uses a modified Explorer‑like display containing two split panes, each with folders on the left‑hand side and their contents on the right. The upper Source pane lets you choose any audio or data file on your hard drives and drag it to the lower Destination pane. This contains a single Audio Track Folder — into which you can drag stereo files of 44.1kHz sample rate in either 16‑bit WAV or MP3 formats — along with any number of other data folders. A ruler across the bottom of the window shows the total size of your audio and data files.
It also includes various special functions such as 'Add photo viewer', which copies a simple application called ImageViewer to your data folder so that users can easily view digital photos or other images stored on your mixed‑mode CD, along with the ability to create a graphic thumbnail registry for faster browsing and add an autorun.inf file so that the image viewer is started automatically when the disc is placed in a CD‑ROM drive. Once your mixed‑mode CD is finished you can either save it as an image file, or burn your CD in Track at Once, Disc at Once, or Session at Once modes.
CD Extra‑format CDs are similar to mixed‑mode discs in that they contain both data and audio, but this time the data is placed after the audio tracks, so that a standard CD drive can start playing audio straight away without skipping track one. If you're creating a CD in this format you can use all of Wavelab's Audio Montage functions: all you need to do is place a tick in its CD‑Extra support box before writing the CD. You then burn the CD, create a CD Project containing the desired data, and write this onto the CD using Track at Once and Close CD modes.
The Tools menu also has new options to make CD copies and to burn data CDs from an ISO‑format image file. There's also a comprehensive editor for creating insert, tray and on‑body labels, complete with various graphic backgrounds, which automatically imports your track titles from the Audio Montage or CD Project.
Wavelab 4.0 is an extremely comprehensive and easy‑to‑use audio editor, with which you can take any number of mono or stereo tracks and mix them down to stereo, prior to mastering them and finally burning to CD in a variety of formats. It now has little if any direct competition on the PC, since Sound Forge 5.0's CD‑burning features are primitive by comparison (although its now‑defunct CD Architect add‑on was superb), and it has no multitrack Montage facilities. The only other application I can think of that comes close is Samplitude 2496, now an Emagic product — but with full multitrack recording facilities this is considerably more expensive.
For those who already use a MIDI + Audio sequencer like Cakewalk's Sonar, Emagic's Logic Audio, or Steinberg's own Cubase VST, Wavelab makes a perfect companion. Its price of £349 is very reasonable considering the wealth of features on offer, especially with the inclusion of the DeClicker and DeNoiser plug‑ins, and the upgrade price of £70 for previous owners of version 3.0 is an absolute bargain. I've had the luxury of using nearly all the stereo audio editing and CD burning applications available for the PC, but Wavelab is the one I now use on a daily basis for my own music, and version 4.0 makes me even more convinced that it holds pole position. What more can I say?
Wavelab now supports Sound Designer II, Ensoniq Paris 24‑bit and µ‑law files, but it's the new OSQ (Original Sound Quality) format that is most interesting, since this uses proprietary lossless compression. You can save any audio file in this format using the Save As function: according to my tests, doing so squashes it to between 50 and 60 percent of its original size. You can also use Batch File Encoding to process files en masse.
Reloading the OSQ files and using Wavelab's Audio File Comparer function confirmed that the decoded OSQ and original files were indeed identical, and on my Pentium III 1GHz PC it took 13 seconds to decode a seven‑minute stereo CD track whose original size was 73Mb. As long as you have enough room in your temporary file folder to hold the full‑sized file, OSQ compression is a useful way to save space on your hard drive.
OSQ is also available as an option in the new Backup Plan — a comprehensive way to save any project data created in Wavelab or indeed any other application, with or without compression. First you create a new Backup Plan, then use its Explorer‑style window to choose which files to Include and which to Exclude. You can save your Include/Exclude filter patterns to use again for other projects, making it easy to exclude such things as Cubase OVW and Wavelab GPK graphic overview files for instance, and once you've done this you can check which files get through the filters using the Preview page, as well as generating a full file list in basic text format for reference.
Once the files are chosen, you can give your Backup Plan a name with optionally appended current time and date, choose either a standard drive or CD as a destination, and in the case of the latter choose a split size so that the backup can automatically span several discs. Various ZIP compression levels are available, including the option to use OSQ for all audio files within the backup. Once you're ready you can Simulate the burn to check that the compressed files fit on your CD, or Execute the backup to save it in ZIP format. You can also open any ZIP archive file in Wavelab and extract one, some or all files from it to any destination.
Pros
Multi-pane Master Section with more effect slots.
Six new audio monitor windows.
New high-quality bundled plug-ins.
More comprehensive CD-burning options.
Integral lossless audio compression and backup functions.
Cons
NaturalVerb doesn't live up to its name.
There are still no plans for a Mac version.
Summary
Wavelab 4.0 must now be the most comprehensive PC stereo audio editor and CD-burning application on the planet, and although it might initially seem expensive to prospective buyers, the upgrade is an absolute bargain for existing users.
information
£349; upgrade from v3 £70 (or £39 for educational users); upgrade from version 1 and 2 £129. Prices include VAT.
test spec
Steinberg Wavelab v4.0c.
Intel Pentium III Coppermine 1GHz PC, Asus TUSL2C motherboard with Intel 815EP chipset, 512Mb PC133 RAM, running Windows 98SE.