The addition of woodwinds, a third percussion collection and concert harp sees VSL's Synchron Orchestra reach maturity.
Energy prices go through the roof, global warming spins out of control, UK prime ministers come and go and the cost of a Royal Mail first‑class stamp steadily rockets, but some things never change. Ensconced in their state‑of‑the‑art concert hall, VSL continue to record new orchestral samples, adding further instruments, ensembles and voices to their vast symphonic stockpile. Since acquiring the Synchron Stage (formerly Synchronhalle) in 2013 the company set their sights on creating a complete hall‑recorded orchestra to stand alongside their Vienna Instruments series. Now, the addition of woodwinds, harp and a third percussion collection to the Synchron range has seen them achieve that goal.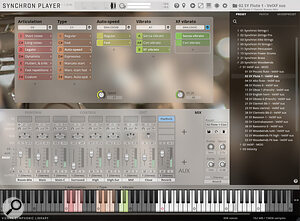 The Vienna Synchron Player's colour‑coded switching system shows all available articulations for an instrument with corresponding coloured keyswitches enabling on‑the‑fly musical changes.Apart from the imposing hall acoustic, the chief difference between the earlier Vienna Instruments libraries and the Synchron series is the latter's multiple mic positions. All Synchron orchestral libraries include Close, Mid, Decca Tree Stereo, Decca Tree Mono (centre), Main Surround, High Stereo (3D) and High Surround (3D) positions. When buying a Full library you'll get all seven, enabling mixes in up to 9.1 surround and immersive audio formats such as Auro 3D and Dolby Atmos. Alternatively, you can make considerable savings by buying the Standard version, which omits the last three positions with no detriment to sound quality.
Individual mic positions are available as separate channels in the mixer section of the free Vienna Synchron Player, along with a suite of built‑in effects and a large selection of mixer presets ranging from naturalistic to heavily processed. Before you ask, there's no Kontakt version, and never will be — with these samples, the Synchron Player is the only game in town.
Synchron Woodwinds, Synchron Percussion III and the delectable Synchron Harp put the seal on a great body of work which can now take its place among the ranks of elite sampled symphonic orchestras.
For users who haven't heard the news, it's worth noting that in August 2021 VSL switched their licence protection system from eLicenser to iLok. You can read more details in the box below, and I'd also recommend that prospective buyers check out the company's news page. In the meantime, we'll take a look at each of the three instrument collections which collectively bring VSL's Synchron Orchestra to full fruition.
Sounding confident and secure in their natural recording habitat, the Synchron Stage Orchestra's woodwinds consist of 13 newly recorded solo instruments and seven pre‑existing ensembles. As with the old VI series, there's a choice of two solo flutes, two oboes, two Bb clarinets and two bassoons, but as yet no supplementary instruments such as bass flute, clarinet in Eb and contrabass clarinet. My covert VSL intelligence source tells me these extras will "most probably" be added at some point, but not in the near future. If you need one of those instruments in a hurry, they're still available as Vienna Instruments single downloads.
The woodwind ensembles were airlifted in from VSL's affordable, easy‑to‑use Big Bang Orchestra series, which kept Vienna followers entertained through the dark days of lockdown. BBO Orion's three‑player flute, oboe, clarinet and bassoon ensembles adopt the classic format of Miroslav Vitous' trailblazing 1993 Symphonic Orchestra woodwind trios, but as you'd expect 20 years on, the Orion samples offer a lot more in the way of articulations, dynamic depth and overall performance usability.
Featuring a pre‑orchestrated live ensemble of 13 players, BBO Neptune's tutti woodwind section perform a menu of common styles over a full A#1‑D6 range, giving you a perfectly blended symphonic sound at the touch of a finger. For further musical gratification entailing minimal effort, the played octave runs, arpeggios, cluster chords and swells taken from BBO Solaris dish up instant orchestral colour and drama. These ensembles follow the standard Synchron miking scheme and correspond exactly to their previously issued Big Bang Orchestra incarnations. Accordingly, anyone who already registered one or more of them will get a crossgrade discount when purchasing the Synchron Woodwinds Standard or Full Library. The latter requires 182.4GB of free storage space, while the Standard Library requires 109.9GB.
Synchron Woodwinds' elaborate microphone set up, showing surround and height mics at the rear.
Having enjoyed playing VSL's solo woodwinds since Mark Wherry and I reviewed the company's "unprecedentedly vast" First Editions back in May 2003, I was curious to hear how the new Synchron instruments compare to their Vienna Instruments forerunners. The short answer is, very well. I was impressed by the library's oboes: Oboe 1 manages to sound dulcet while retaining the instrument's penetrative timbre, while Oboe 2 is a touch more assertive and brighter‑sounding. Both sound great. Filling out the low oboe range, a hugely playable English horn played by Alejandra Piegala is a formidable expressive lead instrument in its own right — I particularly liked its legato 'marcato start fast' artic, which enables you to articulate and emphasise note attacks within a flowing legato melody.
I was never a fan of VSL's original solo clarinet, complaining in the 2003 SOS review about its relative lack of playability. Given the company's impeccable reputation this always seemed something of an anomaly, so I'm pleased to say that the...
You are reading one of the locked Subscriber-only articles from our latest 5 issues.
You've read some of this article for free, so to continue reading...
Log in - if you have a Subscription you bought from SOS.

Buy & Download this Single Article in PDF format

£1.00 GBP

$1.49 USD


For less than the price of a coffee, buy now and immediately download to your computer or smartphone.

Buy & Download the Full Issue PDF
Our 'full SOS magazine' for smartphone/tablet/computer. More info...

RECORDING TECHNOLOGY: Basics & Beyond
Claim your FREE 170-page digital publication
from the makers of Sound On Sound — CLICK HERE