The Vienna samplemeisters expand their Synchron orchestral range.
For VSL, 2020 was something of a Viennese whirl. After the successful launch of the free Big Bang Orchestra in Autumn 2019, the company ploughed their way through a galactic alphabet of 26 themed libraries featuring a 70‑piece orchestra, 48 singers and six percussionists. These inexpensive, colourful pre‑orchestrated starter editions were a welcome distraction from earthbound troubles in a difficult year, giving new users an opportunity to dip into VSL's vast sample universe at entry‑level prices.
During this period, long‑time Vienna users were excited to see the expansion of the company's pro‑level Synchron series, the most recent entry being Synchron Strings Pro. We'll take a detailed look at that library and its predecessor here, and also give you an overview of the two Synchron orchestral percussion titles issued to date.
These sample collections run exclusively on the free Vienna Synchron Player, which works standalone on your desktop and as a plug‑in in your DAW. Capable of handling surround sound formats up to 9.1, VSL's proprietary player software replaces the Vienna Instruments player — and before you ask, the prospect of a Kontakt version is about as remote as Katie Price marrying Jacob Rees‑Mogg.
Following the release of Synchron Strings I, VSL enthusiasts might have expected a second companion volume featuring muted con sordino versions of the articulations, as was the case with several of the company's earlier string libraries. That never happened: the new Synchron Strings Pro collection supplies a newly recorded set of articulations which augment and extend those supplied in the first library. As yet no sordino samples have surfaced, but given VSL's commitment to that mellow and evocative timbre, I'd be surprised if they don't provide them at some point.
Synchron Strings Pro (SSP for short) was performed by musicians from the Synchron Stage Orchestra in the building formerly known as Synchronhalle, now transformed by VSL into a state‑of‑the‑art recording facility. Fourteen first violins, 10 second violins, eight violas, eight cellos and six double basses were conducted by Johannes Vogel, with each section separately recorded from multiple positions using 13 microphones. The Standard Library requires 122.7GB of disk space and the Full version 237.8GB (more details in box below).
In addition to the new articulations, a few performance styles are taken from Synchron Strings I. Users of that library are offered a crossgrade price for the new library, while a comparison chart on VSL's website makes it clear what articulations are included in both libraries. To save Synchron Strings I users the bother of downloading samples they already own, VSL have created an 'optimised content' version of the library which removes the redundant articulations incorporated in SSP, thus saving space on your hard drive.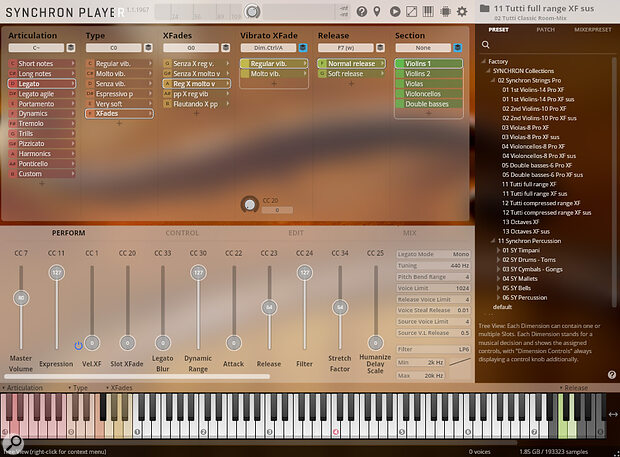 The Vienna Synchron Player's 'Dimension Tree' switching system shows all available playing styles for an instrument.
A welcome feature of SSP is that articulations are identical across its five string sections, making it quick and easy to get to grips with the performances. Another advantage are 'tutti' presets which give access to the entire string orchestra over a full seven‑octave B0‑D7 range, with the sections artfully overlapped so that you can't hear the joins — a boon for two‑handed keyboard players like myself. It gets better: you can opt to control dynamics with velocity...
You are reading one of the locked Subscriber-only articles from our latest 5 issues.
You've read 20% of this article for free, so to continue reading...
Buy & Download this Single Article in PDF format

£1.00 GBP

$1.49 USD


For less than the price of a coffee, buy now and immediately download to your computer or smartphone.

Buy & Download the Full Issue PDF
Our 'full SOS magazine' for smartphone/tablet/computer. More info...