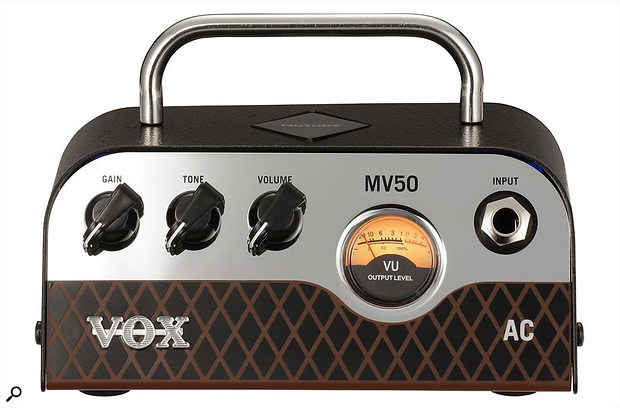 The designers at Vox must have had one of those 'just because we can' moments when they dreamed up the MV50 Series of amplifiers — we've all seen 'lunchbox' amplifier heads, but if you had to put your lunch in one of these you'd probably starve within a couple of days! Little larger than many stompboxes, these tiny amps are built into tough metal enclosures and run from an external PSU (which is, at least, rather more robust than most of the wall-warts and carpet carbuncles we come across). The PSU has a separate mains lead so doesn't clog up your power strip, though it has one of those clover-leaf connectors rather than an IEC plug, so you'll need to remember to take the right cable to a gig.
Although the outward appearance and underlying technology are the same, there are three different amps in the series (the AC, the Clean and the Rock), each with a different voice. But there's no modelling going on: the preamp stage is all analogue, combining solid-state components with Korg's new 'flat' 6P1 Nutube triode valve, which is fitted via a socketed connector to allow replacement if needed. A 50W Class-D power amplifier makes the small form factor possible. There's a helpful power percentage meter on the front panel, and while the number of controls may seem limited, there's actually everything you need to get a great sound.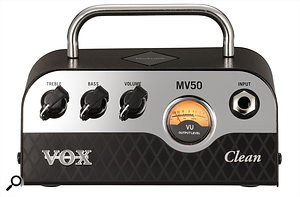 A rear-panel switch acts as a Standby power switch and there's also a switchable Eco mode that puts the amp to sleep if left unused for about 15 minutes. There's a speaker impedance selector on two of the models (4Ω, 8Ω or 16Ω), which means most speaker cabinets will be happy to be fed by them (the MV50 Clean model has a three-way power setting instead). There's also an EQ switch to add a little low end when using the amps with smaller speaker cabinets. Because of the size, as well as the usual live and studio uses, it would be well worth considering one of these amps as a backup in case your main amp fails — though it's possible you'll find that you prefer the sound of the MV50 to your regular amp!
A headphone/line output with speaker emulation doesn't mute the speaker feed — so you could use it with the speaker disconnected for silent recording, or could conceivably use it live to feed a mixing desk at the same time as a speaker, allowing the FOH engineer to apply further effects as needed.
The only real drawbacks are that these amps don't include reverb and have no effects loop, and that might limit your processing options when gigging. In practical terms, if you want to add reverb or delay for live performance without doing so on the PA desk, you'll need to run the amp clean and get your filth from pedals. In the studio, of course, you can add delay-based effects after recording.
I have to admit that my favourite of the three amps is the MV50 AC, which serves up chiming cleans imbued with that characteristic Voxy jangle, lovely touch-sensitive blues tones, and plenty of overdrive when the gain is turned up full. There are only three controls — Gain, Volume and Tone — but that Tone knob has a long reach, with the middle of the range sounding pretty 'dialled in' to me. You may need to add pedals if you're after a Brian May tone, but with the gain up full it isn't far off. Does it sound like an AC30? It's hard to tell exactly — I've had a couple of AC30 Top Boost amps over the years, and by the time you wind them up to their sweet spot, the volume is punishing! But it is fair to say that the MV50 AC sounds the way I always wanted my old AC30s to sound when playing at sensible volumes.
The MV50 Clean is perhaps an amp for the pedal lover, as it stays true to its name no matter how far up you crank the volume control, only showing a hint of breakup when pushed really hard. There's no separate Gain control, but you do get separate Bass and Treble controls plus that three-way power switch. Clearly, the sound is Fender-inspired, and as a pedal platform the amp does a great job; the two tone controls give you a little more tonal range to work with.
Lastly, we have the MV50 Rock, which follows the same control layout as the MV50 AC but is voiced to deliver more of a Marshall-type Brit rock tonality, with little respect for clean headroom. It also has more gain available than the MV50 AC and the sound only approaches cleanish on the very lowest gain settings. Crank up the gain and you're into instant rock gratification with a generally fatter, more grinding tonality than the MV50 AC. Both the MV50 AC and MV50 Rock respond well to your guitar volume controls.
Though you can use these amps with any suitable extension speaker, Vox offer a ported eight-inch cabinet, the BC108, that's specifically designed to be used with these amps. One of these didn't come with the review amps, though, so I conducted my tests with a 1x12 Celestion Greenback-loaded, open-back cabinet, and found both the volume and the tonality well up to the task of serious pub gigging or studio work. The analogue front end manages to make them both sound and, importantly, feel like a valve amp — and that Class-D power section can go mighty loud.
I like the idea of using the MV50 AC in the studio, where you can add effects such as delay, chorus or reverb in your DAW, and you also have the choice of DI'ing, miking, or both at once. That particular amp can do both clean and dirty sounds, making it particularly flexible. All the amps sound great at low volumes too, which is such an important consideration for the typical home studio. I'd gladly pay a bit more for a slightly larger box with a built-in reverb, but these little amps are just too cute to resist — in fact, I think I've just talked myself into buying the MV50 AC!